Dir: Roland Emmerich. Germany-UK. 2011. 130mins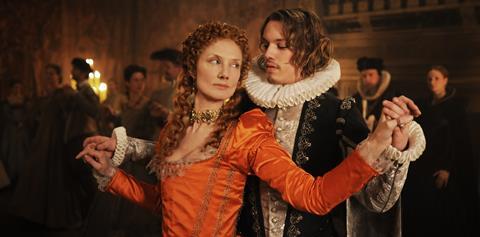 A labour of love for director Roland Emmerich, Anonymous is a historical thriller speculating on the true identity of William Shakespeare which emerges as a strangely ponderous exercise lacking in the humour and intrigue which might have made it sparkle. Plagued by lapses in sense, eccentric casting and a screenplay which is never sure whose perspective to take, the film lumbers along without the playful sense of what makes an audience tick for which Emmerich is famous.
While there is still plenty of cheesy good old movie clichés there is just not enough cheesy melodrama to make it pop.
Sony is pitching the film as a mystery with the tagline "Was Shakespeare A Fraud?" but the film is unlikely to cross over into the mainstream while highbrow critics will sneer. Its box office prospects are not in the Shakespeare In Love stratosphere, but, with Sony behind the film, richer than indie period tales like Stage Beauty or The Libertine.
The film tells the story of Edward de Vere, Earl Of Oxford, a young nobleman who finds himself ensconced within the household of William Cecil, the scheming chief advisor to Queen Elizabeth I. Born with a knack for poetry, he, according to revisionists, wrote the entire Shakesepeare oeuvre. In addition, according to this story, he had a passionate affair with the queen - 16 years his senior - and she had a child from their affair, subsequently adopted by a noble family. Meanwhile Edward, who was forced into a marriage with Cecil's daughter, is banned from court and discouraged from writing plays.
Later in his life, he decides to have the plays performed at the popular London theatre under a pseudonym, and approaches playwright Ben Johnson to pass them off as his own. Johnson, offended at the suggestion, passes them on to ambitious but illiterate actor William Shakespeare, who happily takes on the mantle of playwright and becomes the toast of London.
The story is wrapped up in an unnecessary bookend in which Derek Jacobi introduces the story on the Broadway stage and then goes back to a scene in which Johnson is arrested and interrogated by William Cecil's son Robert Cecil about the whereabouts of the plays. It then goes further back five years, then forty years, and back and forth for the rest of the film.
What's baffling in this time-hopping scenario is the casting. Young Edward, about 20 years old, is played by Jamie Campbell Bower, with young(ish) Elizabeth, at 36, played by Joely Richardson. 40 years later, Edward has become Rhys Ifans, looking no older than 40, while the queen has become Vanessa Redgrave, looking all of her 75 years. Revelations towards the end of the film about the origins of the characters are not just shocking, but positively soap opera-style jaw-dropping in light of this cast.
Emmerich is playing serious in Anonymous and while there is still plenty of cheesy good old movie clichés - like the wooden chest full of manuscripts which miraculously escapes a ravaging fire - there is just not enough cheesy melodrama to make it pop.
The actors, all accomplished Brits, have clearly been directed to play it very straight, where a bit of juicy ham could have livened up proceedings. Ifans is nonetheless impressive as Edward deVere, and there are some confident turns by Sebastian Armesto as Johnson and Rafe Spall, providing the only comic relief, as Shakespeare. A large supporting cast includes other notable UK names like David Thewlis as William Cecil, Edward Hogg as Robert Cecil, Mark Rylance (former director of the new Globe Theatre) and Helen Baxendale.
Best of all, perhaps unsurprisingly, are the design and special effects. Emmerich's seventeenth century London, built on sets and in the computer, is a wonder to behold and the production itself is impeccable. In his blockbuster movies, Emmerich manages to combine these effects with good-natured adventure stories and bring them to life; ironically in this project that is his least expensive and the closest to his heart, he has rendered the proceedings lifeless.
Production companies: Anonymous Pictures, Centropolis Entertainment, Studio Babelsberg
International distribution: Sony Pictures/SPRI
Executive producers: Volker Engel, Marc Weigart, John Orloff
Producers: Roland Emmerich, Larry Franco, Robert Leger
Screenplay: John Orloff
Cinematography: Anna J Foerster
Production designer: Sebastian Krawinkel
Editor: Peter R Adam
Music: Thomas Wander, Harald Kloser
Main cast: Rhys Ifans, Vanessa Redgrave, David Thewlis, Xavier Samuel, Sebastian Armesto, Rafe Spall, Derek Jacobi, Edward Hogg