Dir: Steven Soderbergh. US. 2013. 118mins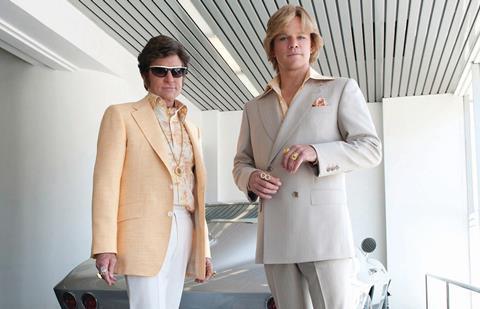 Beneath the flamboyant furs, twinkling rhinestones and bitchy asides, Behind The Candelabra emerges as a touching gay love story from an age when nobody in American showbusiness would have dared to venture out of the closet. Director Steven Soderbergh and screenwriter Richard LaGravenese tread lightly on the social significance of events, focusing largely on the personal heartache in the bittersweet relationship between entertainer Liberace and his lover Scott Thorson.
Lagravenese's script is filled with witty one-liners and treats the relationship with respect.
A triumphant, fully realised performance from Michael Douglas as unctuous piano maestro Liberace merits award consideration and the fact that this may be Soderbergh's last hurrah as a director will also attract interest.
The story will mean most to an older demographic who get the references to Sonja Henie and yesteryear names and who may be curious to see the contrast between the public image that Liberace diligently cultivated during his lifetime and the private revelations that have emerged since his death. Prospects are solid in territories where this HBO production is being released theatrically, including the UK in early June.
Behind The Candelabra succeeds or fails to a large extent on the central performance and Michael Douglas is superb as Liberace, the Las Vegas star adored by female fans who never realised he was gay. What planet were they on might be the 21st century response as he appears in outrageous fur coats, camps it up for his audience and talks about his devotion to his dear old mum Frances (a virtually unrecognisable Debbie Reynolds).
Nevertheless, Liberace successfully sued the British newspaper The Daily Mirror for having the temerity to suggest he was anything but a red-blooded, heterosexual American and he won the case.
Douglas has the look of Lee and does an impressive job at both tinkling the ivories and capturing Liberace's folksy, schmaltzy charm. The performance goes beyond mere physical impersonation to convey the complex tensions within a man who could be generous or petty, loving or spiteful, vain and arrogant, in short a complex human being.
The film follows the arc of his relationship with Scott (Matt Damon) from the first flirtatious glance in 1977 to a deathbed declaration of devotion in 1987. The latest in a lengthy line of cute young boys to catch Liberace's eye, blonde-haired country boy Scott may have been the great love of his life.
Scott is showered with gifts and affection as he gradually takes centre stage in Liberace's life and the entertainer starts to literally mould him in his own likeness. A feline-looking Rob Lowe is a hoot as plastic surgeon Jack Startz. Liberace even considered adopting Scott. Matt Damon, like Douglas, is probably a decade too old for the role but does a fine job of portraying an all-American Bambi in Wonderland.
Lagravenese's script is filled with witty one-liners and treats the relationship with respect. They may have shared a secret love but Liberace and Scott prove to be just another couple negotiating the boundaries of their love and how to accommodate the older man's appetite for the next cute thing that comes passing by .
Both actors bring emotional and physical credibility to the relationship. Soderbergh seems content to serve the story with unshowy professionalism. Only a rare black and white flashback and a fantasy funeral jump out from what is otherwise a fairly conventional but immensely entertaining showbusiness biopic.
Production company: HBO Films
Producer: Jerry Weintraub
Executive producers: Gregory Jacobs, Susan Ekins, Michael Polaire
International sales: HBO Enterprises, www.hbo.com
Screenplay: Richard Lagravenese based on the book by Scott Thorson and Alex Thorleifson
Cinematography: Peter Andrews
Editor: Mary-Ann Bernard
Production designer: Howard Cummings
Music: Kim O' Keefe
Main cast: Michael Douglas, Matt Damon, Dan Aykroyd, Scott Bakula, Rob Lowe, Debbie Reynolds