Dir: Christopher McQuarrie. US. 2012. 130mins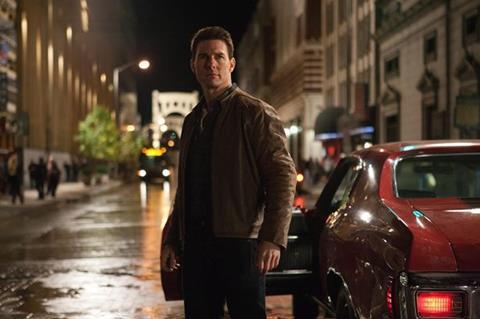 A surprisingly dark noir heart beats at the center of Jack Reacher, Tom Cruise's effort to establish a new franchise beachhead. Based on author Lee Child's series, 18 novels and counting, about an off-the-grid former military investigator turned crusading antihero, director Christopher McQuarrie's film is an appealing genre piece built on a solid foundation of smartly modulated friction, blending old-fashioned fisticuffs with an engaging murder inquiry that reeks of mysterious frame-up.
Jack Reacher moves with a confident gait and streamlined sense of purpose.
Earlier this year, audiences responded in robust fashion to Liam Neeson in avenging mode in Taken 2 (a $360 million grosser, worldwide), and may have lingering positive memories of Cruise's Mission: Impossible – Ghost Protocol, which rung up a franchise-best $695 million worldwide in last year's holiday frame. Given the source material's status and Cruise's brand popularity, it's hard to bet against this offering becoming a big hit, with especially strong box office reach overseas.
Set in Pittsburgh, Jack Reacher opens with a shooting in which five people are gunned down in a public park alongside a riverbank. Prior to slipping into a coma, the shooter, an ex-military sniper named Barr (Joseph Sikora), strangely requests Reacher's presence. When Reacher, a drifter with no driver's license or fixed address, hears news about the incident and shows up, defense attorney Helen Rodin (Rosamund Pike), the stubborn-minded daughter of opposing district attorney Alex (Richard Jenkins), is surprised to learn it's not because he considers himself a friend of Barr.
Rather, Reacher feels certain of Barr's guilt and wants to bury him. Nevertheless, Helen convinces Reacher to come aboard as her chief investigator, giving him latitude to examine evidence compiled by homicide detective Emerson (David Oyelowo). The more he looks — and suffers the effects of his search — the more Reacher becomes convinced of a nefarious cover-up. A big break with a gun shop owner, Martin Cash (Robert Duvall), eventually leads Reacher to a shadowy, enigmatic and cruel man known only as the Zec (Werner Herzog).
Adapted by McQuarrie from the book One Shot, Jack Reacher moves with a confident gait and streamlined sense of purpose, opting for relatively perfunctory set-up of its main character. (Reacher explains that his anonymity "started as an exercise and became an addiction.") Various theatrical conversational flourishes, though (the Zec's explanation of how he chewed off most of his fingers to save them from gangrene), help give the movie a distinguishing pop. Its blend of procedural and action otherwise also fit together nicely.
McQuarrie and cinematographer Caleb Deschanel also craft a movie whose spare, dank vibe hangs over even its daytime sequences. And while Joe Kraemer contributes a serviceable score, the director also makes notable use of music's frequent utter absence — particularly in a solid car chase scene and shootout in a gravel quarry, in which grinding gears and gunshot echoes, respectively, are artfully elevated to tense emotional markers.
If, after its culmination in that quarry shootout, part of the film's live-to-fight-another-day wrap-up stretches its character's Everyman connection a bit beyond belief, Jack Reacher along the way at least delivers some undeniably rousing fight sequences, well staged by coordinators Paul Jennings, Robert Alonzo and their cohorts.
Pike, so good as an attorney in Fracture, here conveys a steely professionalism, but struggles with Helen's more vulnerable moments. Likewise, the offbeat and seemingly promising casting of filmmaker Herzog, with his distinctively dour accent, kind of backfires; because he is sketched only in monologues, the Zec comes across as a caricature of villainy.
Meanwhile, much was made of Cruise's casting, given that in Child's books Reacher's imposing physicality figures prominently. And it's true that some of its self-consciously badass dialogue ("I mean to beat you to death, and drink your blood from a boot"), which seems a holdover from an era of brawnier action stars like Sylvester Stallone and Arnold Schwarzenegger, sounds unintentionally hilarious coming from Cruise's mouth.
But Cruise still more than capably splits the difference between the iterations of the character. If it feels a bit like an unfinished sketch, leaning a bit on his movie star charisma, there's certainly plenty of intriguing room left in the characterisation for Cruise to explore a darker fringe than that for which he has shown previous inclination.
Production companies: Skydance Productions, Tom Cruise Productions
Domestic distribution: Paramount
Producers: Tom Cruise, Don Granger, Paula Wagner, Gary Levinsohn
Executive producers: Jake Myers, Ken Kamins, Kevin Messick, David Ellison, Dana Goldberg, Paul Schwake
Associate producer: Cliff Lanning
Screenplay: Christopher McQuarrie, based on the book One Shot by Lee Child
Cinematography: Caleb Deschanel
Editor: Kevin Stitt
Production designer: James Bissell
Music: Joe Kraemer
Website: www.JackReacherMovie.com
Main cast: Tom Cruise, Rosamund Pike, Richard Jenkins, David Oyelowo, Joseph Sikora, Werner Herzog, Alexia Fast, Jai Courtney, Robert Duvall, Josh Helman, Vladimir Sizov, Michael Raymond-James