Dirs/scrs: Richard Glatzer & Wash Westmoreland. US. 2013. 93mins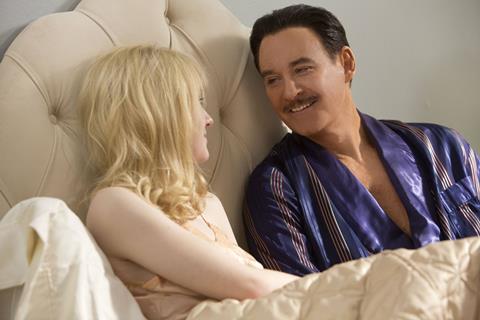 Several familiar narrative themes — the perils of May-December romance, the sad fate of Hollywood has-beens, the transitory nature of fame — are given loving (but not entirely persuasive) treatment in The Last Of Robin Hood. A look at the final years of Errol Flynn's life, when his stardom had faded and he was romantically involved with a minor, this drama from filmmakers Richard Glatzer and Wash Westmoreland has real compassion for its tabloid subjects. Still, the film doesn't quite make the case for what was especially poignant or remarkable about this doomed love affair.
The Last Of Robin Hood doesn't condone or condemn its three characters or their motives, but in the absence of a particular perspective the film simply feels too familiar to gain much dramatic traction.
This Toronto premiere offers plenty of saleable factors, chief of which are name actors Kevin Kline, Susan Sarandon and Dakota Fanning in the lead roles. Fans of classic Hollywood may be intrigued as well by the film, hungry for a glimpse into Flynn's personal affairs.
As The Last Of Robin Hood begins, Flynn's (Kline) life has ended. It's 1959, and the press is obsessed with Beverly Aadland (Fanning), Flynn's underage lover. Flashing back two years, the film shows how their relationship first blossomed: She was an aspiring actress whose mother Florence (Sarandon) was so supportive of her Hollywood career that she turned a blind eye to the fact that the famously libidinous star was sleeping with her 15-year-old daughter.
In other hands, The Last Of Robin Hood might be a tawdry satire about a rather sad trio of has-beens and never-weres. (Like Flynn and Beverly, Florence had a desire to be an entertainer: Before a terrible car accident, she had been a dancer.) But Glatzer and Westmoreland, who previously made the lovely Sundance prize-winner Quinceañera, take a different approach, certainly finding the humour in the situation but also feeling sympathy for their characters' infatuation with stardom.
Playing Flynn, Kline is in his wheelhouse, offering another variation of the delightfully overblown fool he's concocted in everything from A Fish Called Wanda to The Extra Man. In The Last Of Robin Hood, Kline captures the actor's physical grace and self-deprecating wit, but what's most appealing is how Kline gives Flynn's charm more than a hint of disingenuousness. No matter how much he professes his love to Beverly, we never quite believe him, his reputation for sleeping with so many women undermining his amorous declarations.
But although the title would indicate that Flynn is the main character — his stardom was built on that iconic role — The Last Of Robin Hood is more about Beverly and Florence each trying to connect with stardom in their own way. Sarandon does superb work portraying this unhappy middle-aged woman, never winking at the audience but instead investing fully in Florence's shameless clinging to fame, whether it's during Flynn's life or trying to sell a tell-all book after his death. There's a certain courage in playing a pathetic character sincerely, and while Florence doesn't have a lot of layers to her, Sarandon tries her damnedest to find them all.
The film's main problem is that while Fanning possesses the seductive beauty that would have captivated a lothario like Flynn, her allure is only skin deep. But to be fair, this is also a failing of the screenplay: The Last Of Robin Hood never really digs into the couple's romance to explain its inner workings. Though Flynn and Beverly swear they love one another, we don't see enough on screen to understand their compatibility beyond an obvious physical attraction.
As a result, what we're left with is a thoughtful but not very original story about a much older man cavorting with a pretty young girl, and not even the fear of Flynn being arrested for statutory rape — he'd gone to trial in 1943 on the same charge — creates much suspense. The Last Of Robin Hood doesn't condone or condemn its three characters or their motives, but in the absence of a particular perspective the film simply feels too familiar to gain much dramatic traction. In real life, if it hadn't been for Flynn's fame, this romantic brouhaha wouldn't have been so scandalous to the public. Unfortunately, not even his stardom (and the women's hunger for it) is enough to energise this film.
Production companies: Lifetime Films, Killer Films, Big Indie Pictures
International sales: Cinetic Media, www.cineticmedia.com
Producers: Declan Baldwin, Maggie Malina, Pamela Koffler, Christine Vachon
Executive producers: Todd Haynes, Rob Sharenow, Tanya Lopez, Molly Thompson, Colleen McCormick, Lisa Hamilton Daly
Cinematography: Michael Simmonds
Production designer: Jade Healy
Editor: Robin Katz
Music: Nick Urata
Main cast: Kevin Kline, Susan Sarandon, Dakota Fanning