Dir: George Tillman, Jr. US. 2015. 128mins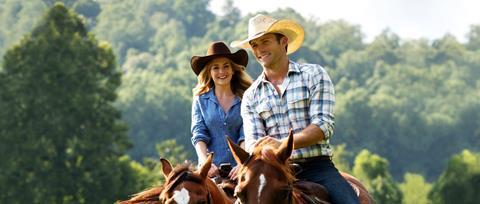 Love is about sacrifice, or so we're told in The Longest Ride, an undistinguished romantic drama that takes few risks and offers wish-fulfilling escapism with bland dutifulness. Based on the 2013 Nicholas Sparks novel, this tale of young lovers whose travails have some superficial parallels to that of a World War II couple exudes a banal melodramatic streak, its characters depressingly schematic and the plot's insights into matters of the heart formulaic. Consequently, The Longest Ride plays like cynical fan service to Sparks' readers, who, it is assumed, will be content to sit back and enjoy a cheap tearjerker, no matter how mouldy its execution is.
Because we never get much of a glimpse into the reasons for either character's passions — particularly, Luke's inexplicable thirst to put his life in danger in the rodeo ring — The Longest Ride's central conflicts seem frustratingly arbitrary
Releasing April 10 in the States, The Longest Ride doesn't feature big stars — at least not yet. (The female lead, Britt Robertson, seems poised to break out after her prominent role in May's Tomorrowland.) Not surprisingly then, Sparks' name will be the big attraction for date-night crowds, especially in the US, where adaptations of his romance novels tend to perform far better than internationally. With only The Age Of Adaline promising to be a demographic threat — and that doesn't open for two weeks — this Fox offering should enjoy a little breathing room at the box office temporarily. But many couples may decide to wait to see this so-so weepie at home instead.
Robertson plays Sophia, a studious college senior in North Carolina who is already counting down the days until she moves to New York to start her internship at a prestigious Manhattan art gallery. Right on cue, she meets Luke (Scott Eastwood), a gentlemanly professional bull rider who takes a liking to her. But just as sparks are starting to fly, Sophia and Luke come across a crashed car with an elderly man named Ira (Alan Alda) barely conscious behind the wheel. Luke rescues him, but Sophia becomes intrigued by the elderly man's life story — specifically, the beautiful letters he wrote to his late wife Ruth.
Directed by George Tillman, Jr. (Soul Food, Faster), The Longest Ride soon follows two different storylines. In the present day, the sophisticated Sophia must figure out how to balance her big-city aspirations with her growing love for this charming small-town bull rider who refuses to give up his career, despite a dangerous fall a year ago that left him in a coma for 10 days. Meanwhile, a series of flashbacks trace the 1940s love affair between Ira (Jack Huston) and Ruth (Oona Chaplin), which is threatened both by the Second World War and Ira's inability to have children.
Ira's recalling of those earlier days, naturally, is meant to provide a commentary on the ups and downs of Sophia and Luke's relationship. And there are some genuine parallels between the two couples: both men are decent, modest country bumpkins, while the women are passionate about culture and fine art. But while it's a relief that there aren't too many overly convenient similarities between the couples, The Longest Ride is a strange viewing experience because its twin narratives don't do much to complement one another.
In the 1940s story, Ira and Ruth's courtship has an overly quaint, nostalgic tone that feels like a pastiche of dozens of post-war romance novels and films. As for Sophia and Luke, Tillman and screenwriter Craig Bolotin paint the lovebirds as an overly simplistic oil-and-vinegar relationship. She likes Manhattan and postmodern painting; he likes bull riding and hanging out on his ranch. But because we never get much of a glimpse into the reasons for either character's passions — particularly, Luke's inexplicable thirst to put his life in danger in the rodeo ring — The Longest Ride's central conflicts seem frustratingly arbitrary.
Movies based on Sparks' novels (The Notebook, Message In A Bottle) aren't known for their emotionally nuanced portrayals of love. Still, The Longest Ride is shockingly rudimentary in its depiction of Sophia and Luke. Robertson manages only a girl-next-door blankness as Sophia. As for Eastwood, he has a chiselled handsomeness and an aw-shucks smile that make this bull rider dashing in an unassuming way. Unfortunately, Luke morphs into a dull ignoramus once the character starts becoming resentful of Sophia's budding gallery career. The radical shift in his personality feels like a betrayal on the filmmakers' part to the understated work Eastwood otherwise brings to the role.
But what's most galling is that The Longest Ride preaches so-called wisdom that it exempts itself from following. Ira advises Sophia that he's realised that true love requires making sacrifices, which is a nice sentiment that the movie's modern-day couple never actually has to follow. Without giving away the film's resolution, let it be said that Sophia and Luke's path to a happy ending requires no real sacrifice on either person's part. (In addition, the movie springs an infuriating twist at the very end that's not only ridiculous but also a cheat that shields the characters from any real anxiety about the choices they've made.)
At the same time, Ira and Ruth's story becomes merely a trite cautionary tale for our contemporary characters. That's too bad considering that the film's best performances come from the 1940s characters. Huston lends just the right amount of antiquated politeness and rock-solid devotion as Ira, while Chaplin gives Ruth a spitfire adorableness without overdoing it. And Alda, saddled with playing an elderly man wheezing out platitudes to Sophia, gives a thankless role a little grace. Which is saying something for an actor who spends most of The Longest Ride stuck in a hospital bed.
Production company: Fox 2000 Pictures, Temple Hill
US distribution: 20th Century Fox, www.foxmovies.com
Producers: Marty Bowen, Wyck Godfrey, Nicholas Sparks, Theresa Park
Executive producers: Michele Imperato Stabile, Robert Teitel, Tracey Nyberg
Screenplay: Craig Bolotin, based upon the novel by Nicholas Sparks
Cinematography: David Tattersall
Production design: Mark E. Garner
Editor: Jason Ballantine
Music: Mark Isham
Website: www.foxmovies.com/movies/the-longest-ride
Main Cast: Britt Robertson, Scott Eastwood, Jack Huston, Oona Chaplin, Alan Alda