Dan Stevens plays Charles Dickens in this look at the origins of his classic A Christmas Carol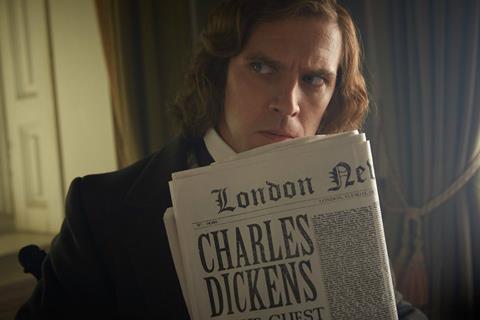 Dir: Bharat Nalluri. US-Ire-Can. 2017. 104mins
Hoping to shed light on the circumstances that inspired Charles Dickens to pen A Christmas Carol, The Man Who Invented Christmas instead unknowingly makes a compelling case that not every backstory is worth telling. This unconvincing look at the creative process quickly gives way to writerly clichés that cheapen the labours of a beloved author and the enduring power of his novella, no matter how much pained feeling Dan Stevens brings to Dickens.
The Man patronisingly depicts creativity as a big mental jigsaw puzzle
Set to open Nov. 22 in the States and Dec. 1 in the UK, The Man looks to capitalise on the upcoming holiday season, buoyed by the presence of reliable screen veterans Christopher Plummer and Jonathan Pryce. Stevens is coming off the global success of the live-action Beauty And The Beast, but no doubt Dickens and Scrooge are this film's most marketable elements.
The Man takes place in 1843 as Dickens (Stevens) is licking his wounds after three straight commercial flops. Trying to kick-start his artistic mojo and worried about money, he hits upon a story idea about a miserly old man who learns the true spirit of Christmas. As inspiration starts to take hold, Dickens is visited by the spectral presence of his main character Scrooge (Plummer), who helps him write the book at breakneck speed.
The film is based on historian Les Standiford's 2008 nonfiction book, and director Bharat Nalluri (Miss Pettigrew Lives For A Day) aspires to tell a warm, somewhat cheeky story that connects Dickens' creative journey with the emotional one Scrooge undergoes in A Christmas Carol. This kind of behind-the-scenes tale was perhaps most famously done in Shakespeare In Love, which imagined how Shakespeare came up with Romeo And Juliet. But unlike that Oscar-winner, which was largely invented out of whole cloth, The Man purports to be a factual explorationof the childhood trauma and family strife that drove Dickens to write a beloved classic.
And yet,it remains hollow and phony in its depiction of how artists craft their work. Susan Coyne's screenplay simplifies Dickens' talent into a series of repressed memories he must decode in order to break his writer's block. And although Plummer provides the necessary bah-humbug grouchiness, Scrooge is presented as a cheap narrative device to provoke and antagonize Dickens.
Unquestionably, writers pull from their experiences, fears and desires in order to express something true and universal. But The Man patronizingly depicts creativity as a big mental jigsaw puzzle, the film presenting Dickens with individuals in his orbit who, conveniently, all end up playing a part in his opus.
In small indies such as The Ticket and on the sci-fi television series Legion, Stevens has shown an ability to play seemingly ordinary men tormented by hidden demons. But as Dickens, he's trapped playing a pretty standard flailing-author character who The Man views as interesting only because of the secrets in his past and the book he's about to write. Dickens is mostly an observer in his own film, and when the writer at last confronts his past pain — which is meant to draw a parallel between him and Scrooge — Stevens struggles to make the hackneyed revelations resonate.
Pryce portrays Dickens' failure of a father John, giving the man a bit of wounded grace. But because Coyne hasn't developed the character, father-son tensions are mostly theoretical, playing out in expected and generalized ways that elicit little pathos. But even that's better than the handling of the film's peripheral characters, particularly Dickens' wife Kate (Morfydd Clark), whose primary functions in the script are to tell her husband she's pregnant yet again and to be increasingly concerned about his impassioned outbursts concerning A Christmas Carol.
The inherent appeal of a movie like The Man is that it potentially humanizes our greatest artists, helping us to see the real-world anxieties that plagued them (and sometimes stoked their creativity). But the more that Nalluri tries to connect Dickens' personal breakthroughs to those of his fictional character, the less authentic it feels. Inadvertently, this forgettable bauble ends up illustrating just how rare and precious true inspiration is.
Production companies: Telefilm Canada, Bord Scannán na hÉireann/The Irish Film Board, Ontario Media Development Corporation, Parallel Films, Rhombus Media, Mystic Point Productions, The Mob Film Company, Nelly Films Limited, The Mazur/Kaplan Company
US distribution: Bleecker Street, www.bleeckerstreetmedia.com
UK distribution: Thunderbird Releasing, www.thunderbirdreleasing.com
Producers: Robert Mickelson, Ian Sharples, Susan Mullen, Niv Fichman, Vadim Jean
Executive producers: Paula Mazur, Mitchell Kaplan, Andrew Karpen, Laurie May
Screenplay: Susan Coyne, based on The Man Who Invented Christmas by Les Standiford
Cinematography: Ben Smithard
Production design: Paki Smith
Editors: Jamie Pearson, Stephen O'Connell
Music: Mychael Danna
Website: www.bleeckerstreetmedia.com/themanwhoinventedchristmas
Main Cast: Dan Stevens, Christopher Plummer, Jonathan Pryce, Justin Edwards, Morfydd Clark, Donald Sumpter, Miles Jupp, Simon Callow, Miriam Margolyes, Ian McNeice, Bill Paterson