Keanu Reeves and Carrie-Anne Moss reunite for another spin around the simulation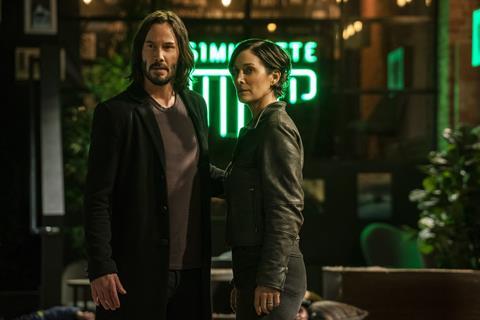 Dir: Lana Wachowski. US. 2021. 148 mins.
Eighteen years after The Matrix Revolutions, Lana Wachowski goes back down the rabbit hole, only to get lost in a sequel that lacks the visionary flair and zeitgeist-y profundity that once made this franchise such a game-changer for blockbuster cinema. The Matrix Resurrections finds Neo again leading a rebellion against the machines that have enslaved humanity, but the film's self-conscious mirroring of earlier instalments only amplifies what feels recycled about this return trip. Despite the nostalgic pull of seeing Keanu Reeves and Carrie-Anne Moss reunite, Resurrections largely recalls the protracted, unfocused Matrix follow-ups, which like this new instalment only tarnish the original's reputation.
Resurrections spends much of its nearly 150-minute runtime establishing the narrative architecture rather than finding novel twists in the premise.
Opening worldwide on December 22, this Warner Bros. release is heavily anticipated among genre fans. The 1999 picture remains a groundbreaker that cannily combined martial arts and dystopian sci-fi for a vivid story which purposed that we were perhaps all living inside an elaborate simulation. But while strong grosses seem likely, muted word-of-mouth could hamper Resurrections' longterm box office.
At some point after the events of Revolutions, Thomas (Reeves) is a successful video game designer who has developed a three-part game called The Matrix, which is essentially the three original Matrix films. Meeting a stranger calling himself Morpheus (Yahya Abdul-Mateen II), accompanied by the hacker Bugs (Jessica Henwick), Thomas is told that he's Neo, who seemingly died at the end of Revolutions — and that he's back living inside the simulation. Thomas doesn't know what they're talking about, but as in the first Matrix film, he takes the red pill and discovers the truth about himself. He becomes determined to track down his one true love, Trinity (Moss).
In the early stretches of the picture, Wachowski displays a cheeky sense of humour, acknowledging the story's obvious elements of deja vu — there's even an important cat character with that name — and, most impishly, commenting on the temptation for creators to return to popular past projects and cash in one more time. (In the world of Resurrections, Thomas' parent company Warner Bros — the studio behind the film we're watching — wants him to make another Matrix … video game.)
But those meta qualities soon lose their lustre once it becomes clear that the new film is a pale shadow of The Matrix, its momentum slowed by endless exposition and a preocupation of how Neo can get back with Trinity, who he finds in the simulation as Tiffany, a contented married mother who has no memory of him. Whether it's the introduction of a new version of Morpheus — Abdul-Mateen II takes over for Laurence Fishburne — or the surprise return of other franchise characters, not necessarily played by the same actors as before, Resurrections spends much of its nearly 150-minute runtime establishing the narrative architecture rather than finding novel twists in the premise.
If the 1999 film boldly balanced spectacle with philosophy, questioning the very nature of reality and free will, the 2003 sequels Reloaded and Revolutions often spun their wheels, expanding this bleak world while missing the creative spark of the original. Sadly, Resurrections follows down the same path, often failing to produce the stunning action set pieces that were the hallmark of this franchise. It doesn't help that, as part of the film's theme of the past informing the present, we sometimes see flashbacks to the original trilogy that echo what happens in this story. Mostly, these serve as reminders of what was once so fresh about the Wachowskis' universe.
Reeves gives a more hushed performance — appropriate since this Neo is older, slower and more haunted. Likewise, Moss exudes a vulnerability that wasn't as evident in the previous films, and when their characters are finally together on screen, their chemistry has a grownup melancholy to it. But Resurrections' notion that love trumps all tends to be overshadowed by not just the unwieldy plot but also some underwhelming new cast members.
Abdul-Mateen II has been superb in The Trial Of The Chicago 7 and HBO's Watchmen reboot, but as Morpheus 2.0, he struggles to make the iconic role his own. As for Neil Patrick Harris, who plays Neo's endlessly patient therapist, and Jonathan Groff, one of Neo's principal foes inside the Matrix, their depictions are frustratingly hammy. Throughout Resurrections, there's an implication that most people might secretly prefer being enslaved by machines, happy to live mediocre existences so as not to make any decisions on their own. Even so, those who love The Matrix shouldn't blindly accept this disappointing sequel simply because it tries to stir memories of past greatness.
Production company: Village Roadshow Pictures
Worldwide distribution: Warner Bros.
Producers: James McTeigue, Lana Wachowski, Grant Hill
Screenplay: Lana Wachowski & David Mitchell & Aleksandar Hemon, based on characters created by the Wachowskis
Production design: Hugh Bateup, Peter Walpole
Editing: Joseph Jett Sally
Cinematography: Daniele Massaccesi, John Toll
Music: Johnny Klimek & Tom Tykwer
Main cast: Keanu Reeves, Carrie-Anne Moss, Yahya Abdul-Mateen II, Jessica Henwick, Jonathan Groff, Neil Patrick Harris, Priyanka Chopra Jonas, Christina Ricci, Jada Pinkett Smith