Set inside a conversion therapy centre, Desiree Akhavan's film demonstrates a wry sense of humour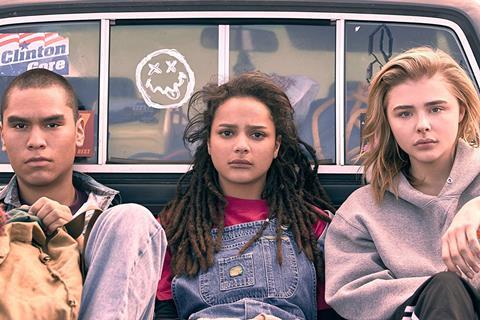 Dir: Desiree Akhavan. US. 2017. 91mins
The gentle, conventional rhythms of The Miseducation Of Cameron Post belie the sadness and muted anger at the core of this compassionate film. Borrowing from the prison genre, group-therapy drama and even the John Hughes teen flick, director Desiree Akhavan's adaptation of the Emily M. Danforth novel takes us inside the world of conversion therapy centres, demonstrating just how much more difficult adolescence is for gay youngsters being forced to recant their sexuality.
Borrowing from familiar, accessible genres, Akhavan gives Miseducation a crowd-pleasing tone
Natural, low-key performances from a cast led by Chloë Grace Moretz highlight a movie that eschews grandstanding — this modest story about self-discovery and community would rather celebrate the small victories against intolerance. Part of Sundance's US Dramatic competition, Miseducation will be embraced by LGBTQ audiences, and Moretz's marquee clout should help raise awareness for this ensemble piece. Still, commercial prospects look limited, with streaming platforms and on-demand just as valuable as theatrical exposure.
Miseducation takes place in the mid-1990s as Cameron (Moretz) is enjoying a closeted relationship with a female classmate. But after they're caught fooling around in the back of a car on prom night, Cameron is shipped off to a religious camp, God's Promise, which offers to "cure" guests of their so-called sexual deviance. The camp's rigid leader, Dr Lydia Marsh (Jennifer Ehle), insists that these teens just need to give themselves over to the Lord — advice that Cameron has no intention of heeding.
Akhavan's 2014 debut, Appropriate Behavior, starred herself, focusing on a bisexual woman trying to find her way in a judgmental society. Miseducation is a similar examination, although it's less risqué and raucous in its depiction of its young heroine's longings.
That approach seems intentional: borrowing from familiar, accessible genres, Akhavan lends Miseducation a crowd-pleasing tone that underlines the universality of Cameron's coming-of-age ordeal. With Dr Marsh as this movie's Nurse Ratched — although nowhere near as sadistic — Cameron and her newfound friends become a group of lovable rebels who just want to live their lives without being made to feel that they're sinful.
But at the same time, Miseducation doesn't go out of its way to demonise the God's Promise staff or deliver impassioned monologues denouncing homophobia. The film's critique is far more subtle, which has its own impact. Although their characters are clearly in the wrong, Ehle and John Gallagher Jr. (playing her "cured" brother who is a camp counsellor) portray them with a dignity that suggests they genuinely believe they have these teens' best interests at heart. In a way, their benevolent insistence that homosexuality is an abomination that can be fixed through therapy and prayer makes their stance even crueller and more closed-minded.
Moretz plays Cameron with level-headed poise, even as the character wrestles with insecurity and despair. Cameron doesn't doubt her orientation — the film's love scenes are sexy and casual — but the longer she stays at God's Promise, the more she realises that she may have to hide part of herself from the world to avoid being scorned. Miseducation has a funny, breezy surface — even though tragedy predictably intervenes at one point — but Cameron's wry sense of humour doesn't diminish how warping these conversion centres are, slowly instilling in people the sense that they're faulty.
The actress is paired with deft supporting players, including Sasha Lane, who gives a performance which is far less raw than her American Honey debut, although equally spirited. The Revenant's Forrest Goodluck generates plenty of laughs as their deadpan friend Adam. But the young actor is crucial to the film's underlying message: the more Adam makes light of this preposterous treatment centre, the clearer it is that he's internalising intense amounts of shame and self-loathing that may leave permanent emotional scars.
Production companies: Beachside, Parkville Pictures
US sales: Endeavor Content, info@endeavorcontent.com; and UTA, Ronson_R@unitedtalent.com and Royer_G@unitedtalent.com. International sales: Elle Driver, sales@elledriver.eu
Producers: Cecilia Frugiuele, Jonathan Montepare, Michael B. Clark, Alex Turtletaub
Executive producers: Desiree Akhavan, Olivier Kaempfer
Screenplay: Desiree Akhavan & Cecilia Frugiuele, based on the book by Emily M. Danforth
Cinematography: Ashley Connor
Production design: Markus Kirschner
Editor: Sara Shaw
Music: Julian Wass
Main Cast: Chloë Grace Moretz, John Gallagher Jr., Sasha Lane, Forrest Goodluck, Marin Ireland, Owen Campbell, Jennifer Ehle