Udo Kier, Jeff Goldblum and Denis Lavant try to scale the latest from Rick Alverson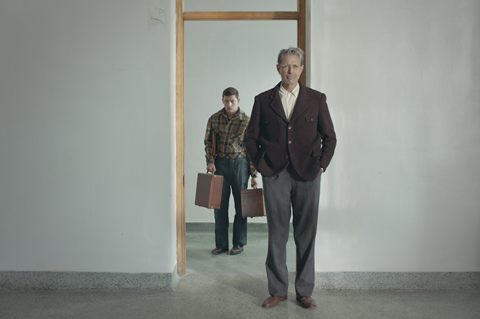 Dir. Rick Alverson. US. 2018. 108 mins
Rick Alverson has been establishing himself as one of the more idiosyncratic voices in American independent cinema of late, with discomforting tales involving memorably unpleasant characters. After debuting his last two films in Sundance, The Comedy and Entertainment, a slot in Venice competition might be seen as a promising new showcase for his work. A pity, then, that the entry falls short of expectations, whatever one's predilection for gloom.
For the most determinedly miserabilist only
The Mountain maintains that certain, admirably belligerent determination to portray the darker, more unappealing aspects of human behaviour, rather than pander to the whimsical mainstream of the indie sensibility. However, unlike Entertainment, which had a cracked energy about it, this has such a somnolent pace, blandly desaturated palette and sombre tone that staying the course can be a challenge.
America in the 1950s. Andy (Tye Sheridan) is an introverted young man who works at an ice rink, where his father Frederick (Udo Kier) teaches skaters. His mother is incarcerated in a mental hospital. When dad suddenly dies, Andy takes a job with lobotomist for hire Dr Wallace Fiennes (Jeff Goldblum), acting as the doctor's photographer on his forthcoming tour of asylums. The boy is clearly a sucker for punishment; as well as exchanging one dreary environment for another, Andy has replaced a father who allowed his mother to be lobotomised with the man who actually did the deed.
Alverson and his co-scriptwriters (including regular writing partner Colm O'Leary) offer no insight into the boy's motive – other than the dim sense that being with Fiennes represents the closest he'll ever get to his mum – or very much else of his character. The talented Sheridan (Mud, Entertainment, Ready Player One) is required to do nothing here, other than sullenly observe the horrors perpetrated by his new employer. Dare one say it, the character seems lobotomised long before Fiennes starts waving his hammer in the direction of his young aide.
Even Goldblum allows much of his natural charm and sparkle to be denuded by the Alverson agenda. Yet the veteran still manages a decent performance as the medical monster, who bears a striking resemblance to the real-life Walter Freeman, the so-called 'father of the lobotomy' who also travelled the country performing his inhumane practice and was a showman who liked to have his photo taken during procedures. Goldblum suggests narcissism, self-delusion, casual incompetence and a desperate charm, which he ladles with forlorn success over the women he meets on the road.
Freeman would be a valid subject of a more frontal biography. As it is, Fiennes' macabre practice, and what it says about the period's view of mental health, is the film's strongest element. As the doc puts it: "In some circumstances the best that can be done for families is to return the patient to them in an innocuous state."
But then Fiennes and Andy encounter the eccentric Californian guru Jack, who wants his own daughter lobotomised, and Goldblum cedes centre stage to Denis Lavant. With the once-great collaborator of Leos Carax and Claire Denis ranting and raving incoherently, the film loses any semblance of grip.
Alverson seeking out actors like Goldblum, Kier and Lavant, who have prospered with their atypical personalities and acting styles, feels too calculated a move; wasting two of them is just careless, though admittedly the female skaters' camp tribute to the dead Kier will add to his cult status. Sound design includes the occasional industrial hum that, along with the airless mood and catalogue of oddballs and sociopaths, brings David Lynch to mind. But even at his most challenging Lynch offers a visually striking canvass and tongue-in-cheek humour. Without these, The Mountain is for the most determinedly miserabilist only.
Production companies: Made Bed/Remergence,
International sales: The Match Factory, info@matchfactory.de
Producers: Sara Murphy, Ryan Zacarias, Allison Rose Carter, Eddy Moretti
Screenplay: Rick Alverson, Dustin Guy Defa, Colm O'Leary
Production design: Jacquelin Abrahams
Editing: Michael Taylor, Rick Alverson
Cinematography: Lorenzo Hagerman
Music: Daniel Lopatin
Main cast: Tye Sheridan, Jeff Goldblum, Hannah Gross, Denis Lavant, Udo Kier