Is it time for Universal to read the hieroglyphics after its latest Mummy reboot?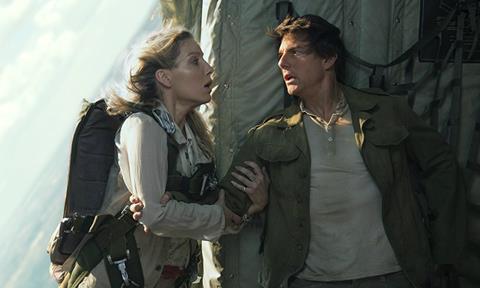 Dir. Alex Kurtzman. US.2017 110 mins
Resuscitate, revive, repeat. The Mummy's bandages unravel to reveal Sofia Boutella as the sinister Princess Ahmanet, Universal's sexiest shrink-wrapped stalker to date (after Boris Karloff, Christopher Lee and Arnold Vosloo, so the competition is admittedly thin). But there's an empty space where the soul of this rebooted franchise should be. Tom Cruise and Russell Crowe lead the studio's latest attempt to hammer its back catalogue into a "Dark Universe" to rival that of Marvel or DC, but they stumble into a scenario in need of radical re-animation and trip up on dialogue as mouldy as any centuries-old dressings.
The Mummy could prove to be more terrifying at the box office than anything it achieves onscreen.
Lacking the B-movie energy of the Brendan Fraser/Rachel Weisz 1999 incarnation, or a Game of Thrones edge to draw today's audiences, The Mummy will have to stalk Tom Cruise's loyal fans for succour. The actor typically works hard for director Alex Kurtzman, known for penning Transformers, Star Trek and Spider-Man reboots and directing the 2012 indie People Like Us. The strain shows through the CGI, air-brushing, and increasingly desperate cheeriness while his British co-star and love interest Annabelle Wallis could scarcely look less comfortable. Positives? As Dr Henry Jekyll, Crowe does lend The Mummy some weight, and at 110 minutes the film is certainly faster on its feet than some of the recent, more bloated tentpole releases.
Like its central figure, The Mummy's plot wants it all. This isn't a film which is content with Egypt, or the pyramids, which barely get a look in - perhaps the studio was trying to distance itself from last year's Lionsgate flop Gods of Egypt. Instead, it delivers medieval Crusaders interred in underwater London crypts who are disturbed by Crossrail, no less. Cruise, meanwhile, is a wise-cracking, artefacts-looting US army reconnaissance officer in Iraq who takes on Isis with his sidekick (Jake Johnson).
Princess Ahmanet's back-story is delivered mostly via CGI. A nasty piece of work who cut a deal with Set, the god of evil, she ended up with face tattoos, blue toes and fingers, and millennia buried in a mercury bath in Mesopotamia. She's still reeling from an epic case of coitus interruptus, and needs a mate. Could Tom Cruise be selected as "the vessel for ultimate evil!"?
All this is complicated enough before Crowe arrives as a Jekyll/Hyde mastermind. Whatever happened to a crypt door and a guilty-pleasure plot? Everything about The Mummy strains solely towards setting up a franchise in a world which only makes sense to its writers. Robin Hood could just as easily drop by from Sherwood Forest, Aslan from Narnia, or even Pippi Longstocking from Sweden, and the plot would soldier on regardless. That's fun for a while, perhaps, but it's a short while. The sole mission here is to give Universal/Tom Cruise a stake in a new world of franchises creatively supervised by Kurtzman and his producer Chris Morgan (Bride of Frankenstein is under way, as is Invisible Man). And The Mummy puts the cart before that horse.
There are two takeaways from The Mummy: the first is that the original Universal Horror titles are well worth a revisit, as opposed to a reboot - even Dwayne Johnson in the sequel of the 2009 revival, The Scorpion King, is more fun than this. The second is Sofia Boutella (Kingsmen), who swipes Cruise and Crowe downstage. The studio will probably carry on regardless, yet after Van Helsing (2004), which brought Dracula, Jekyll and Frankenstein together, 2010's The Wolfman, and 2014's Dracula Untold, Universal may well be able to read the hieroglyphics by now. The Mummy could prove to be more terrifying at the box office than anything it achieves onscreen.
Production companies: Universal Pictures, Dark Universe, Perfect World
International distribution: Universal Pictures
Producers: Alex Kurtzman, Chris Morgan, Sean Daniel, Sarah Bradshaw
Executive producers: Jeb Brody, Roberto Orci
Screenplay: David Koepp, Christopher McQuarrie,Dylan Kussman, from a story by Alex Kurtzman, Jon Spaihts and Jenny Lumet
Cinematography: Ben Seresin
Production design: Dominic Watkins, Jon Hutman
Editor: Paul Hirsch
Music : Brian Tyler
Main cast: Tom Cruise, Russell Crowe, Sofia Boutella, Annabelle Wallis, Courtney B. Vance, Jake Johnson