Robert Redford plays real-life octogenarian bank robber Forrest Tucker.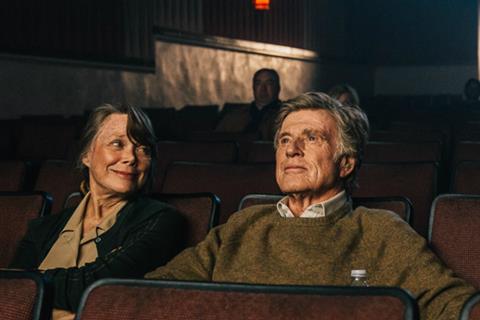 Dir: David Lowery. US. 2018. 93mins
The real life Forrest Tucker spent decades robbing banks, getting arrested, breaking out of prison, and robbing more banks. The wistful, lighthearted drama The Old Man & The Gun tries to determine precisely why he was so fixated on this pursuit, and the answer proves to be both simple and complex: because he never found anything else that made life worth living. Writer-director David Lowery reteams with his Pete's Dragon star Robert Redford for this meditative and thought-provoking look at mortality, commitment and people's penchant for chasing something they might never catch.
Redford has rarely been this commanding in his recent work
This small gem will come to US screens on September 28 and the UK on December 7, no doubt hoping to garner awards consideration for Redford and co-star Sissy Spacek. Strong reviews should attract art-house crowds — particularly older viewers who will relish watching these two legends, and perhaps relate to the film's themes of aging and regret.
Redford plays Forrest Tucker, who is in his 60s when we meet him in 1981. Tucker is in the midst of a crime spree across Texas and the Midwest, his approach very simple: he goes into small, locally run institutions, tells them he has a gun, and very politely asks them for their money. A Texas detective, John Hunt (Casey Affleck), is determined to bring down Tucker, who becomes infatuated with a widow, Jewel (Spacek), who's charmed by this man — even if she's not sure if he's kidding about being a thief.
Based on a New Yorker article, Old Man might seem like a radical change of pace after Lowery's last film; the philosophical, cosmic A Ghost Story. But both movies share an existential dread regarding how best to find meaning in one's life and, while his previous offering was far more experimental, this deceptively mainstream lark is equally invested in seeking solutions to that age-old dilemma.
That anxiety is expressed beautifully through Redford's muted turn. A robber with a reputation for being gentlemanly during his heists, Tucker (who died in 2004 at the age of 83) isn't a conman or a hustler — quite the contrary, he's upfront about his inability to lead a "respectable" life. And yet, he seems to be able to build a relationship with Jewel, who's attracted to his boyish refusal to acquiesce to the demands of societal conventions.
Old Man sets the audience up to believe that the film will be a cat-and-mouse chase between Hunt and Tucker, but Lowery has something defter in mind, positioning the detective as an inquisitor traveling through this robber's past to try to unlock his mysteries — only to find more mysteries. Affleck, a frequent Lowery collaborator, leaves Hunt a bit opaque, hinting that this lawman is, in some ways, impressed with Tucker's ability to operate under his own moral code.
Redford has rarely been this commanding in his recent work, playing Tucker with a mischievousness in his eyes but also so much soul that his thieving feels more like an expression of some sad longing than a chronic criminal mind-set. The Oscar-winner lets the character remain fundamentally unresolved, and Lowery's sympathetic, albeit mystified attitude toward Tucker suggests a willingness to accept that there's something unknowable and primal about his need to keep escaping high-security prisons and start robbing again.
Joe Anderson's faded Super 16mm cinematography nicely evokes the not-too-distant past, while also giving Old Man the tenor of a folktale. Daniel Hart's lyrical score adorns Tucker's restlessness — as well as his realization that he may be able to outrun the cops, but he can't escape Father Time. And although an impressive supporting cast, including Danny Glover and Tom Waits as Tucker's partners, are underused, Spacek radiates warm affection for this crook — with a dash of weary recognition that even she may not be able to keep him planted in one place for too long.
Production companies: Fox Searchlight Pictures, Endgame Entertainment, Condé Nast Entertainment, Sailor Bear Film, Identity Films, Tango Productions, Wildwood Enterprises
International sales: Rocket Science, info@rocket-science.net and os@rocket-science.net
Producers: James D. Stern, Dawn Ostroff, Jeremy Steckler, Anthony Mastromauro, Bill Holderman, Toby Halbrooks, James M. Johnston, Robert Redford
Screenplay: David Lowery, based on the New Yorker article by David Grann
Production design: Scott Kuzio
Editing: Lisa Zeno Churgin
Cinematography: Joe Anderson
Music: Daniel Hart
Main cast: Robert Redford, Casey Affleck, Danny Glover, Tika Sumpter, Keith Carradine, Tom Waits, Sissy Spacek