A sexy New York-based romance set to woo Valentine's Day crowds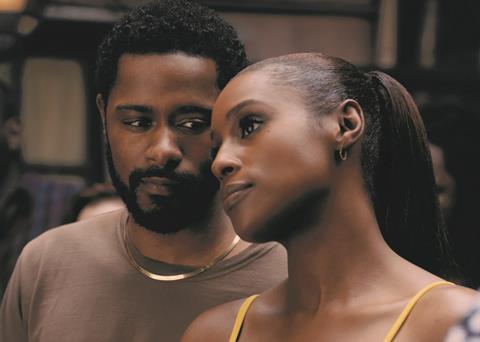 Dir/scr: Stella Meghie. US. 2020. 106mins.
It's hard to balance love and career: that may not be a fresh insight, but it's rarely been explored as tenderly as it is in The Photograph, an exploration of two generations of wayward souls who too easily allow romance to take a backseat to professional and artistic aspirations. Issa Rae and LaKeith Stanfield have terrific chemistry playing immensely likable but guarded people learning to be truly intimate with one another, and writer-director Stella Meghie provides them with smart, sparkling dialogue. And although the film sometimes dips into muddled melodrama, those occasional setbacks can't derail a story filled with warm, resonant characters trying to fathom their own hearts.
The Photograph has an enticing, soulful pulse
This romantic drama should appeal to the Valentine's Day crowd in the US this weekend (Universal will release The Photograph in the UK on March 6). Rae and Stanfield are both emerging talents — she's the star and co-creator of HBO's Insecure, he's the star of Sorry To Bother You and part of the ensemble of FX's Atlanta — and so the film will be an interesting test of their commercial viability. Hopefully, solid reviews and glowing word-of-mouth will help propel The Photograph to a sustained theatrical life.
New York journalist Michael (Stanfield) is working on a story that leads him to Mae (Rae), a museum curator whose late mother, Christina, was an acclaimed photographer. Although both are ambitious professionals in demanding industries, they feel an instant spark, which makes them nervous because of unsuccessful past relationships. Mae has also recently found a letter written by her mother that seeks to explain why Christina moved from New Orleans to New York as a young woman (played by Chante Adams in flashbacks).
Meghie (The Weekend) adopts a somewhat ambitious structure for The Photograph, moving between the present-day story to Christina's early adulthood in the 1980s and '90s, very slowly drawing connections between the two timelines. In its weakest moments, The Photograph has some of the soggy sentiment of a Nicholas Sparks adaptation, where manipulative plot twists are meant to pull out the rug from under the viewer. Thankfully, Meghie reveals her narrative surprises with grace and modesty so that they don't feel so overblown, although they will cause a main character to doubt his or her core beliefs.
The Michael/Mae storyline is easily the stronger of the two: It's a pleasure to watch the characters flirt, fall in love, fall into bed with one another, and then try to handle the fallout of that impulsive act. Stanfield and Rae play nuanced, cultured grownups who have decided that the pursuit of a career is more rewarding than a love affair — a certainty that is suddenly challenged once they realise how much they like one another. Yet we fear that, because they've been burned before, this couple will find ways to sabotage their romance. As demanding as their jobs are, they don't seem as scary as the prospect of being vulnerable around someone you care about.
In the flashbacks, Adams and Y'lan Noel (who plays Christina's love interest Isaac) also have a palpable rapport, but their tempestuous relationship — she wants to be in New York to pursue her art, he wants her to stay closer to home — feels more familiar, without the lively exchanges and deep resonance of the modern-day storyline. (Plus, it's fairly obvious that the flashbacks are heading toward a not-entirely-surprising twist.) Nonetheless, The Photograph ultimately finds a way to link the two threads that is organic and also touching, suggesting how we all learn about relationships from our parents — and that the lessons aren't always the right ones.
Cinematographer Mark Schwartzbard gives the New York scenes vitality and big-city sophistication, capturing all that's electric about a Manhattan love affair. Robert Glasper's jazzy score exudes melancholy and smoky sensuality all at once, while the R&B/hip-hop soundtrack — which includes everything from classic Al Green to cutting-edge musicians like Solange and Anderson .Paak — lends The Photograph an enticing, soulful pulse. Michael and Mae have to contend with their nervous hearts, but the movie couldn't be more in love with the idea of giving romance another chance.
Production company: Will Packer Productions
Worldwide distribution: Universal Pictures
Producers: Will Packer, James Lopez
Production design: Loren Weeks
Editing: Shannon Baker Davis
Cinematography: Mark Schwartzbard
Music: Robert Glasper
Main cast: Issa Rae, LaKeith Stanfield, Chante Adams, Lil Rel Howery, Rob Morgan, Y'lan Noel, Courtney B. Vance