Juliette Binoche and Benoit Magimel make an appetising combination in Tran Anh Hung's food-themed Competition entry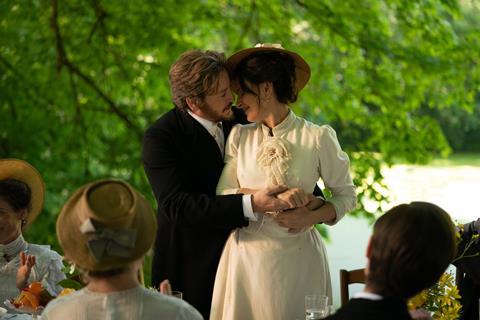 Dir: Tran Anh Hung. France. 2022. 135mins
In Tran Anh Hung's seventh feature, a passion for food becomes a conduit to exploring an appreciation for the beauty and mystery of existence — as well as telling a delicate, complicated love story. The Pot-Au-Feu simmers thanks to the tender rapport between Juliette Binoche and Benoit Magimel, who play (respectively) a cook and a gourmet whose devotion to their craft is matched by their adoration for one another. The meals they prepare are filmed exquisitely, but Hung's understated drama, which won him the Best Director prize at Cannes, invites us to look beyond the delicious spreads in order to savour the everyday pleasures we risk taking for granted.
Celebrates a mature relationship that's guided by mutual respect and equality
Slated for a November release in France and picked up quickly worldwide, The Pot-Au-Feu is Hung's first film to screen in Competition at Cannes. (The Scent Of Green Papaya and The Vertical Ray Of The Sun were both programmed in Un Certain Regard, with the former winning the Camera d'Or.) The picture represents a reunion between Binoche and Magimel after they played lovers in 1999's Children Of The Century, and their star power should help attract audiences. Expect strong reviews, not to mention the occasional sigh of pleasure from viewers taking in all that sumptuous food.
The film, adapted from Marcel Rouff's 1924 novel The Life And Passion Of Dodin-Bouffant, Gourmet, is set in 1885 as Dodin (Magimel) works with his brilliant cook Eugenie (Binoche) to concoct incredible dishes. Indeed, The Pot-Au-Feu's first half-hour is an elaborate set piece in which we see the two of them — although mostly Eugenie — slice, cook, glaze and sprinkle several courses that will be served to Dodin's guests, and the duo's expertise and enthusiasm are witnessed in each flawless movement.
Having worked together for two decades, Eugenie and Dodin have also cultivated a romantic relationship – albeit one with boundaries put up by Eugenie. She does not want to be his wife, politely declining his marriage proposals so that she can maintain a level of autonomy. But the increasing regularity of her fainting spells make Dodin fear for her health.
Superficially, The Pot-Au-Feu might be labelled food porn because of the way Jonathan Ricquebourg's camera lingers on Eugenie's creations, but Tran is less interested in the gorgeousness of her meals than how seriously she and Dodin take their vocation. Their love language is the deep discussion of the culinary arts, and Binoche and Magimel effortlessly portray a couple who are stimulated intellectually as well as physically by one another. Dodin's peers praise him as the Napoleon of gastronomy, but he knows he would be nothing without Eugenie, and the film celebrates a mature relationship that is guided by mutual respect and equality. Realising they are reaching the autumn of their years, they want to hold onto every moment they have left — even if Eugenie coyly resists his suggestions that they become husband and wife. But this resistance, we soon learn, is part of their flirty courtship: they live in separate quarters, with Eugenie occasionally allowing him to visit her bedroom at night.
Tran has fashioned a meditative character study in which several potential metaphors are given space to flourish. It's easy to interpret Eugenie and Dodin's meticulous gastronomy as a stand-in for all artists' dedication to their muse, giving everything of themselves in order to create something beautiful. But the film also feels like a commentary on the quiet ways that we demonstrate our love. When asked early in The Pot-Au-Feu why she doesn't partake of the meals she makes for guests, Eugenie explains that she would rather communicate through her food – a touching illustration of the small acts of affection we selflessly provide for others.
Eventually, Dodin will return the favour, cooking a meal for Eugenie when she begins to get sicker, and the precision he brings to his silent preparations are as moving as any romantic soliloquy. The Pot-Au-Feu telegraphs early on that Eugenie is not well, as she occasionally loses her balance or is overcome by exhaustion. The more that Dodin worries, the more she insists she's fine, but he and the audience know better, which adds an extra layer of poignancy to the proceedings. As splendid as a meal can be, it's only there for a brief moment and, likewise, a love affair has an inevitable expiration date. But while this gentle film ends with sadness, there is also something comforting in the notion that, like a terrific dish, the memory of a great romance will endure.
Production company: Curiosa Films
International sales: Gaumont, manuel.pereira@gaumont.com
Producer: Olivier Delbosc
Screenplay: Tran Anh Hung, adapted from the novel by Marcel Rouff
Cinematography: Jonathan Ricquebourg
Production design: Toma Baqueni
Editing: Mario Battistel
Main cast: Juliette Binoche, Benoit Magimel