Corinna Faith's genre debut is set during the UK's power blackouts of 1974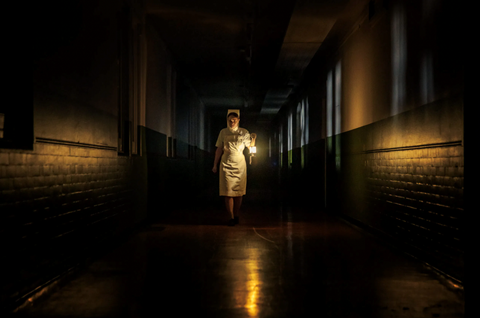 Dir/scr: Corinna Faith. UK. 2021. 96 mins.
UK writer-director Corinna Faith's feature debut The Power is a blackout horror set during a dark night during the 1974 London power shortages. Set for release through dedicated genre streamer Shudder, where fellow UK offering The Host has found much recent success, it's a palpably ambitious piece, with a visual acuity which punches well above its weight and a fascinating central performance from Rose Williams (Sendition). Part of a recent attack of UK horror, much of it female-led and -directed (The Banishing is the most recent Shudder pick-up), this is admittedly no genre game-changer – the screenplay struggles to follow through on its early promise – but there's a dark, enticing world at play in the Stygian gloom of a rambling Victorian-era East End hospital at night which will be a calling card for Faith and her players.
Intensely atmospheric
Faith, setting her story in UK's famously dark winter of electricity rationing, captures a watershed between old England – symbolised by the vast, empty hospital and its rigid social hierarchy – and the new, in the shape of timid nursing graduate Val (Williams), an orphan who returns to the slum area of her childhood to try to help. Her ambition and caring qualities aren't necessarily appreciated, though: "People around here live like animals," barks battleaxe Matron (Diveen Henry), before directing Val to work the night shift on her first day. Val's mean-girl former school classmate Babs (Emma Rigby), doesn't help matters either.
Unconfident, anxious, and haunted by terrifying flashbacks involving an older man in a confined space, Val is also afraid of the dark. A smell follows her around the wards. She is preyed upon by a handyman named Nev (Theo Barklam-Biggs), although a kind-hearted doctor (Charlie Carrick) shows her some encouragement, infuriating both Matron and Babs in equal measure. Bullied and abused as a child, Val is, overall, an ideal candidate for demonic possession (made clear in the trailer.)
There's a young Indian girl in the hospital named Saba (Shakira Rahman) who seems alone in this world too. She hides and runs through the soupy amber-green wards and she may hold the key to what – or who – lurks in the dark corridors as the death toll starts to mount and Faith calls upon her lead actor to increasingly shoulder the load. While Williams shows herself more than capable, turning in a bravura performance – and a notably physical one - it's at just this point that film starts to fall back on its tropes.
Early on, there's an impressive, almost leisurely focus on mood and colour, on shapes and silhouettes in the dark, and the haunting sounds of 'Where's Your Mamma Gone' - always such a creepy pop tune. Yet there's a failure to back up the visual menace with the nuance of characterisation or motivation - The Power is (very) female-skewed, with male characters given short shrift. Ultimately, there are few surprises, yet a number of questions remain.
Still, as everything – and body - drops off around her, Williams rises to the challenge. And Faith and her team never let up on the intense atmospherics. DoP Laura Bellingham shoots some spooky pans across the wards, while production designer Francesca Massariol amps up the anxiety of the colour coded brickwork of Blythe House, currently owned by the V&A and quite a coup to secure for the shoot. It's most likely that The Power was made for a low budget, under significant constraints - not helped by finishing post-production during the first UK lockdown, but to Faith's credit, her film never looks anything less than a class act.
Production companies: Stigma Films, Air Street Films
International sales: Altitude
Producers: Rob Watson, Matthew James Wilkinson
Cinematography: Laura Bellingham
Production design: Francesca Massariol
Editors: Rebecca Llloyd, Tommy Boulding
Music: Gazelle Twin, Max de Wardener
Main cast: Rose Williams, Charlie Karnick, Gbemisola Ikumelo, Shakira Rahman, Theo Bartlam-Biggs, Nuala McGowan, Diveen Henry