Jerry Rothwell's groundbreaking documentary tunes into the autistic spectrum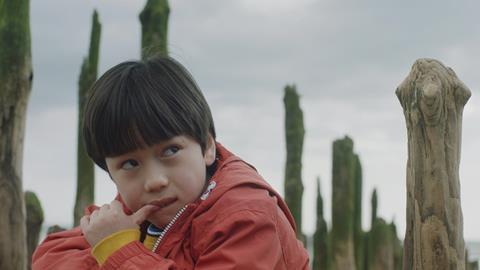 Dir: Jerry Rothwell. UK/US. 2020. 82 minutes.
It's not very long: it won't take up much of your time. But The Reason I Jump will change how you think, and how many films can say that? This exquisite documentary is required viewing for anyone whose life has been touched by autism, and that's almost everyone. Jerry Rothwell's enormously affecting - and revelatory - film has a touch of Notes On Blindness in its sensory-led, audiovisual examination of autism, and it should follow that film's trajectory: a long, plaudit-filled life of festivals, tours, special screenings, and interest from global public service broadcasters. Through it all, perceptions may shift and lives can improve, because this small film is a masterclass in communication for anyone ready to listen.
Is there comfort in this world? That's not a question Rothwell's camera is able to answer, but we understand completely that there's a hunger for human connection that might provide some of it.
Five sets of parents of autistic young adults bravely open their lives for Rothwell's camera in his considered, intelligent attempt to channel the words of Naoki Higashida's renowned book of the same name. Written when he was just 13, Higashida's assemblage of essays told of his own experience of being autistic and unable to communicate verbally, his feelings, fears, and the reason he jumps – to soothe himself, we discover. Rothwell's camera captures a young autistic boy (Jim Fujiwara) playing on a beach near a lighthouse, as Higashida's words are narrated by Jordan O'Donegan, his voice gilding gently onto the aural seascape which brings us in turn to India, the UK, the United States and Sierra Leone, and all the way back to the beach again.
Rothwell's film opens up autism like a flower. On its stem are three levels of viewer interaction: with the young, "non-verbal" adults themselves (their past through video clips; the present through Rothwell's camera; and internal emotions, voiced in surprising ways). Their parents give heart-rending context of the struggle to communicate, but it's Higashida's words which illustrate the picture we are seeing. (The co-translator of Higashida's book, Cloud Atlas author David Mitchell, explains it best when he says the words are an "envoy" from his own son's autism.)
From this base, the film shoots out aurally and visually. Indeed, the initial narration exhorts the viewer to "have a nice trip through our world," as the camera conveys the wild, uncensored sensory input, the minds constantly swaying, and the idea of "never being at ease wherever I am".
In India, the artist Amrit seems to be in pain as she recalls the events of the day through her paintings, but that can quickly move to happiness in a heartbeat.
Through Joss, in England's Broadstairs, we understand how the "worry for the next moment never stops", and how the past runs as a constant slideshow, events of decades ago as present as the emotions of now.
In Virginia, Ben and Emma use an alphabet letterboard, a crude communication device to convey the emotions and sensations which we now understand to be so huge and omnipresent, but an effective and moving testimony nonethless.
And in Sierra Leone, Jestina mewls and shudders while her parents try to stop others like her from being literally put to death by superstition.
Is there comfort in this world? That's not a question Rothwell's camera is able to answer, but we understand completely that there's a hunger for human connection that might provide some.
All aspects of this film deserve praise, each department wrapping itself around the considerable challenges of bringing such a complex adaptation to the screen. Rothwell (How To Change The World) works fluidly with his team. Care and respect is evident. Camerawork is beautiful, but in the service of the piece, not beauty itself. Sound design is enveloping, and together they convey worlds of light and water, of the humming from electricity that can travel for miles and of a range of emotions from anxiety to shame that run deeper and more vividly than it seems we can possibly understand.
The Reason I Jump will help us, though.
Production companies: Ideas Room, MetFilm, Vulcan Productions, Runaway Fridge, BFI
International sales: Metfilm, vesna@metfilm.co.uk
Producers: Jeremy Dear, Stevie Lee, Al Morrow
Screenplay: Based on the book by Naoki Higashida, co-translated by David Mitchell and KA Yoshida
Cinematography: Ruben Woodin Dechamps
Editing: David Charap
Music: Nainita Desai