In a desolate camp in Northern Syria, stateless 'Isis Brides' open up to Alba Sotorra's sympathetic lens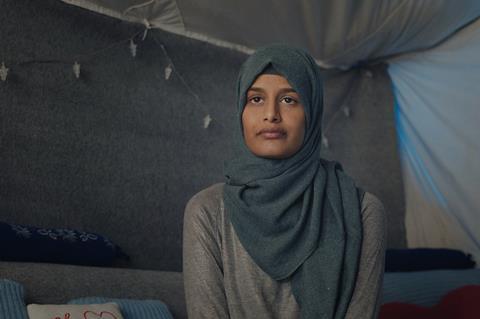 Dir. Alba Sotorra Clua. Spain/UK, 2021. 89 minutes.
There are sad stories and there are tabloid witch hunts and they collide in the case of the so-called 'Isis Brides' – the women, in varying degrees of statelessness, who live in grim limbo in refugee camps in Northern Syria. Director Alba Sotorra Clua filmed in the Asayis-guarded Al Roj Refugee Camp on-and-off over two years with these people the world would prefer to cast into oblivion: the UK's Shamima Begum, Hodha Muthana from the US, Canadian Kimberly Polman and their Dutch and German friends. They sided against their home countries in joining a sadistic, bloodthirsty terrorist uprising; that's a fact. Their gullibility and foolishness is also clearly in evidence. Begum, for one, has paid the ultimate, terrible price, and cuts the saddest of figures in this basic camp, surrounded by raggedy, tumbling children yet always alone.
A vital part of the puzzle
Clua's film is a work by women, about women, and is also for women and those predisposed to be open to their stories. Premiering at SXSW, this Sky Original will be seized upon, not least in the UK, and used to prop up arguments for and against the fact, for example, that Begum has been stripped of her nationality and is not allowed to return to the UK to fight her case. The child of 15 who ran away from home in the worst way imaginable is still evident in the confusion she expresses at what happened to her since: the death of the two friends she went to Syria with, and the loss of her three infants.
"I would say to the people of the UK to give me a second chance," she says, awkwardly. If she did ever come back, her dream would be to "eat a nice Subway with meatballs". It's pretty easy to see in her the girl whose education was far from complete, and the child who found it difficult to make friends. It turns out, of course, that all of these women were loners and introverts and converts, mentally fragile if not incapacitated, their religion self-taught, the flames of their fanaticism fanned. This much we may know instinctively, but Sotorra shows it, the women surrounded by makeshift, tacked-together tents and spilling-over latrines in the inhospitable part of the world to which they eagerly ran. The Spanish film-maker and journalist finds a sympathetic protagonist in Kurdish camp worker and feminist Govinaz Evdike, who comes in to work with the women, despite the fact that her home was destroyed and her best friend killed by Isis. "Nobody else is helping them, so the burden falls to the Kurds."
In this modern-day no man's land, babies grow to toddlers, children to pre-teens as the women realise their fate. Govinaz encourages their memories, of their flight from their homelands to what became "Hell on Earth" – "like the Middle Ages," recalls one, where they were locked into "madafas", or houses for women, where the only escape was marriage, and children. (Some were more successful than others, and Begum clearly loved her husband, a Dutch national who is still alive.) By the end, during Isis's last days in Baghuz, they were starving, eating grass. Their hungry children were told they could eat chicken in paradise, so when they arrived in the disconsolate, tattered, end-of-the-earth Asayis, they actually thought they'd arrived in Heaven.
Every story has many sides and, yes, it is of course the case that Clua's documentary is just one sad, sorry episode in the so-called War Against Terror, or Holy War. It's one with remarkable access: at one point, the camera witnesses a tent being burned down with a mother and children still inside as retribution by some of the hardline women of the camp for perceived disrespectfulness. Shrieks rent the air, and the fact Clua's interviewees may suffer repercussions here is reinforced. Clua has been working in the area for years, but still, to get her camera inside at such close-quarters is an incredible achievement. The picture it takes is of a closely-bonded group of young women – Begum is still only 19 at the start of filming – who are alone in the world, surviving through the mercy of the Kurdish Red Crescent, the very people their movement tried so hard to obliterate.
That irony is lost, of course, to the governments who wash their hands of them now, delivering another savage kick in a brutal conflict and relying on those who are themselves disposessed to pick up the slack. Clua's is a feminist argument: she wants the viewer to note how the women have been preyed upon, abused, and used, and to ask how it is possible to win a war if the argument has to be so demeaned in this way – how fragile those democracies must be not to be able to withstand the return of these pitiful souls. It's a hard heart indeed that won't see her picture, and although the question is of course far more nuanced than Clua presents, her film is still a vital part of the puzzle.
Production companies: Alba Sotorra Film Productions, MetFilm, Sky Originals
International sales: MetFilm Sales, vesna@metfilms.co.uk
Producers: Alba Sotorra Clua, Vesna Cudic, Carles Torras.
Screenplay: Julia Pares, Alba Sotorra Clua
Cinematography: Lara Vilanova, Gris Jordana, Nuria Roldos
Editor: Michael Nollet, Xavi Carrasco
Music: Mehmud Berazi, Josefina Rozenwasser