Dir: Galt Niederhoffer. US. 2010. 95 mins.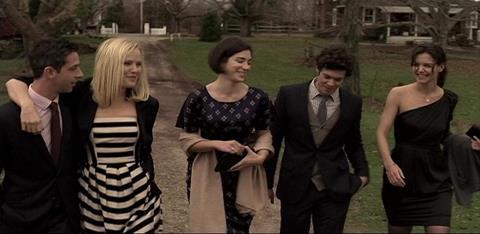 Although The Romantics can be too glib for its own good, writer-director Galt Niederhoffer's adaptation of her 2008 novel addresses the challenges of friendship eloquently enough to forgive this comedy-drama's generally superficial tone.
Holmes turns in her strongest performance in years.
The Romantics' cast of twentysomething characters, who gather together for their friends' wedding, should be a potent lure for a similar demographic. And with a cast that includes Katie Holmes, Josh Duhamel, Anna Paquin and Malin Akerman, this relationship film seems a sure bet for the date-night crowd.
Tightly-wound Lila (Paquin) is marrying Tom (Duhamel), and their wedding has reunited their close-knit group of college friends for the weekend. The build-up to the event is largely joyous, except for maid of honour Laura (Holmes), who was Lila's best friend and had been in a long-term relationship with Tom before he started seeing Lila. That betrayal has never been fully discussed between the three college friends, and the tension is only exacerbated by the fact that Tom has pre-wedding jitters.
Stuffing the soundtrack with emotion-heavy indie-rock songs that underline the sentiments in several key scenes, Niederhoffer wants The Romantics to be not just a story about a love triangle but, more grandly, a portrait of the exuberance and anxiety of post-college life. Unfortunately, her characters (especially the peripheral ones) are drawn too broadly, practically becoming symbols of hipster attitudes and self-absorbed discontent.
But despite Niederhoffer's occasionally coy dialogue and trite subplots involving drunken hook-ups, The Romantics is on much firmer footing in its exploration of the central drama between Laura, Lila and Tom. Niederhoffer uncovers genuine self-doubt and pain within the dynamic of these three characters' relationship, illustrating how the intense bonds of college friendships can be impossible to break in subsequent years, no matter how much the participants wish it were otherwise.
As the deeply wounded Laura, Holmes does some of her strongest acting in years. Her tabloid-friendly marriage to Tom Cruise may have obscured the fact that she was once considered an actress of some promise, but with The Romantics she returns to the direct, honest performances of her early career.
Paquin has a much more thankless role as the shrill bride-to-be, portraying a control-freak personality that's meant to stand in stark contrast to Laura's more romantic and emotional demeanour. Still, Paquin succeeds in elevating Lila beyond being simply the villain of the piece, hinting at the emotions she's had to bottle up for so long.
The nicest surprise among the cast is Duhamel, who has mostly played dopey beefcake characters in the Transformers films. It's refreshing to see him take on the more complex Tom, who knows he hurt Laura in the past but is unable to stop himself from possibly hurting her all over again.
As might be expected from its setup, The Romantics builds to a suspenseful finale concerning whether or not the wedding will actually happen. Throughout the film, Niederhoffer can sometimes overdo the melodrama, but she confidently guides her story to a conclusion that, though surprising, feels exactly right and entirely in keeping with her characters' open-ended futures.
To sign up for Screen's weekly Reviews Newsletter with all the week's new releases, international openings and full festival reviews delivered free to your mailbox every Friday, please click HERE
Production companies
Plum Pictures
Team Todd
Benaroya Pictures
US Sales
Cinetic Media
+ 1 212 204 7979
International Sales
SC Films International
+44 (0) 20 7287 1900
Producers
Daniela Taplin Lundberg
Galt Niederhoffer
Jennifer Todd
Suzanne Todd
Michael Benaroya
Taylor Kephart
Screenplay
Galt Niederhoffer, based on her novel
Cinematography
Sam Levy
Production design
Tim Grimes
Editor
Jacob Craycroft
Main cast:
Katie Holmes
Josh Duhamel
Anna Paquin
Malin Akerman
Adam Brody
Dianna Agron
Jeremy Strong
Rebecca Lawrence
Elijah Wood
Candice Bergen