After a lengthy delay, this prestige production from Heyday Films moves to streaming services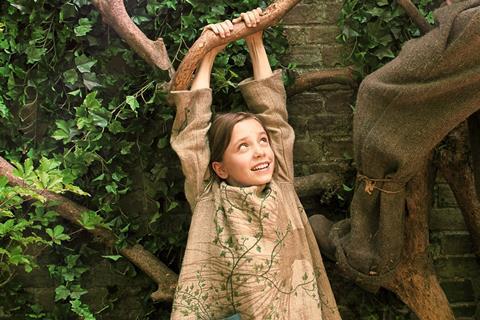 Dir. Marc Munden. UK. 2020. 99 mins.
Frances Hodgson Burnett's beloved and oft-adapted work of children's literature is resolutely of its time, captured in the amber aspic of the Edwardian era in which it was written. Writer Jack Thorne's subtle shift of the story from 1911 to a post-War 1947 proves a smooth transition for director Marc Munden and Heyday Films, even though the enchantment of the written word stubbornly refuses to be augmented by an over-ripe abundance of CGI-assisted blooms and chirruping wildlife. This is less Narnia or His Dark Materials, and more the The Railway Children or The Little Princess, another story by Hodgson Burnett and a memorable vehicle for Shirley Temple in 1939.
A satisfyingly rich and beautiful film to watch
Of any film which has hurriedly moved online since March, The Secret Garden is the one most clearly designed for wide-release big-screen consumption and its August 8 streaming on STX in the US – followed by Sky TV in the UK in September, simultaneous with cinemas – is disheartening. A robustly old-fashioned production, it's a tasteful film which reverberates with the feeling of a vastly different age. As such, it's gentle escapism for the old, the young, and the nostalgic. Even Thorne can't give it sufficient dramatic tension to thrill, but a lovely performance from lead Dixie Egerickx, plus stalwart support from old hands Colin Firth and Julie Walters, compensates.
The Secret Garden was published a scant decade after Henry James first wrote The Turn Of The Screw, and there's a similarly haunting air to the book's Misslethwaite Manor and its neglected children which DoP Lol Crawley captures with a creepy effectiveness. Thorne and Munden dial down the mystery of the noises in the night, however, opting instead for a prescient mangy dog who leads Mary Lennox (Egerickx) to the titular retreat and a bird who points her to its key. That comes later, though, after a disturbing start to the film in which the spoiled 10 year-old Mary awakens to discover that her parents have died of cholera in a Partition-ravaged India. Now an orphan, she is sent back to the indifferent care of her scoliotic uncle Archibald Craven (Firth) on his damp and decaying estate on the Yorkshire Moors, recently home to British soldiers during the war.
Mary is an obnoxious, unlikeable brat, having been spoiled by servants and neglected by her mother (Thorne's screenplay awards her a motivation of grief, as opposed to the novel's parental indifference). In a piece of uninspired casting, Julie Walters plays Misslethwaite's stern housekeeper who greets Mary with the words "you're a plain little piece, aren't you?" and warns her not to poke about. Explore she does, however, and apart from her hulking uncle (also grieving), she encounters a friendly servant Martha (Isis Davis), Martha's nature loving son Dickon (Amir Wilson) and her bedridden, anguished, closeted-away cousin Colin (Edan Hayhurst).
There are themes here that don't translate so well to the modern age: a neglectful man wracked by guilt and grief, nursing his wounds in a study like Mr Rochester in a twisted post-war landscape - judged by today's standards, Uncle Archibald is clearly manifesting Munchausens-by-Proxy. The biggest threat to Mary is that she may be sent away to boarding school, something that appals her, but to today's viewer seems like a decent solution to living in this very strange place. Then there's the unassailable issue that Munden's Secret Garden has turned into an Aladdin's Cave of global foliage: a magical, fantastical element which doesn't quite fit inside the film's own internal geography.
But still, this is a satisfyingly rich and beautiful film to watch. Grant Montgomery's production design and colour palette is picked to reflect the shades of India on everything from Misslethwaite's greeny-blue wall frescoes to Mary's tunics (costumes are by Michele Clapton). The mist on the moors, the flickering fires, the flashbacks: hearts and souls were poured into the making of The Secret Garden with the intent of wide-screen cinematic exposure and it's disappointing not to get such limited opportunities to see it in that light. From the first moments of Egerickx's performance to the final, altered ending, this film deserves its artistry to be recognised long after the first flush of streaming has passed.
Production company: Heyday Films
International sales: Studiocanal
Producers: Rosie Alison, David Heyman
Screenplay: Jack Thorne, from the book by Frances Hodgson Burnett
Cinematography: Lol Crawley
Production design: Grant Montgomery
Editor: Luke Dunkley
Music: Dario Marianelli
Main cast: Dixie Egerickx, Colin Firth, Edan Hayhurst, Julie Walters, Amir Wilson, Isis Davis