Dir: Brian Levant. US. 2010. 94 mins.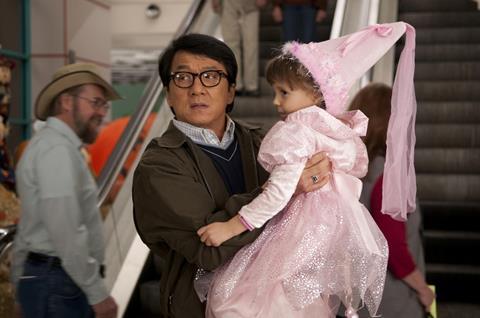 Martial arts maestro Jackie Chan moves down a demographic agewise from his US hits Rush Hour and the Shanghai series with The Spy Next Door, a mirthless, unimaginative piece of entertainment aimed at the Spy Kids crowd.
While this may benefit from a general lack of family film competition domestically on its Jan 15 release – and throughout the month - poor word-of-mouth among Chan fans could quickly consign The Spy Next Door's best commercial prospects to ancillary. Opening in China later this month to hit the Lunar New Year crowd and in Japan in June, this will test whether 55-year-old Chan retains the loyal fan base which has made him Asia's biggest star, and opening footage drawn from Chan's early Hong Kong actioners may help in that respect.
Chan, also appearing this June in Sony's Karate Kid franchise reboot, stars as Bob Ho, a supposed pen importer who is really a foreign secret agent on loan to the CIA, where he works cases with Agents Colton (Billy Ray Cyrus) and Glaze (George Lopez). Bob dates single mother Gillian (Amber Valletta), whose three kids all think Bob is boring.
When Gillian goes out of town and Bob offers to take care of the children, however, they finally discover his true nature, and slapstick imperilment ensues, complete with buffoonish Russian villains led by Icelandic kids TV star (Lazytown) Magnus Scheving.
The Spy Next Door suffers from an overall lack of imagination as well as poor follow-through on even its most basic comedic set-ups. And Chan is just a tad too old, and ill at ease with romance, to spark much chemistry with Valletta, 20 years his junior. Since the film's premise hinges on their attraction, it gets off to a shaky start from which it never quite recovers.
Chan's age is only mildly reflected in the action, however, even if it is more heavily edited than previous movies. It's mostly the trite, overly sentimental story, replete with clamorous sound effects, which will put off Chan fans.
Performance wise, the unfocused and uneven nature of the child acting further evidences Brian Levant's poor direction. Chan, meanwhile, mugs mercilessly. The jokes may misfire, but his indefatigable effort and consistently sunny personality help make the characteristic English-mangling and action outtakes which again play over the end credits the film's undisputed highlight.
To sign up for Screen's weekly Reviews Newsletter with all the week's new releases, international openings and full festival reviews delivered free to your mailbox every Friday, please click HERE
Production company
Relativity Media
Domestic distribution
Lionsgate Films
International sales
Mandate pictures
+ (1) 310 360 1441
Producer
Robert Simonds
Screenplay
Jonathan Bernstein & James Greer and Gregory Poirier, based on a story by Jonathan Bernstein & James Greer
Cinematography
Dean Cundey
Production designer
Stephen J. Lineweaver
Editor
Lawrence Jordan
Music
David Newman
Main cast
Jackie Chan
Billy Ray Cyrus
George Lopez
Amber Valletta
Madeline Carroll
Will Shadley
Alina Foley
Katherine Boecher
Magnus Scheving