Dir. Jan Hrebejk. Slovak Republic, Czech Republic, 2016. 103 min.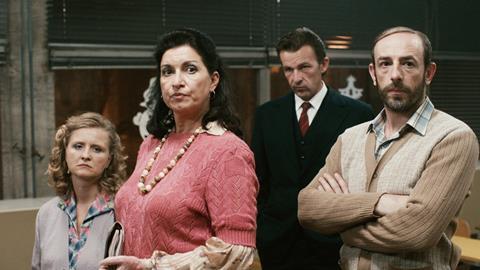 A surefire crowd pleaser, at the very least in Central European territories which will easily recognise and identify with the story, Jan Hrebejk's The Teacher could easily break through farther afield. (That two such different countries as Greece and Norway were the first to acquire it may indicate the versatility of the film's potential appeal.)
The Teacher addresses timeless moral dilemmas which exist, regardless of any political regime
Petr Jarchovsky's 1983-set script is spiced with plenty of dry, dark Czech humor that pushes the characters almost to the brink of ridicule but never allows them to cross the line. It is one of those not-so-gentle dips into the recent Communist past of the country which offers a morality lesson that has lost none of its relevance with the change of regimes and the passing of time.
Based on a real life incident which became almost legendary in Jarchovsky's family, the plot – which can look at times like a remake of 12 Angry Men - centres around a secret meeting of a group of parents revolted by the conduct of the school teacher in charge of their offspring.
Mrs Drazdechova (Zuzana Maurery) initially seems to be a kindly, well-meaning and sympathetic person. Recently widowed, she's in her late thirties, rather portly but attractive nonetheless. She displays a keen interest not only in her students but also in their families and their lines of business. But that interest soon reveals itself to be less than innocent.
Indeed, it doesn't take long before she makes it understood that, being a single hard-working woman, she cannot help but appreciate pupils who will come up to clean her flat, parents who will lend a helping hand with her shopping, mothers who will bake her a few cakes, fathers who will put those cakes on a plane to her sister in Moscow, not to mention other benefits such as free medical attention or, if the circumstances are right, a handsome single dad providing some personal affection.
It's not as if she demands it all, but if such assistance is not forthcoming, it immediately affects the pupil's marks at school. And she doesn't even have to be very subtle, for who is going to lodge a complaint against the secretary of the school's communist union, a person who is closely related to dignitaries in the government?
But after one despondent girl in her class attempts to commit suicide, three sets of parents approach the head mistress, and she responds by calling in all the parents, proposing that they sign a petition asking for the teacher's removal from school.
However, since some of the parents, out of concern for their children, have already complied with the demands made upon them, they refuse to risk bringing it all out in the open, and the ensuing argument at the secret meeting is a pretty fair portrait of the extent people are willing to stand up and demand their rights, come what may.
This is not the prolific Hrebejk's (Divided we Fall, Pupendo, Up and Down) first foray into the recent communist past of his country. This time, however, he widens the perspective to address the profound concern parents have for their children's future and the thin line which separates compromise from corruption. The Teacher addresses timeless moral dilemmas which exist, regardless of any political regime - such as having the courage not to give in to threats, whether veiled or not.
Smoothly written by Jarchowsky (Hrebejk's frequent collaborator) and expertly directed, full credit should also be given to casting director Ingrid Hodalova, who has assembled a team of professionals who never look or act like film actors but rather like the neighbours next door.
Maurery handles her character, a nasty piece of work to be sure, with such natural aplomb that she makes Mrs Drazdechova not only perfectly credible but pretty scary too. Clever editing keeps the wraps on the real issues for quite a while and, tight as the script is, it takes the time to explore the particular background of the period and focus on some of the many miseries endured by the Czechs at that time.
Production companies: PubRes, Offside Men
Sales: Tina Klint, Niklas Teng, LevelK (www.levelk.dk)
Producers: Tibor Buza, Zuzana Mistrikova, Lubica Orechovska, Ondrej Zima, Jan Prusinovsky
Screenplay: Petr Jarchovsky
Editing: Vladimir Barak
Cinematography: Martin Ziaran
Production design: Juraj Fabry
Music: Michal Novinski
Cast: Zuzana Maurery, Csongor Kassai, Peter Bebjak, Martin Havelka, Ondrej Mali, Eva Bandor, Zuzana Konecna, Richard Labuda, Oliver Oswald, Tamara Fischer, Ina Gogalova, Monika Certezni