A giddy comedy from France's Pierre Salvadori is the centrepiece of Directors' Fortnight 50th anniversary celebrations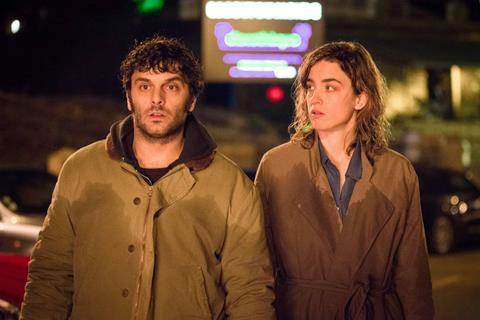 Dir: Pierre Salvadori. France. 2018. 107mins.
Giddy good cheer pervades The Trouble With You (En Liberté!), a romantic farce that couldn't be more preposterous or delightfully goofy. Expertly assisted by a sexy, funny performance from Adèle Haenel, director Pierre Salvadori spins sufficient gold from a contrived storyline and some endearingly flawed characters. This Directors' Fortnight entry has considerable name recognition: Haenel's co-stars include Pio Marmaï and Audrey Tautou. A polished crowd-pleaser, Trouble could be a winning attraction.
Rather than nit-pick, it's far Imore pleasurable to sit back and indulge in the manic silliness
As the movie begins, Yvonne (Haenel), a detective, is busy picking up the pieces after the death of her husband, Santi (Vincent Elbaz), who was a legend on the force for his heroic ability to corral criminals. But soon, she learns a horrifying truth: Santi was crooked, a fact kept hidden from her by one of her closest friends on the squad, Louis (Damien Bonnard), who pines for this widowed mother. Determined to undo her husband's wrongs, Yvonne starts to track Antoine (Marmaï), an innocent man just released from prison after eight years.
Plot holes and narrative clichés abound in Trouble, but Salvadori (In The Courtyard) wilfully ploughs through them in pursuit of this oddball romantic triangle. Once Yvonne enters Antoine's orbit, she must make up a series of lies about her identity, desperate to conceal the fact that her husband sent him to jail, and the film playfully stretches plausibility. Rather than nit-pick though, it's far Imore pleasurable to sit back and indulge in the manic silliness.
Haenel hits just the right balance of sweet, alluring, savvy and deadpan. This zany comedy needs her grounded, committed performance to not only add a little realism but also supply some intelligence and class. Yvonne may be foolhardy in her quest to infiltrate Antoine's life — falling for him without revealing her true intentions — but Haenel's relaxed presence keeps the character from becoming a ditzy rom-com caricature.
Marmaï is less successful as the wronged man who fears he may have gone crazy after being behind bars. Whether attempting to reconnect with his wife (a mostly wasted Tautou) or learning how to acclimate to the outside world, Antoine has been conceived as a bundle of cute quirks. The actor has sufficient romantic chemistry with Haenel, but Antoine too often functions as a way to service the script complications rather than as a proper love interest.
One of this fluffy film's funnier (and stranger) running jokes is the reveal that this police force is actually terrible at their jobs. As Louis, Bonnard is quite likable playing a cop so besotted with Yvonne that he ignores his detective work — even when a serial killer repeatedly tries confessing to his crimes. While Marmaï exudes an edgier charisma and Bonnard is all puppy-dog kind, Salvadori helps us understand why Yvonne might give her heart to the nice guy rather than the released felon. Love is often illogical —The Trouble With You proudly takes that idea to its most shamelessly ridiculous extreme.
Production companies: Les Films Pelléas
International sales: Mk2, intlsales@mk2.com
Producers: Philippe Martin, David Thion
Screenplay: Pierre Salvadori, Benoit Graffin, Benjamin Charbit
Production design: Michel Barthélémy
Editing: Geraldine Mangenot
Cinematography: Julien Poupard
Music: Camille Bazbaz
Main cast: Adèle Haenel, Pio Marmaï , Damien Bonnard, Vincent Elbaz, Audrey Tautou