Nicolas Cage takes on the unbearable weight of his own magnetic talent in Tom Gormican's cheeky meta action-comedy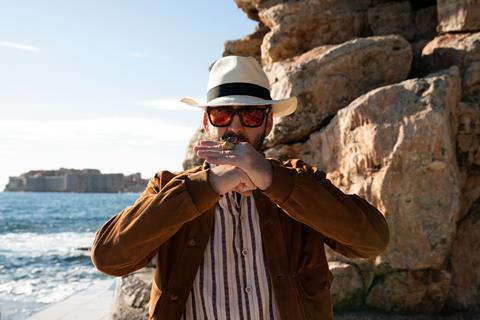 Dir: Tom Gormican. US. 2022. 107 mins.
Nicolas Cage is splendid playing himself in The Unbearable Weight Of Massive Talent, a meta action-comedy that is as cheeky as its title. Drawing on the Oscar-winner's larger-than-life persona, the film plunges the iconic actor into an amusingly preposterous scenario in which he must work with the CIA to stop a Cage superfan who may also be the ruthless head of a cartel. A satire of Hollywood ego, a loving tribute to Cage's hair-trigger intensity and a consistently funny bromance, Massive Talent doesn't overstay its welcome or ever get too pleased with its premise, finding humour and sweetness in the notion that sometimes even Nicolas Cage can't live up to being Nicolas Cage.
Watching Cage play Nick is both hilarious and fascinating, prompting the viewer to question just how much Cage himself has always been in on the joke.
The film opens April 22 in the UK and US, hoping to capitalise on the actor's growing cult fandom. Strong reviews, combined with a cast that includes Pedro Pascal, Sharon Horgan and Tiffany Haddish, should help make Massive Talent a choice option for audiences uninterested in the Wizarding World of Fantastic Beasts.
Cage stars as Nick Cage, a lightly fictionalised version of the action star, notorious for his hyper-vivid "Nouveau Shamanic" acting style. Disappointed that he couldn't land a dream role, Nick starts to wonder if he should retire, agreeing to a lucrative personal appearance in gorgeous Mallorca, where he will attend the birthday party of Javi (Pascal), who adores the actor and wants him to star in his script. Nick is wary of Javi until they start spending time together, bonding over shared favourite films and deciding that they should write a new screenplay together.
But this burgeoning friendship hits a snag once Nick is taken aside by Vivian (Haddish) and Martin (Barinholtz), CIA agents who believe that Javi is actually the head of a cartel that has kidnapped the daughter of the president of Catalonia. Nick refuses to believe it, but they convince him to shadow Javi in the hopes of maybe finding out what happened to the girl.
Director and co-writer Tom Gormican (That Awkward Moment) enjoys peppering the story with references to Cage's work and legacy, giving us a Nick who is badly in debt and signing up for lots of projects — a nod to the real actor's well-documented lavish purchases and frenzied work ethic. Those familiar with Face/Off, The Wicker Man and other Cage classics will spot the in-jokes, and throughout Gormican walks a delicate balancing act, spoofing the man's most outrageous aspects while simultaneously showing him great affection — including offering a little pathos as Nick struggles to reconnect with his estranged daughter Addy (Lily Sheen) and ex-wife Olivia (Horgan), who resent that he cared more about his career than them.
Of course, Massive Talent hinges on Cage's willingness to laugh at his excesses — and to not wink too forcefully to the audience. Thankfully, Cage proves equal to the task, showing real vulnerability as Nick, who worries that his best days are behind him. At the same time, the Nick character is often a nicely pointed caricature of actorly self-absorption, leading to marvellously silly running jokes, such as Nick's constant pontificating about how spycraft and performing are not all that different. Watching Cage play Nick, who perfectly emulates some of Cage's most memorable (and intentionally/unintentionally funny) acting tics in the midst of supposedly real-life action scenes, is both hilarious and fascinating, prompting the viewer to question just how much Cage himself has always been in on the joke.
The picture's nicest surprise, though, is the growing friendship between Nick and Javi, with Cage and Pascal exuding goofball glee as their characters get excited about the script they are working on. (It is not going to be some disposable Hollywood blockbuster — they are out to make a serious drama for adults.) The two actors bring out a boyish exuberance in each other that is incredibly charming, and Pascal is especially endearing when Javi first meets his idol, trying hard not to embarrass himself by fanboying out too much.
One wishes Horgan and Haddish had more to do, and Massive Talent's spy-thriller plot isn't very interesting. But anyone enticed by Cage's magnetic, sometimes baffling onscreen presence will appreciate this picture's fondness for his singular approach. In a few scenes, Cage appears opposite himself, playing a younger, imaginary Nick named Nicky who serves as our hero's negative inner voice, which only gives the actor more opportunity to let loose and send up his image. An "unbearable weight" his Massive Talent may be, but the film is never so heavy, happily breezing along with a grin on its face.
Production companies: Saturn Films, Burr! Productions
International sales: Lionsgate
Producers: Nicolas Cage, Mike Nilon, Kristin Burr, Kevin Turen
Screenplay: Tom Gormican, Kevin Etten
Production design: Kevin Kavanaugh
Editing: Melissa Bretherton
Cinematography: Nigel Bluck
Music: Mark Isham
Main cast: Nicolas Cage, Pedro Pascal, Sharon Horgan, Ike Barinholtz, Alessandra Mastronardi, Jacob Scipio, Lily Sheen, Neil Patrick Harris, Tiffany Haddish