Ramin Bahrani adapts a Booker Prize-winning novel about modern India's dark soul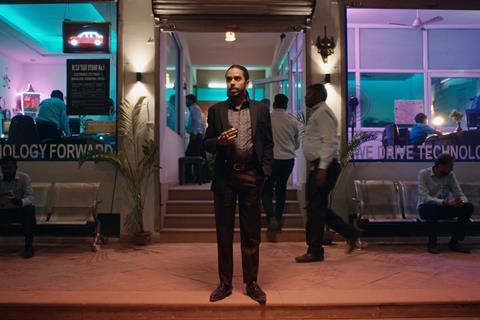 Dir. Ramin Bahrani. India/US. 2020. 124 mins.
The White Tiger is a sweeping, singularly impressive adaptation of Aravind Adiga's punky 2008 Booker Prize-winning novel of the same name. With distinctly Dickensian overtones – this could be Uriah Heep's Mumbai memoirs had 'David Copperfield' progressed to murder - and high-arching Hegelian themes of the master-servant dialectic, Ramin Bahrani's film might appear daunting, and certainly not all its hypotheses are proven. But transforming it all into a work of cathartic entertainment is a significant achievement for the Iranian-American director. In a quiet awards race, his film certainly roars.
Bahrami's propulsive piece dazzles, and quibbles are easily quelled, even over 124 minutes.
The White Tiger is enough to make the casual Western viewer prickle with unease over the easy sentimentality of Slumdog Millionaire, say, or Lion, yet this no-holds-barred takedown of "the world's greatest democracy" can also feel like a blunt instrument aimed at that very same casual Western viewer (only more of them, via Netflix). Certainly, its themes of societal overthrow, of how the future belongs to the dark-skinned underclass, are wickedly appealing and resonate far outside their physical setting. A film of a bumpy, brilliant debut novel which was ground-breaking at the time, Bahrami's propulsive piece dazzles, and quibbles are easily quelled, even over 124 minutes.
Its reception at home remains to be seen but together Adiga and Bahrani take the Western viewer, at least, into the dark heart of modern India. Balram (Adarsh Gourav) is our guide, his device amusing: it's 2007 and the Chinese premier Wen Jiabo is visiting India to meet key entrepreneurs. Balram is such a man, he says, and sets out his request for a meeting with Wen via a series of letters which relate his life story.
Narrative conventions, coupled with Bahrani's visual presentation of the oily, pony-tailed Balram, alert us to the fact that he may prove unreliable - and, indeed, when the key denouement arrives, it will not come as a surprise. What turns out to be most unpredictable about The White Tiger, though, is how it turns India's veneration of the family on its head. They vie for villainy with the country's toxic caste system, the endemic graft. It's dog-eat-dog in Balram's desperate village in Northern India, even when the dog turns out to be a close blood relation.
Growing up here, in the "darkness" of abject poverty, the young Balram is shown to be preternaturally smart – a white tiger, one in a million, a scholarship boy. But he must leave school to support the family, even when they are fatally indifferent to his TB-afflicted father. From now on, he's caught in the rooster coop, as he puts it: bound to his masters, with no escape from his family either. His grandmother agrees to pay for his driving lessons, at exorbitant rates, and Balram snakes his way into becoming a driver for the son of the venal village landlord. He schemes his way to Delhi by betraying his Muslim co-worker; there he drives, cooks and sends all his money home as his employers bribe a carousel of corrupt politicians to keep their coal business alive.
Western-educated family scion Ashok (Rajkummar Rao) and his new American-born wife Miss Pinky (Priyanka Chopra Jonas) initially seem as if they could light a way out of the morass for Balram, but they're ensnared between sympathy and discomfort at the great Indian subclass and a queasy enjoyment of the many benefits it brings.
On the surface, Balram is model employee, subservient and servile, telling his employers how they're like a mother and father to him. But nobody in this dark and seething film behaves how they should - there will be no moral catharsis here, because nobody has a moral to spare, even the "social agitator" Miss Pinky. Yet, when this bleakness occasionally feels overpowering, there's a sting to the dialogue, a break-the-fourth-wall black humour and buoyant, meta energy to the piece that makes you root for Balram even as he is increasingly sucked into the madness.
Bahrani, who made such an impression early on in his career with Chop Shop, Man Push Cart and 2015's 99 Homes, took a mis-step with 2018's Fahrenheit 471 for HBO, but there's clearly something in The White Tiger that this American-born son of Iranian immigrants connects with and finds easy to translate to wide-screen appeal. The dark side of India's tech rise is well-known and catalogued but in The White Tiger, Bahrani links all the book's disparate elements and hooks them into a superb technical team, from darkly dynamic lensing to a pulsing edit and grinding score.
The White Tiger is a complicated book to adapt and Bahrani takes his time. When Balram makes his move, he will pay the highest price, yet take the viewer with him, and that requires a lot of grounding, not to mention impressive acting from Gourav. While six hours wasn't enough for Netflix to make its point with the series A Suitable Boy, Bahrani does actually achieve his goal here. At the very least, West-facing cinema from India has been stopped in its tracks: it can't slouch around after seeing this. So The White Tiger could be a White Tiger after all.
Production companies: Lava Media, Noruz Films
International distribution: Netflix
Producers: Mukul Deora, Ramin Bahrani
Screenplay, Ramin Bahrani, from the novel by Aravind Adiga
Cinematography: Paolo Carnera
Production design: Chad Keith
Editing: Tim Streeto
Music: Danny Bensi, Saunder Jurriaans
Main cast: Adarsh Gourav, Rajkummar Rao, Priyanka Chopra Jonas