Focus Features' Second World War drama is set in Warsaw and stars Jessica Chastain in the title role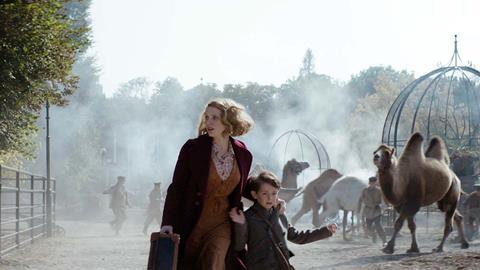 Dir: Niki Caro. US. 2017. 126mins
The Zookeeper's Wife honours the bravery of a Polish couple who safeguarded nearly 300 Jews during the Second World War, but this considered, muted drama can't escape a fussy tastefulness — not to mention inevitable comparisons to more crackling treatments of similar subject matter. Jessica Chastain gives a quietly emotional performance, despite being saddled with a less-than-riveting character, and director Niki Caro resists manipulative story beats for a sombre tone that slowly accumulates dramatic force. And yet, The Zookeeper's Wife remains frustratingly distant and undernourished, the worthiness of the story consistently outpacing the execution.
Caro initially hits upon a fresh way to make the war's atrocities shock the viewer
Opening in the US on March 31, this Focus Features release will lean hard on Chastain's marquee value, although fans of Diane Ackerman's 2007 nonfiction book may also be intrigued. Respectful reviews, paired with the fact that this is currently one of the few higher-profile art-house offerings in that market, may lead to decent box office, but commercial expectations should be tempered.
Spanning roughly seven years starting in 1939, The Zookeeper's Wife is set in Warsaw, where Antonina Żabińska (Chastain) and her husband Jan (Johan Heldenbergh) operate a modest zoo. Once war breaks out and the German army invades Poland, they decide to put their own safety at risk by protecting their Jewish neighbours, housing them underneath their home.
The film's plot will remind viewers of a vaguely similar storyline in Schindler's List, which was also based on a true story. Comparisons end there, though, since Antonina and Jan, as laid out in Angela Workman's screenplay, lack the moral ambiguity that bedevilled Oskar Schindler. Instead, the characters' main obstacle is to keep their operation a secret from Lutz Heck (Daniel Brühl), a dedicated zoologist and Nazi officer who admires the couple's zoo — but, also, secretly pines for the lovely Antonina.
As played by Chastain, Antonina has the potential to be a unique character within the realm of war dramas. A lover of animals, she confides to a friend that the reason she prefers them to her fellow humans is that she knows she can trust them. Likewise, Caro initially hits upon a fresh way to make the war's atrocities shock the viewer, giving us a zoo full of animals whose lives are imperilled once the Nazis invade. The innocence of these majestic creatures catches us off-guard, giving us a new perspective into Hitler's cruelty.
But those dramatic wrinkles ultimately can't elevate The Zookeeper's Wife once its perfunctory survival story takes over. Antonina stays in the house to keep an eye on her Jewish guests, while Jan does reconnaissance around the city, realising that the Warsaw Ghetto will soon be liquidated and its inhabitants eradicated. Caro concocts subtle scenes that can be quite moving. As a dutiful chronicling of the 20th century's greatest atrocity, The Zookeeper's Wife has a grim moral weight to it. But the basic machinations of narrative — suspense, pacing, surprise, character arcs — are all a bit threadbare here.
Chastain's dour turn is indicative of the film's overall sluggishness. The Oscar-nominated actress conveys Antonina's struggle to hold onto her sanity amidst such sorrow, but it's a performance in which intense seriousness is meant to suggest great emoting.
As her husband, Heldenbergh exudes stoic worry, particularly once he suspects Heck has designs on his beloved Antonina. And Brühl should be commended for finding dimensions within a potentially flat character. Initially, Heck appears to be a honourable German who values life in the same way that Antonina does. But once the Nazis overrun Poland, Heck's air of superiority takes over, and Brühl supplies the man with a spinelessness that's accentuated by his slithering desire to claim Antonina for himself. There's not enough of an edgy rapport between Chastain and Brühl to make his head-games sparkle with erotic tension, but the German actor turns Heck into a pathetic tool of the Third Reich who thinks a uniform confers some kind of power or authority onto such a weak man.
Production companies: Scion Films, Electric City Entertainment, Tollin Productions, Rowe Miller Productions
US distribution: Focus Features, www.focusfeatures.com
International sales: Sierra/Affinity, www.sierra-affinity.com
Producers: Jeff Abberley, Jamie Patricof, Diane Miller Levin, Kim Zubick
Executive producers: Marc Butan, Robbie Rowe Tollin, Mike Tollin, Jessica Chastain, Kevan Van Thompson, Mickey Liddell, Pete Shilaimon, Jennifer Monroe
Screenplay: Angela Workman, based on the book by Diane Ackerman
Cinematography: Andrij Parekh
Production design: Suzie Davies
Editor: David Coulson
Music: Harry Gregson-Williams
Website: www.focusfeatures.com/thezookeeperswife
Main Cast: Jessica Chastain, Johan Heldenbergh, Michael McElhatton, Daniel Brühl