Dir/scr Cory Finley. US, 2017, 90 mins.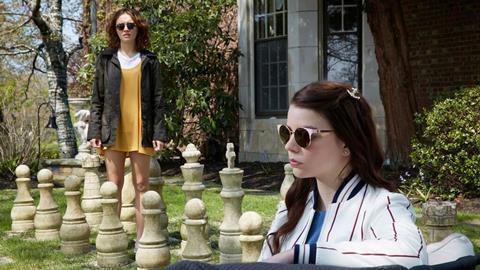 First-time director Cory Finley makes a bold arrival with the pulpy, twisty psycho-thriller Thoroughbred. His talky New England-set tale of two amoral schoolgirls – played by British actors Olivia Cooke and Anya Taylor-Joy - calls to mind Peter Jackson's debut Heavenly Creatures, yet it's a slippery tale not anchored – or held back – by real life. Some zinging dialogue and pungent photography are complemented by the two young leads and the late Anton Yelchin in support.
Finley keeps his eye steady, holding onto a crucial shot until it becomes imbued with meaning.
Thoroughbred, which premiered in Sundance's Next selection, seems destined for cult status, thanks to its darkly comic tone, set off by a discordant score and strong visuals. Although this is too restrained to attract the gore crowd, it's certainly a calling card for Finley, who moves from theatre to film with striking proficiency. Originally conceived as a play – something which is underlined by that very precise dialogue – Thoroughbred sits on the big screen very enjoyably, referencing a kind of Les Diaboliques/Strangers On A Train noir, with a modern twist.
Both leading ladies are striking, although Cooke's Amanda is more immediately captivating. A steady, almost menacing shot of her with a horse – and, later, a knife - starts the film, and she is seen arriving at the palatial Connecticut home of the assured elite boarding school pupil Lily (Taylor-Joy). There's little reference, at first, to the fact that they once were childhood friends in this world of easy privilege, although we soon realise that Amanda's desperate mother has paid Lily for this playdate.
Something's not right with clever Amanda, and she's very self-aware: she's been diagnosed with everything from borderline personality disorder to schizophrenia following an incident which is only revealed later. "I've a perfectly healthy brain," she says. "It just doesn't contain feelings."
The girls slowly manoeuvre themselves into some sort of friendship when Amanda's frankness and innate ability to read situations results in Lily becoming more open about her own secret twisted feelings and hatred for step-father Mark (Paul Sparks). Amanda gives Lily a crash course in how to fake empathy, delivering a lesson in how to cry on demand. (Amanda practices her facial expressions in every reflection she sees; Lily is stubbornly guarded, hiding her black centre). With Mark, the two find a common goal and bully the local drug-dealing loser (Yelchin) into helping them achieve it.
Throughout the piece Finley, working with DoP Lyle Vincent, prowls around the central mansion; frequently the camera tracks the actresses from behind as they move up and down the stairs, before it delights in giving the viewer unexpected treats, whether it be Amanda suddenly gurning in the mirror, or the photos in macho Mark's trophy room. The quirky, The Witch-like score sets the proceedings at an edge. The sound of fitness fanatic Mark's rowing machine grows to permeate the entire house, and inhabit the obsessions of these girls. When the denouement comes, Finley keeps his eye steady, holding onto a crucial shot until it becomes imbued with meaning.
Production companies: June Pictures/B Story
International sales: WME/ICM
Producers: Andrew Duncan, Alex Saks, Kevin J. Walsh, Nat Faxon,Jim Rash
Executive producers: Ryan Stowell, Ted Deiker, Duncan Baldwin
Cinematography: Lyle Vincent
Production designer: Jeremy Woodward
Editor: Louise Ford
Music: Sue Jacobs
Main cast: Olivia Cooke, Anya Taylor-Joy, Anton Yelchin, Paul Sparks, Francie Swift