Michael B Jordan attempts to kickstart a franchise in this Amazon purchase of a Paramount action film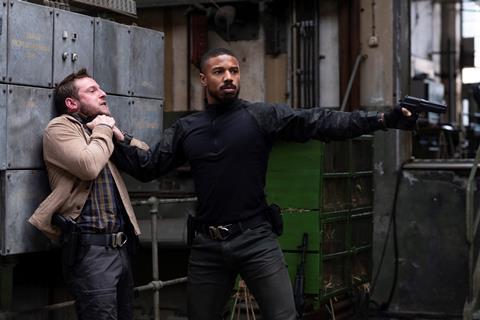 Dir: Stefano Sollima. US. 2021. 109mins.
An underpowered franchise-starter, Without Remorse stars its producer Michael B Jordan in a subpar action vehicle that does little to capitalise on his charisma or emotional intensity. This Tom Clancy adaptation, which sets the groundwork for a sequel, is a revenge tale concerning a grieving Navy SEAL who hunts down the Russian operatives responsible for killing his wife and unborn child — only to uncover a darker conspiracy behind their murders. With more than a dash of Jason Bourne and Mission: Impossible, director Stefano Sollima's undistinguished shoot-'em-up feels so indebted to its influences that it never establishes a personality of its own.
The critical liability is the picture's protagonist
After purchasing worldwide rights from Paramount last year, Amazon will begin streaming the thriller on April 30, and fans of Jordan will no doubt be intrigued. Because the company has had success with its television series Jack Ryan (starring John Krasinski), which is also based on Clancy's work, there could be considerable audience overlap between the two properties. But not unlike Netflix's recent second-rate action offerings, the film lacks the scale, gusto and ambition of a top-shelf blockbuster.
John Kelly (Jordan) is part of a Navy SEAL team that is eliminated one at a time by shadowy figures on returning home after a dangerous mission in Syria. Among the dead is Kelly's wife, who was due to give birth to their first child. Barely surviving the assassination attempt, Kelly joins forces with his longtime friend Lt Commander Karen Greer (Jodie Turner-Smith), a former SEAL, to figure out who ordered the hits — although his suspicions point towards Robert Ritter (Jamie Bell), a cagey CIA agent who may know more than he is letting on.
This programmatic picture provides all the prerequisites for a modern action vehicle: muscular setpieces, a globe-trotting storyline, political intrigue, an unstoppable hero. Drawing from Clancy's 1993 bestseller, Without Remorse tries to be a high-octane venture, but its thin characters and familiar milieu — not to mention a budget that looks modest in comparison to other films of this ilk — keep the proceedings from being particularly exhilarating. Even Kelly's personal tragedy barely animates the plot, which introduces us to bland Russian baddies and inserts uninspired commentary about how some government officials pervert the meaning of patriotism for their own nefarious purposes.
Veteran Italian film and television director Sollima, who made his Hollywood debut with the stylish, ultra-violent Sicario: Day Of The Soldado, delivers some memorable sequences, including a plane crash. But he and cinematographer Philippe Rousselot do not demonstrate much visual flair — the action is neither feverishly over-the-top nor stunningly inventive.
But the critical liability is the picture's protagonist. In his best films, Jordan gives us characters who boast a rousing mixture of intelligence, vulnerability and passion. His company Outlier Society produced Without Remorse and has an overall deal with Amazon — which makes it even more surprising that Kelly is such a dull good guy. There is no nuance or wit to this Navy SEAL — he is also missing the ingenious resourcefulness of his action-hero brethren — and despite the dialogue's insistence that Kelly is an elite warrior capable of taking risks no-one else will even attempt, his shoot-outs and fight scenes are fairly standard. Occasionally, we get a hint of edge to Kelly — especially during his contentious interactions with Ritter — but for the most part the character's drab decency dominates.
The supporting cast is a mixed bag, with Bell serving as a stereotypically slippery CIA operative and Guy Pearce depicting a woodenly virtuous secretary of defence. But Without Remorse sparks to life when Jordan works off Turner-Smith, their warm rapport hinting at the characters' shared history as two dedicated soldiers who have grown tired of navigating bureaucratic red tape in order to achieve anything. Kelly and Greer's weathered, sturdy friendship brings a little humanity to a picture that too often self-consciously recycles genre tropes.
For as much as this story is kickstarted by Kelly's desire to get justice for his slain family, the only time the film really ripples with urgency is near the finale — which has nothing to do with those killings but, rather, is meant to prime the viewer for future adventures. It is not a good sign that Without Remorse is less invested in whether Kelly can find the murderers of his loved ones than it is ensuring we are on board for sequels. Apparently, families come and go, but careful cultivation of intellectual property is a matter of life and death.
Production companies: Weed Road Pictures, The Saw Mill, Outlier Society
Worldwide distribution: Amazon Studios
Producers: Akiva Goldsman, Josh Appelbaum, André Nemec, Michael B Jordan
Screenplay: Taylor Sheridan and Will Staples, screen story by Taylor Sheridan and Will Staples, based on the novel by Tom Clancy
Production design: Kevin Kavanaugh
Editing: Matthew Newman
Cinematography: Philippe Rousselot
Music: Jonsi
Main cast: Michael B Jordan, Jamie Bell, Jodie Turner-Smith, Lauren London, Brett Gelman, Jacob Scipio, Jack Kesy, Colman Domingo, Guy Pearce