Abel Ferrara mines personal territory for this indulgent tale of an ageing filmmaker struggling with his demons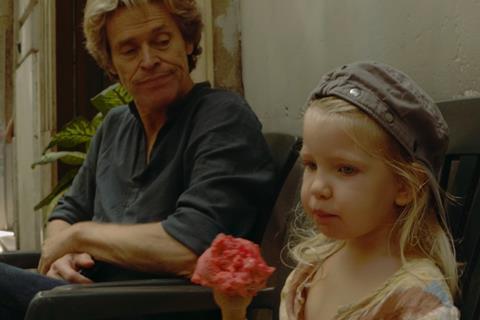 Dir/scr: Abel Ferrara. Italy. 2019. 118mins
Can an aging addict and tormented moviemaker find happiness within the confines of marriage and fatherhood? The question haunts Tommaso, Abel Ferrara's terribly indulgent character study that's powered by an open, volatile performance from Willem Dafoe. The veteran writer-director has been cagey about just how autobiographical this chronicling of a director trying to outrun his demons is, but what's clear is that Ferrara churns through the obsessions, anxieties and paranoia that grip his vivid, seesawing protagonist. It's fair to ask whether the world really needs one more story about a flawed, brilliant, lustful older male artist, but Tommaso's commitment to its own soul-searching fervour is potently feverish.
Ferrara may not be drawing entirely from his own experiences, but there's no question with Tommaso he knows this terrain intimately
Presented as a Cannes special screening, Tommaso will enjoy a slightly higher visibility thanks to the presence of long-time Ferrara collaborator Dafoe. Even so, this navel-gazing examination of life and art is a decidedly limited commercial prospect.
Dafoe plays the titular filmmaker, who's living in Rome with his wife Nikki (Cristina Chiriac) and baby daughter Dee Dee (Anna Ferrara). That the domestic scenes are filmed in Ferrara's own apartment — and that Ferrara's wife and daughter play Tommaso's family — will no doubt encourage viewers to read the movie as a glimpse into the filmmaker's real life.
Tommaso sports a ragged, episodic feel as Tommaso focuses on different tasks, including working on his next film project, teaching an acting class and attending regular meetings for recovering addicts. But although he's been sober for six years and seems to have a happy home, Tommaso keeps alluding to the man's weaknesses, which could destroy everything he's built since starting this new phase of his life.
The longer that Tommaso rolls along, however, a structure begins to assert itself — or, at least, a slow accumulation of themes. As much as Tommaso wants a tranquil existence with Nikki and their girl, stray fantasies enter his mind — sometimes erotic, sometimes cataclysmic, but all of them hinting at the emotional tumult coursing within him.
Dafoe plays the character not so much as an addict but, rather, as a man so consumed by whatever's in front of him that he seems split between the different compartments of his being. It's a magnetic portrayal, with Dafoe ranging from rage to helplessness, each twitch in the character's shifting psyche convincingly executed. Even when Tommaso succumbs to difficult-artist clichés, Dafoe fights against them, seeking a gritty truth within familiar scenes of infidelity, dependency and creative stagnation. The Oscar-nominated actor doesn't necessarily demand that we sympathize with Tommaso, but he makes sure that we appreciate the extent of the character's frayed anguish.
Working with editor Fabio Nunziata, Ferrara weaves reality, daydreams and archival sources together, presenting us with a surreal mental landscape in which we sometimes unexpectedly enter Tommaso's mind for a few moments. (And that's when the film isn't inserting random moments from Ukraine's Got Talent and It Started In Naples.)
Ferrara's vision of Tommaso is of an artist constantly tortured by his cravings, as well as by the many beautiful young women around him, and no matter how self-aggrandizing and tired such a doomed, romantic portrayal might be, there lies underneath an earnest desire for the simple pleasures of domesticity. Chiriac isn't given a particularly well-defined character, but her scenes with Dafoe ably convey the tension and bliss that come from trying to make a life with another person. Ferrara may not be drawing entirely from his own experiences, but there's no question with Tommaso he knows this terrain intimately.
Production company: Simila(r)
International sales: The Match Factory, info@matchfactory.de
Producers: Christos V. Kostantakopoulos, Laura Buffoni, Michael Weber, Simone Gattoni
Production design: Tommaso Ortino
Editing: Fabio Nunziata
Cinematography: Peter Zeitlinger
Music: Joe Delia
Main cast: Willem Dafoe, Cristina Chiriac, Anna Ferrara