Tom Cruise settles back into the pilot's seat for a nostalgic last hurrah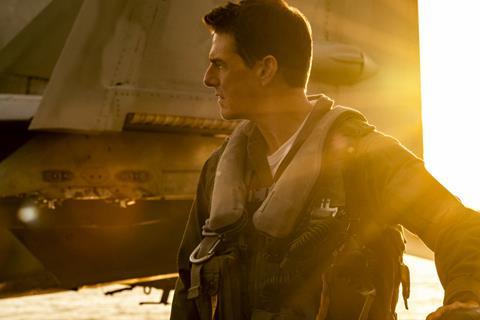 Dir: Joseph Kosinski. US. 2022. 131 mins.
Tom Cruise gets back in the cockpit, cocky as ever, in Top Gun: Maverick, the long-awaited sequel that tries to recapture the flyboy fun of the original while injecting a little poignancy along the way. The seemingly ageless star returns as the brave, reckless Navy pilot who has never forgiven himself for the death of his best friend, a lingering pain he hopes to remedy when he becomes an instructor for the son of his fallen comrade. Featuring a rousing finale — two of them, actually — and substantial nostalgic pleasures, the new film can't quite balance its desire to be both wistful and escapist, knowingly cheesy and surprisingly touching.
It remains very easy to enjoy Cruise's roguish charm, with the veteran actor finding some emotional shading to a man who feels like a fossil.
Opening May 27 in the UK and US after landing in Cannes, Top Gun: Maverick should do stellar business, capitalising on the 1986 original's enduring popularity. Cruise is obviously the main attraction, but he is joined by a notable cast that includes Miles Teller, Jennifer Connelly and Jon Hamm — not to mention a cameo from Val Kilmer, who played the nemesis of Cruise's character in the first film.
When we meet Maverick (Cruise), he is older but still a troublemaker, refusing to accept promotions so that he can remain a test pilot. (He wants to stay in the air, not be tied to a desk.) But after defying a direct order and taking out a sleek new plane, his punishment is to serve as Top Gun instructor, where he will prepare a new generation of hotshots for a dangerous assignment to neutralise an enemy base. One of his pupils is Rooster (Teller), the son of Maverick's closest friend and flying partner Goose, who died during Top Gun. Rooster has never forgiven Maverick, but they must find common cause if they are to complete their mission.
Director Joseph Kosinski (Tron: Legacy, Oblivion) gives this sequel the same slick feel as the original, even duplicating (or, at the very least, paying homage to) notable scenes from the first film. (The pilots do not play volleyball this time, but they find a way to have fun in the sun nonetheless.) But those fond callbacks are mitigated by a melancholy acknowledgment that the past seems far away — and that Maverick's audacious flying style may soon be a relic. (After all, self-piloting military jets are on the horizon.) Like many ageing heroes before him, Maverick knows he will be riding off into the sunset soon.
As a result, Top Gun: Maverick has a last-hurrah tone, with Maverick trying to make things right with the resistant Rooster and reconnecting with a former flame, Penny (Connelly). But not unlike the Mission: Impossible pictures, which do it more successfully, Top Gun: Maverick mostly wants to reassert the indisputable magnificence of the Tom Cruise character. Although Maverick is meant to teach these younger pilots, who are played by excellent young actors such as Glen Powell and Jay Ellis, how to be combat-ready, the film is ultimately about how Maverick will have to step up to get the job done. We do not learn much about the other characters — even Rooster is not particularly well-developed — so that the focus can be on Maverick's quest for closure.
That said, it remains very easy to enjoy Cruise's roguish charm, with the veteran actor finding some emotional shading to a man who feels like a fossil. In particular, his scenes with Connelly, who is excellent as a single mom who doesn't need some pilot to sweep her off her feet, have a grownup sexiness that suggest Maverick is no longer the brash kid of the first film. And in one bittersweet sequence, Maverick visits Iceman (Kilmer), his former rival who has become a trusted friend, the film adopting Kilmer's real-life battle with throat cancer to illustrate the cruelty of the passage of time. Top Gun: Maverick is largely about recreating the giddy highs of the 1986 film, but Kosinski pinpoints the regret and sadness that now define these middle-age characters.
But the picture's constant echoes of the original are only intermittently affecting, and new antagonists — including Hamm's grumpy superior officer Cyclone — do not offer much nuance. Top Gun: Maverick is helped enormously by an electric third act which delivers two separate aerial sequences that are as riveting as Top Gun's ground-breaking set pieces. Even so, this follow-up film feels torn between warring impulses. At one point, one of Maverick's colleagues mentions that perhaps it is time he let the past go, a proposition that proves difficult for someone whose future is so uncertain. What is both moving and limiting about the backwards-looking Top Gun: Maverick is that, like its hero, the sequel does not want to listen to that advice, either.
Production company: Don Simpson/Jerry Bruckheimer Films
Worldwide distribution: Paramount Pictures
Producers: Jerry Bruckheimer, Tom Cruise, Christopher McQuarrie, David Ellison
Screenplay: Ehren Kruger and Eric Warren Singer and Christopher McQuarrie, story by Peter Craig and Justin Marks, based on characters created by Jim Cash & Jack Epps, Jr.
Production design: Jeremy Hindle
Editing: Eddie Hamilton
Cinematography: Claudio Miranda
Music: Harold Faltermeyer, Lady Gaga, Hans Zimmer
Main cast: Tom Cruise, Miles Teller, Jennifer Connelly, Jon Hamm, Glen Powell, Ed Harris, Val Kilmer