Dir/scr: Adam Leon. US, 2016, 82 mins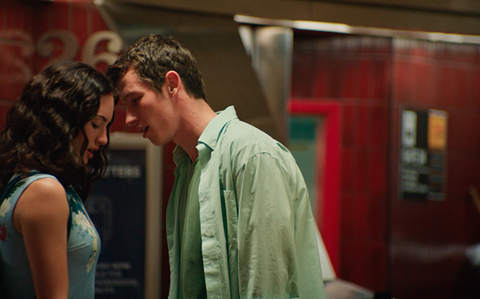 Adam Leon follows up his much-liked low-budget Gimme The Loot (2013) with another small-scale story of two kids thrown together in the haphazard commission of a criminal act. Yet again his film boasts an almost palpable sense of time and place, as the pair leave New York City to roam around its affluent suburbs, even though the screenplay is less astute or compelling than his debut. Charismatic newcomer Callum Turner (Green Room) leads opposite a less-than-comfortable Grace Van Patten, and it's a significant step up for the young British actor.
While Tramps may look like a junior relation of an Ira Sachs film, it lacks the thematic depth to stack up
Tramps is distinguished by the deftly-characterised Polish-American background of Turner's bilingual character Danny. His tiny, cramped Queens apartment, his mother's betting parlour, his small-time-con older brother Darren, his desire to become a chef. It's all believable. This contrasts, however, with the skimpily sketched Ellie (Van Patten), a hostile and supposedly-hardbitten bargirl looking for a way out of Pittsburgh and a bad relationship. The awkwardness of the mis-match may hold Tramps back when it comes to distribution, although, like Gimme The Loot, it's a sweet-natured, modern film with a charming patina.
Danny is a clearly frustrated but sweet-natured younger brother who loves his mother and acts as a conduit between her Polish life and the intensely New York scene they're surrounded by. Their apartment feels like a little bit of middle-Europe brought to the Big Apple and preserved lovingly. Favoured older brother Darren (Michal Vondel) is a ne'er-do-well who makes a reverse-charge from an Atlantic City jail to demand that Danny carries out his latest scam in his place, which may or may not be illegal.
When Darren declines, mum steps in to insist he helps carry out the con, whether that means he has to break the law and jeopardise his future or not.
The plot of Tramps turns out to hinge around a classic briefcase switcheroo, a modern-day McGuffin. Darren has to leave the case with a girl carrying a green handbag on a station platform and switch. Ellie is his driver. He makes a mistake, of course, she double-crosses him, and they end up chasing through Grand Central Station and out to Westchester looking for the missing briefcase together.
For reasons that become clear by the final reel, the criminal masterminds behind the heist seem less than threatening, and Darren isn't terribly menacing either. Tramps is a good-natured little film which is ultimately about and Danny and Ellie coming together and realising they could have another life - a process which starts when they enter the home of the rich people they suspect may be in possession of the briefcase. While it may look like a junior relation of an Ira Sachs film, it lacks the thematic depth to stack up.
Throughout, though, Tramps remains happy-go-lucky, like its central couple. Ashley Connor's camerawork is restrained and attractive, happier in the city where it captures the world with an almost still-photography precision. Production design is also deft, from the cramped apartment to a nicely-realised country mansion. Aiming for a naturalistic feel, Leon has only slightly scaled up his scope from Gimme the Loot, making a recognisable and likeable film that could turn out to be either a missed opportunity or a bridge to something bigger, particulary for the charismatic Callum Turner.
Production companies: Animal Kingdom, Beachside, Rooks Nest
International sales: WestEnd Films
Producers: Joshua Astrachan, David Kaplan, Andrea Roa, Jamund Washington
Executive producers: Frederick W. Green, Michael B. Clark, Alex Turtletaub, Julia Godzinskaya, Sophie Vickers, Michael Sackler.
Screenplay: Adam Leon, from a story by Leon and Jamund Washington
Cinematography: Ashey Connor
Production design: Erin Magill
Music: Nicholas Britell
Main cast: Callum Turner, Grace Van Patten, Mike Birbiglia, Margaret Colin, Michal Vondel, Louis Cancelmi