Alicia Vikander and Dane DeHaan headline an elegant, if limp, period piece from The Weinstein Company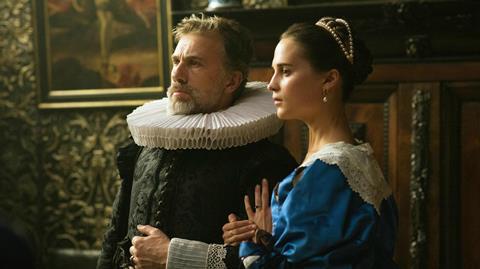 Dir: Justin Chadwick. US. 2016. 105mins
A ripe, bittersweet romantic tragedy lies at the heart of Tulip Fever, but director Justin Chadwick's aggressive tastefulness smothers the life from this potentially lusty melodrama. Based on Deborah Moggach's novel about an illicit 17th century love affair between a powerless wife (Alicia Vikander) and a penniless artist (Dane DeHaan), this handsomely mounted and dully executed film boasts no shortage of Oscar favourites in the cast, including Vikander, Christoph Waltz and Judi Dench. Long delayed by the Weinstein Company, it finally comes to US screens on September 1, hoping to get a jump on awards season before the real heavy-hitters arrive. The starry ensemble will help attract adult audiences, but reviews could significantly diminish enthusiasm.
Chadwick has made a movie that slavishly adheres to the strictures of typical Weinstein prestige dramas
Set in Amsterdam in the 1630s, Tulip Fever stars Vikander as Sophia, an orphan who is forced into marriage with a much older man, a wealthy merchant named Cornelis Sandvoort (Waltz). Their relationship is cordial without ever being passionate, as she dutifully allows him to have sex with her each night in the hope of siring an heir. But her pleasant, monotonous life receives a spark when she meets Jan Van Loos (DeHaan), a brooding portrait painter Cornelis has hired. Soon, Sophia and Jan are drawn to one another, their affair kept secret from her husband.
With Tulip Fever, the director of The Other Boleyn Girl and Mandela: Long Walk To Freedom unsuccessfully combines the libidinousness of the former with the solemnity of the latter. Chadwick has made a movie that slavishly adheres to the strictures of typical Weinstein prestige dramas: it's a period piece with impeccable production values and a generally genteel temperament meant to suggest literary refinement. But despite a few moments of intense lovemaking between Sophia and Jan — and a mid-film twist that threatens to bring a more impish spirit to the proceedings — Tulip Fever is drab rather that scintillating.
In films as varied as Ex Machina and The Danish Girl, Vikander has ably conveyed her characters' quiet torment, but Sophia is far too much of a passive sufferer to really engage. And her scenes with DeHaan only possess a superficial carnal heat — this supposedly titanic romance boasts little stakes or chemistry.
Tulip Fever has as its backdrop the so-called Dutch Golden Age — specifically, the phenomenon of the tulip bulb market bubble that, as the film depicts, had all the electricity and drama of today's stock market trading floor. Hardwick, with writers Moggach and Tom Stoppard, try to illustrate why destitute people like Sophia and Jan would, in desperation, turn to the bulb market to earn enough for a new life. (Investing in the right bulb could result in untold riches from the rare, highly prized flowers.) But Tulip Fever fails to enliven this intriguing world, a limitation that proves disastrous since so much of the film's second half depends on the ins and outs of bulb investing — including a crucial role for Dench's abbess character, a tulip expert.
Other such opportunities are squandered. A significant subplot concerns Cornelis's humble maid Maria (Holliday Grainger) and a fishmonger (Jack O'Connell), who are madly in love. After he mysteriously disappears, Maria discovers she's pregnant, a revelation that will bring shame to her as an unmarried woman.
A subterfuge which arises as a result of the unwanted pregnancy helps the film build to what should be an emotional finale. But even here, the characters feel hemmed in by Chadwick's fussiness, a feeling only exacerbated by Simon Elliott's decorative production design and Eigil Bryld's painterly images. Tulip Fever is as pretty as a flower, but it needs a little air to bloom.
Production companies: The Weinstein Company, Worldview Entertainment, Paramount Pictures Corporation, Ruby Films
US distribution/International sales: The Weinstein Company, www.weinsteinco.com
Producers: Alison Owen, Harvey Weinstein
Executive producers: Paul Trijbits, Bob Weinstein, David Glasser, Justin Chadwick, Chris Woodrow, Molly Conners, Maria Cestone, Sarah E. Johnson, Patrick Thompson, Laurie MacDonald, Walter Parkes
Screenplay: Deborah Moggach and Tom Stoppard, based upon the novel by Deborah Moggach
Cinematography: Eigil Bryld
Production design: Simon Elliott
Editor: Rick Russell
Music: Danny Elfman
Website: www.facebook.com/TulipFeverFilm
Main Cast: Alicia Vikander, Dane DeHaan, Jack O'Connell, Holliday Grainger, Tom Hollander, Matthew Morrison, Kevin McKidd, David Harewood, Joanna Scanlan, Zach Galifianakis, Judi Dench, Christoph Waltz