Masaharu Take's Tokyo opener is the epic portrait of a boxer trying to recapture his former glory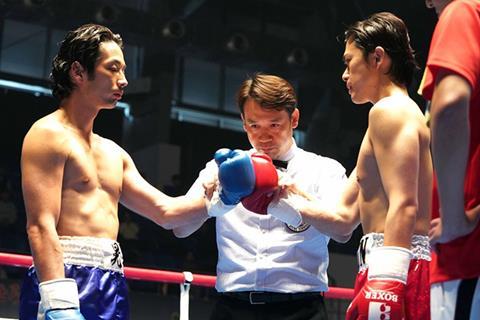 Dir: Masaharu Take. Japan. 2020. 276 mins
Masaharu Take doesn't pull his punches with Underdog, a boxing epic that feels like the entire Rocky franchise rolled into one. The fates of three fighters are intertwined in a sprawling quest for validation, redemption or renewal that can only be achieved in the ring.
Take uses fight scenes sparingly throughout both parts of the film but still delivers what fans expect
Clocking in at four-and-a-half hours and screening in two parts, Underdog sustains a punchy balance of storytelling, emotional entanglement and fisticuffs. Following a world premiere as the opening gala of the Tokyo International Film Festival, it should have a muscular domestic future as a movie and, perhaps more widely, as a subsequent binge-watch VOD series. The Japanese theatrical release is set for November 27.
Take's return to the boxing ring after 100 Yen Love (2014) finds much of the focus for part one in Akira (Mirai Moriyama). Once the top-rated lightweight boxer in Japan, he has never been champion. A defeat at the hands of a rival leaves him shellshocked and uncertain of his future. The glory days are gone but he still fights, diminishing his reputation with each disappointing display of a talent that once shone.
Mirai Moriyama plays Akira as a diffident, taciturn figure who invariably trains with a cigarette dangling from his mouth. The use of a harmonica adds a Morricone-like flavour to Shogo Kaida's score, marking Akira as kin to Eastwood's spaghetti western maverick. Estranged from his wife, adored by his son and carrying the burden of a debt-laden drunkard of a father, Akira also feels more like a figure from early 1970s Hollywood; more Fat City than Rocky in the pugilist pantheon.
Working as a driver for the Labyrinth Of Flowers escort agency, Akira only trains when he has the gym to himself in the middle of the night. The slick surface of wet streets after dark, the neon lights and the shadows all build a noir-like atmosphere confirmed by Kaida's bluesy, plaintive score. Akira is befriended by aspiring professional boxer Ryuta (Takumi Kitamura) and is also hired for a lucrative exhibition match with television celebrity turned "fighting funnyman" Shun (an excellent Ryo Katsuji).
The disparate story threads are effectively pulled together and there is some tight cross-cutting between all the interested parties as a bruising encounter brings part one to a climax and seems to confirm that Akira has reached the end of the road.
There is a darker feel to the initial stages of part two. Shun has retired from showbusiness. Ryuta is making waves as a young fighter with knockout wins in every single fight. Akira faces an existential crisis, surrounded by a chorus of advice urging him to retire. Slowly, that turns around into voices encouraging him never to surrender.
Here, the focus is more diffuse, giving weight to other characters and dilemmas, spelling out a back story for Ryuta, providing an echo of The Champ in the touching devotion of Akira's son and following Akira's involvement in the lives of prostitute Akemi (Kumi Takiuchi) and her daughter. This half unfolds as a tale of unexpected connections, acts of revenge and gestures of redemption. Ultimately, all roads still lead to the boxing ring and a showdown that provides a gruelling climax to the whole film.
Take uses fight scenes sparingly throughout both parts of the film but still delivers what fans expect. There is an energetic training montage of skipping, sparring, running and flurries of punches. He does use slow motion, capturing distorted faces as blows hit and spittle goes spiralling through the air. The scenes in the ring are fast, furious and authentic, with the camera dancing and weaving through the action, reeling towards battered faces and flying fists.
Screenwriter Shin Adachi, who also wrote 100 Yen Love, unfurls a succession of sentimental soap opera-style plot strands that touch on domestic abuse, turf wars and the consequences of violence. He always brings it back to the call of the ring and the need to fight regardless of the cost to life, limb or sanity.
Production company: Toei Video Company, Abema Original Series
International sales: Toei Video Company international@toei.co.jp
Producers: Gen Sato, Yuji Hiratai, Kotaro Miyata
Screenplay: Shin Adachi
Editing: Chieko Suzaki
CInematography: Hiromitsu Nishimura
Prod des: Takayuki Nitta
Music: Shogo Kaida
Main cast: Mirai Moriyama, Takumi Kitamura, Ryo Katsuji, Asami Mizukawa, Kumi Takiuchi