Luc Besson's space opera hits exuberant notes but never sings.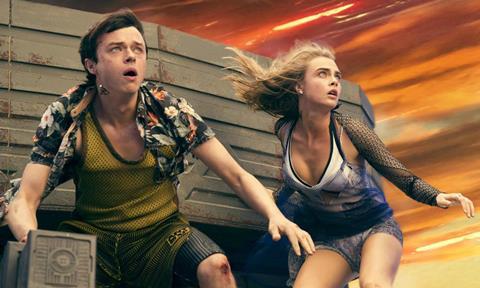 Dir: Luc Besson. France. 2017. 137mins
Reportedly the most expensive European production ever mounted, the visually extravagant Valerian And The City Of A Thousand Planets throws every Euro of its budget up on the screen, but there's little buoyancy to its spirit and not enough thrill in its action-adventure. Twenty years after The Fifth Element, writer-director Luc Besson has once again delivered a widescreen, sci-fi spectacle full of rampant whimsy, lavish effects and creaky social commentary, resulting in a nervy, go-for-broke opus whose audacity is more laudable than its execution.
There's a lot of busyness in Valerian, but it can't distract from the fact that poetry, elegance and wit are in short supply
Opening July 21 in the States and July 26 in France, Valerian has the same outsized ambition as other recent sci-fi movies such as Cloud Atlas and Jupiter Ascending — and the worry for EuropaCorp is that, like those other films, there might not be enough of an audience to justify the costs. With Dane DeHaan and Cara Delevingne as the leads, Valerian may need to rely on audience familiarity with the original comic books to compensate for the lack of major stars.
Set in the 28th century, the movie follows the exploits of Valerian (DeHaan) and Laureline (Delevingne), intergalactic federal officers charged with keeping the peace. After Commander Filitt (Clive Owen) is kidnapped by an alien race, this crime-fighting duo goes in search of him — an odyssey that will lead them to uncover a dark secret about Alpha, a sprawling galactic hub where different species seemingly coexist harmoniously.
Inspired by the comics series created by Pierre Christin and Jean-Claude Mézières, Valerian is anchored by the prickly, coy banter of Valerian and Laureline. They may be only platonic partners, but he wants her to marry him — a proposal she resists because she has major reservations about this cocksure young man who has bedded many beauties across the cosmos.
The two actors stir up some strong sexual tension, but Besson's juvenile dialogue too often feels like a teenager's idea of what flirting sounds like. In the midst of life-or-death missions, the characters exchange smart-ass quips and mediocre putdowns — all of which becomes tiresome considering that, supposedly, the fate of the universe hangs in the balance. When DeHaan and Delevingne's natural charisma is allowed to flourish, it suggests the obvious come-hither spark between Valerian and Laureline that could have given the movie more jolt.
Besson and his team of technical wizards have constructed myriad environments that are meant to be jaw-dropping, each new planet or location more elaborately foreign than the next. Screened for critics in 3D, Valerian can be enjoyably gaudy, the filmmaker battering the eye with crazy colours, frenetic motion and overly complicated rules about how these worlds operate. (One entire action sequence requires the characters dwell in separate dimensions at the same time — which can prove challenging, for instance, when Valerian can't extricate his arm from one realm where it's stuck.)
But soon enough, the abundance starts to feel unwieldy. Besson seems so concerned with bombarding us with visual opulence that he never lets his images breathe. That impatient strategy does a disservice to the breadth of Hugues Tissandier's eclectic production design, which encompasses underwater domains, intricate castles, seedy strip clubs and various spaceships. There's a lot of busyness in Valerian, but it can't distract from the fact that poetry, elegance and wit are in short supply.
The film's overstuffed feeling extends to the story itself. Valerian and Laureline have to hunt down Filitt, but their quest takes them down several narrative back alleys that expand the movie's canvas to incorporate random alien species. Each new character — whether it's Ethan Hawke's flamboyant club owner or Rihanna as a sympathetic, shape-shifting dancer — adds to Valerian's mosaic, but few of them are fleshed out enough to create much of an emotional wallop.
Eventually, our squabbling, secretly smitten heroes will not only locate Filitt but also learn an unfortunate secret about how Alpha has been able to maintain such a peaceful multi-planet society. Besson wants to say something meaningful about genocide, cultural tensions and the plight of immigrants, but his goodhearted intentions lack the sophistication that also isn't in evidence in Valerian's crowded visual style or cutesy love story. He's envisioned a cinematic marvel that has room for a thousand planets but often seems alienated from the simple, core components that would really make such a spectacle sing.
Production companies: Valerian S.A.S., TF1 Films Production, OCS, TF1, Fundamental Films, BNP Paribas, Orange Studio, Universum Film GmbH, Novo Pictures, River Road Entertainment, Belga Films
US distribution: STX Entertainment, www.stxentertainment.com
International sales: EuropaCorp, www.europacorp-corporate.com/US/
Producer: Virginie Besson-Silla
Executive producers: Mark Gao, Gregory Ouanhon, JC Cheng
Screenplay: Luc Besson, based on the comic book series Valerian And Laureline by Pierre Christin and Jean-Claude Mézières, published by Dargaud
Cinematography: Thierry Arbogast
Production design: Hugues Tissandier
Editor: Julien Rey
Music: Alexandre Desplat
Website: www.valerianmovie.com
Main Cast: Dane DeHaan, Cara Delevingne, Clive Owen, Rihanna, Ethan Hawke, Herbie Hancock, Kris Wu, Rutger Hauer