Tom Hardy takes the lead in this Sony-distributed Marvel super-villain drama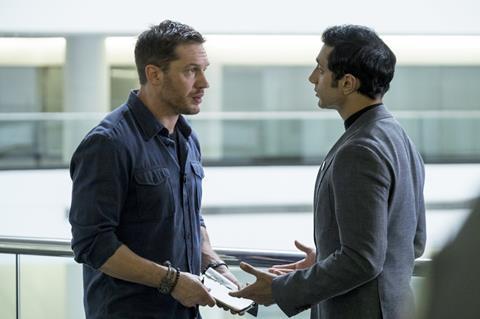 Dir: Ruben Fleischer. US. 2018. 112mins.
Trying to shake up the comic-book-movie formula by adding horror elements and a darker temperament, Venom grooves to its own funky rhythm, aided by a game performance from Tom Hardy as an investigative reporter invaded by a nasty alien parasite. However, once the viewer acclimatises to this supervillain origin story's quirky design, there's not much beyond a wilful show of impudence - which only puts the film's flaws into sharper relief.
Tom Hardy isn't known for comedy, but this strongly physical performance has a rambunctious energy — it's as if Looney Tunes' Tasmanian Devil came to life
Sony will release this latest Marvel adventure on October 3 in the UK and two days later in the US. Hardy's box-office appeal will certainly boost visibility, as will the novelty of a superhero film starring a bad guy. (In the comic books, Venom is the nemesis of Spider-Man, although the web-slinger doesn't feature in this movie.) After a glut of masked men (and women) at the multiplex in the spring and summer, Venom stands as the first major comic-book film since Ant-Man And The Wasp, giving this somewhat risky commercial proposition a healthy advantage in a marketplace without any direct competition.
Set in San Francisco, the film stars Hardy as Eddie, a hardnosed journalist trying to expose an Elon Musk-style billionaire entrepreneur, Carlton (Riz Ahmed), for his ethically suspect business practices. But after Eddie is fired and his fiancée Anne (Michelle Williams) dumps him, he hits rock bottom — which is when he comes in contact with an alien symbiote that has been brought to Earth from deep space by one of Carlton's probes. The alien attaches to Eddie, transforming him into a super-powerful, gnarly beast named Venom.
Venom has been directed by Ruben Fleischer, who previously made Zombieland, which shares with this film a bold collision of comedy and horror. Whereas Disney's Marvel films often boast a family-friendly vibe — and Fox's Deadpool movies offer R-rated levels of violence, vulgarity and smartass irreverence — Sony's Venom attempts to split the difference, flaunting a pricklier, more intense demeanour while not being too bloody.
In fits and starts, Fleischer's dark strategy succeeds — thanks largely to Hardy, an actor who, from Bronson to The Revenant, has been unafraid to walk out on shaky limbs to play extreme characters. As Eddie, he starts off as a bulldozing investigative reporter who doesn't care about social niceties when he's pursuing a juicy story. But once the alien parasite takes over, Hardy lets loose, convulsing and flailing as he becomes a reluctant host to this malevolent being. Hardy isn't known for comedy, but this strongly physical performance has a rambunctious energy — it's as if Looney Tunes' Tasmanian Devil came to life —and there's pleasure in watching this very serious actor go unhinged.
But while Hardy gives his all, the rest of Venom settles for threadbare superhero shenanigans. Outside one modestly rousing chase sequence, the action set pieces are merely competent. (Often, they're less exhilarating than they are funny, as Eddie marvels at Venom's incredible, destructive abilities.)
As for the supporting cast, Ahmed is a disappointingly dull tech villain, and despite a few humorous moments as Eddie's beleaguered ex, Williams doesn't have much to do. Likewise, the screenplay (credited to three writers) finds some clever ways to maximise the gimmick of Eddie's personal alien invasion — he and Venom must battle to a truce in the midst of action sequences while Carlton's thugs pursue them — but the actual plot itself isn't particularly gripping.
That leaves Fleischer to luxuriate in the film's occasional scares and slightly anarchic spirit. As a result, Venom works more as an exercise in attitude, testing the boundaries of "polite" comic-book movies. Whereas the foul-mouthed Deadpool is a lovable antisocial jokester, Venom (once he invades Eddie) is a fearsome, ravenous monster with a mouth full of nightmare-inducing pointy teeth and inhuman eyes. It's up to Eddie to curb Venom's most bloodthirsty tendencies, and Venom gets its kick from this villain's uncontrollable ferocity. It's just too bad that there's nothing underneath the film's snarl. Like his hungry symbiote latching onto Eddie, Fleischer cunningly fastens a malicious irreverence onto an otherwise lacklustre superhero movie. But the symbiosis doesn't quite take.
Production companies: Avi Arad Productions, Matt Tolmach Productions, Pascal Pictures
Worldwide distribution: Sony Pictures
Producers: Avi Arad, Matt Tolmach, Amy Pascal
Screenplay: Jeff Pinkner & Scott Rosenberg and Kelly Marcel, screen story by Jeff Pinkner & Scott Rosenberg, based on the Marvel Comics
Production design: Oliver Scholl
Editing: Maryann Brandon, Alan Baumgarten
Cinematography: Matthew Libatique
Music: Ludwig Göransson
Main cast: Tom Hardy, Michelle Williams, Riz Ahmed, Scott Haze, Reid Scott