Dir/scr: Paola Calvo. 2016. Germany. 92 mins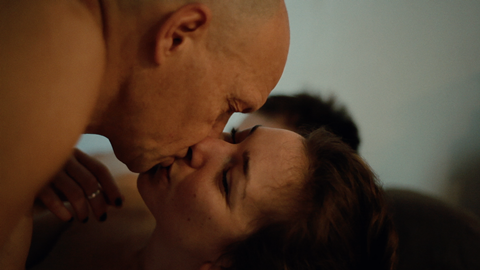 The word 'fun' is used an awful lot by the participants in this revealing documentary. But fun for the regular visitors at Schwelle is a niche activity, which may well involve dripping molten wax on the most intimate bits of your partner's body. Or perhaps getting lightly whipped while yodelling, blindfolded and holding aloft a deer antler. One thing is certain: it will involve pain.
Calvo's intrepid camerawork, and the trust she has earned from her subjects, makes for a fascinating, unflinching documentary
For her debut feature documentary, Paola Calvo deftly captures a wincingly candid portrait of a closed world: a Berlin-based BDSM/performance art collective which, until earlier this year, took as its headquarters the vast, airy living room of choreographer, performer and lord of misrule, Felix Ruckert.
Calvo's intrepid camerawork, and the trust she has earned from the subjects of the film, makes for a fascinating, unflinching documentary which should generate considerable interest on the festival circuit. It could also follow the similarly liberated Fuck For Forest into theatrical distribution. The eye-bogglingly explicit nature of the material may, however, prove to be a barrier in reaching anything but the most dauntless audience.
Fifty-five-year-old Ruckert conceived Schwelle as a place where he could develop the extreme performances - a blend of improvised dance and elegantly executed sado masochism - which saw him exiled from the art world. We get a sample of one of his shows: a naked Ruckert is pierced with so many acupuncture needles that he starts to look like a supporting character from Hellraiser. At one point he vomits from the pain. A pair of audience members quietly but urgently flee the room. And then he dances, the light glinting from the shards of metal which perforate his flesh.
But Schwelle is also conceived of as a kind of family environment or a safe space. "I have built a little paradise," says Ruckert. "And I feel like the king." Play Parties take place, full of exotically masked and modified free spirits, who queue up to be trussed and titillated. The high windows flood the room with blith sunlight. Schwelle runs group classes in, among other things, wax play; holotropic breathwork; the tantra of pain and 'rigging' (techniques with ropes). A man is reduced to the brink tears during an oral sex / flogging group session, although whether he is suffering agonies of bliss or just agonies is hard to ascertain. "OK," says the class leader chirpily, "you've got five minutes to bring it to a close."
Another key character is Mara Morgen, a former architect turned sex worker and submissive escort. Articulate and forthright, she acknowledges the issues that some feminists have with the submissive role, but, like Ruckert, she is too caught up in her own personal sexual voyage of discovery to speak for others. For both, the aim seems to be to constantly push themselves beyond their comfort zone; in one scene, Mara submits to a whipping which leaves her skin raw with welts and flecked with blood. What's more, she does it in front of an audience.
Perhaps inevitably given the performance element of the sexual exploration here, Calvo's lens ultimately becomes another piece of kit in the well-equipped Schwelle sex-toy cupboard. Schwelle regulars reveal all to the camera, at length. One thing that's missing, perhaps, is humour. In this vegan, teetotal, drug free environment, people take BDSM very seriously, and the film follows suit.
Production company: Lüthje Schneider Hoerl I FILM GbR
Contact: j.settmacher@dffb.de
Producers: Andreas Hörl, Florian Schneider, Maren Lüthje
Cinematography: Paola Calvo
Editor: Ginés Olivares
Features: Felix Ruckert, Mara Morgen, Jana Scherle, Christine Borch