An unconventional, often sinister portrait of marriage from Ireland's Lorcan Finnegan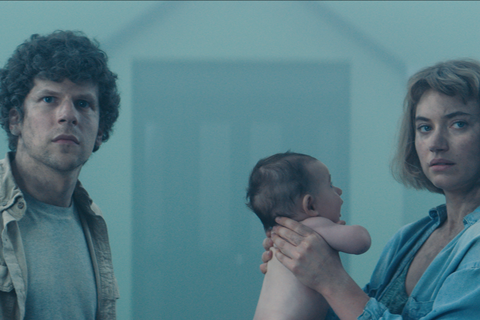 Dir: Lorcan Finnegan. Republic of Ireland/Belgium/Denmark. 2019. 98mins.
Suburban domesticity is a literal trap in Vivarium, a low-key science-fiction thriller whose obvious existential themes are well-served by a clever, confident execution that finds new ways to explore the hells of parenthood, commitment and ageing. Although sometimes too pleased with its own diabolical premise, the second feature from director Lorcan Finnegan (Without Name) makes a virtue of its modest puzzle-box design, inspiring strong performances from Imogen Poots and Jesse Eisenberg, who play a couple who discover just how dangerous it can be to invest in the wrong home.
There aren't outright scares and very little blood, and yet the movie ripples with subdued paranoia
One of the starrier entries of this year's Critics' Week, Vivarium will benefit from the marquee value of its two leads. But the film should also attract fans of smart, low-budget sci-fi, drawing comparisons to recent works such as The One I Love and Marjorie Prime. Commercially slight, this unconventional, often sinister portrait of marriage could achieve cult status.
Poots plays Gemma, a schoolteacher who is looking into buying a home with her boyfriend Tom (Eisenberg). The happy couple is coaxed into an open house day in a promising new suburban enclave called Yonder, which they quickly realise is filled with eerily similar cookie-cutter homes. The community, which seems to have no residents, unnerves Gemma and Tom, but when they try to leave, they get lost in a labyrinth. Frustrated, scared and out of gas, they take up residence in one of the houses in the hopes of figuring a way out. Soon, though, a package comes to the front door containing a newborn baby.
Working again with Without Name writer Garret Shanley, Finnegan has crafted a surreal mystery in which Gemma and Tom try to understand what has happened — as well as who is behind this strange scheme. Vivarium's title offers a clue for what's in store, and initially the concern is that Finnegan and his cast will deliver a stylish but wholly predictable treatise on consumerist conformity and suburban drudgery.
But after a slow start, Vivarium begins to establish its rhythm and tone, which is measured and unassumingly ominous. (Kristian Eidnes Andersen's buzzing, anxious score ably heightens the jittery mood.) There aren't outright scares and very little blood, and yet the movie ripples with subdued paranoia as Gemma and Tom fall into their respective roles of wife/mother and husband/father, duties they haven't signed up for. The audience can quickly surmise which societal conventions are being satirised, but the preciseness of Finnegan's pacing — and the uncertainty concerning what is going on — keeps the viewer in suspense. Just as important, Vivarium evolves over its short running time, springing surprises and revealing new layers to its commentary.
That said, the narrative burden falls on the two stars, who don't just have to bring an air of believability but also carefully navigate their characters' growing immersion in Yonder's antiseptically "inviting" cosiness.
Eisenberg skilfully plays another variation of his moody, intense onscreen persona, but the character isn't particularly compelling. Of course, that's because, ultimately, Vivarium is Gemma's story, and Poots is splendid as a nurturing teacher who finds out what the world expects from women. The movie sometimes overstates its ideas, but Poots keeps Vivarium from being just a coy, chilly intellectual exercise. She adds flesh and soul to what might be the film's most disturbing notion: In some ways, we all become encased in the lives we have stumbled into.
Production company: Fantastic Films
US sales: CAA, nick.ogiony@caa.com
International sales: XYZ Films, Tatyana Joffe tatyana@xyzfilms.com and Scott Freije scott@xyzfilms.com
Producers: Brendan McCarthy, John McDonnell
Screenplay: Garret Shanley, story by Lorcan Finnegan, Garret Shanley
Production design: Philip Murphy
Editing: Tony Cranstoun
Cinematography: Macgregor
Music: Kristian Eidnes Andersen
Main cast: Imogen Poots, Jesse Eisenberg, Jonathan Aris, Senan Jennings, Eanna Hardwicke