This remarkable graduation project from Natalia Sinelnikova opens the Berlinal's German cinema strand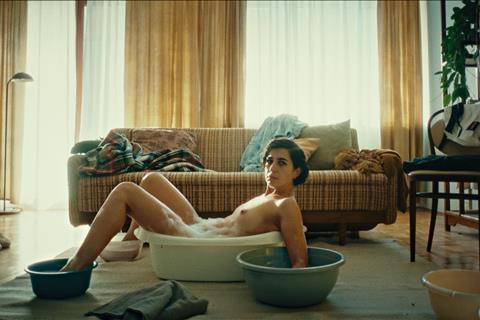 Dir: Natalia Sinelnikova. Germany/Romania. 2022. 94 mins.
Where are we? In an airport hotel that somehow got detached from its airport? A repurposed secret service facility? The rural headquarters of some wealthy Christian cult? The tall building on the edge of the woods that shelters the 'house community' at the centre of We Might As Well Be Dead could be any of these things. It could also be a luxury resort that has been turned into a high-security migrant facility. And in a way, that's what it is – except that those inside consider themselves to be anything but migrants. They moved here, it's true – but only to get away from the chaos and disorder beyond the fence. Now they organize their own sanitation, security and entertainment. And they're very selective about who else they let in.
Beneath its poised veneer, We Might As Well Be Dead simmers with the anger that bubbles over in its title
Perhaps the most remarkable thing about Natalia Sinelnikova's assured debut – which features a magnetic central performance by Romanian actress Ioana Iacob – is that it's her Babelsberg Film University graduation project. The Berlinale chose it to open the festival's Perspektive Deutsches Kino German cinema sidebar, but it could easily have landed in a more exalted berth, as it's a strikingly original, elegantly shot and designed and admirably controlled dystopian satire about the world's current retreat from rational discourse towards paranoia-fuelled tribalism.
True, there are parallels with Rodrigo Pla's La Zona, set in a Mexican gated community that metes out its own justice, and echoes too of certain Greek weird wave films – especially Yorgos Lanthimos' The Lobster. But We Might As Well Be Dead soon shakes off the similarities and becomes its own film – thanks to its impressively controlled aesthetics, narrative inventiveness, and the way the director lets the drama steer the message, not the other way round. Fortissimo Films picked up international rights shortly before the Berlinale, and while further festival play looks inevitable, so do a few deals with adventurous indie distributors, especially on the European circuit. A limited series adaptation is even within the realms of possibility – you can see exactly how the four or six episodes would play out.
Only right at the start do we get an overview of the tall building that will soon become the film's sole location, a place of light-filled atriums full of frondy plants, and the kind of varnished pine you associate with hospital waiting rooms that are trying to be nice. It rises beyond an empty vista of woods and parklands – and it's the destination of a well-dressed, clearly terrified couple and their young son, who scurry towards it, stopping along the way only so the parents can hide the axe and hammer they've been carrying. Iacob plays Anna, the security guard of the facility whose job it also is to show families the unfurnished apartment that will be assigned to them if they're accepted by the 'house community', and report back to the residents' vetting committee on her impressions of the applicants.
It helps if they have skills that are deemed to be useful. One of several enjoyable games We Might As Well Be Dead encourages the audience to play is to work out what roles its residents have been assigned: Anna's best friend Zeynep (Mina Ozlem Sagdic) seems to be both a sports coach and a counsellor, while Wolfram (Moritz Jahn), a sensitive, slightly unbalanced young man, is tolerated as the community's vagrant poet – though he's required to sleep in the basement boiler room. Anna also acts as a kind of cruise ship announcer, feeding the house blandly Orwellian weather reports and leisure activity information through the intercom. She clearly prides herself on her job and believes in the rules she enforces – which include censuring acts or thoughts deemed to be "unsocial, immoral or inconsiderate".
The effort her buttoned-up, uniformed life is costing Anna only becomes apparent when she's back in her warmly lit apartment, where her adolescent daughter Iris (Pola Geiger) has locked herself in the bathroom, convinced she has the evil eye and can mete out doom through the power of bad thoughts alone. Mother and daughter talk through a hatch at the base of the door, breaking into Yiddish in moments of tenderness. Meanwhile, one of the house's 'native' residents has lost his dog – a small incident that will lead to a big rift in the community.
Beneath its poised veneer, We Might As Well Be Dead simmers with the anger that bubbles over in its title. It's about the way fear and paranoia make communities – whether they be suburbs, countries, or factions within countries – circle the wagons, listen only to what they want to hear, and exclude anyone who doesn't conform to the group's self-image. But like all the best satirical dramas, it also lets itself, and us, get distracted, aware that not every character and incident needs to be making a neat point.
The script, co-written by the director with prose writer Viktor Gallandi, is nuanced and unpredictable. Even when a group of residents armed with golf clubs begins to organize its own security detail, overriding Anna's fragile rule of law, and we think we see where this is going, the narrative route stays interesting. Cinematographer Jan Mayntz sets the film's cool temperature with his sensitively lit fixed-camera shots, while a sparsely used but effective musical soundtrack includes an eerily beautiful transposition by German musician Maxi Menot of Ukrainian composer Mykola Leontovych's Christmas choral work 'Carol of the Bells'.
Production company: Heartwake Films
International sales: Fortissimo Films, gabrielle@fortissimofilms.com
Producer: Julia Wagner
Screenplay: Natalia Sinelnikova, Viktor Gallandi
Production design: Elisabeth Kozerski
Editing: Evelyn Rack
Cinematography: Jan Mayntz
Music: Maxi Menot, Michael Kondaurow
Main cast: Ioana Iacob, Pola Geiger, Jorg Schuttauf, Siir Eloglu, Moritz Jahn, Susanne Wuest, Knut Berger, Mina Ozlem Sagdic