A Budapest break brings the past back to life for two former lovers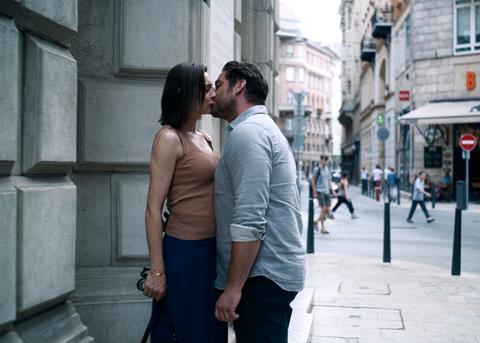 Dir. Florian Koerner von Gustorf. Germany. 2019. 89 mins
Astrid and Paul, a new couple in their late forties, take a romantic break together at a glum hotel in Budapest. But the weekend doesn't pan out as planned when Astrid spots someone from her distant past – her first love Julius – in the hotel restaurant. Through as series of unwieldy flashbacks, the stories of both relationships, then and now, are threaded together. And an attempt to draw parallels between the hostile politics and the significance of borders in contemporary Hungary and Astrid's East German past never entirely clicks together.
A somewhat muted quality
The debut feature from producer Florian Koerner von Gustorf (a regular collaborator of Christian Petzold, Angela Schanelec and Thomas Arslan), What Might Have Been is adapted by Gregor Sander from his own novel. It's possible that both relationships – between Astrid and the over-sensitive Paul; Astrid and the non-committal Julius – come to life more effectively given time and space on the page. But playing out in this film, they feel curiously inert and superficial. It's this somewhat muted quality which might mean that the film struggles to connect with audiences outside of German-speaking territories where familiarity with the source material could be a selling point.
A flat, glowering colour palette of dust greys and decayed browns makes the Hotel Gellert look like a rather hostile environment for a romantic break. Even so, for the first few hours, Astrid (played with sphinx-like inscrutability by Christiane Paul) and Paul (Ronald Zehrfeld) seem to be getting on reasonably well. But when Astrid catches a glimpse of Julius, she flees, making an excuse to her perplexed boyfriend. He later slips out for a beer and makes awkward small talk with the bartender, who concedes that they have one or two decent domestic beers. "And apart from the beers, what about the government?" says Paul, in a conversational segue so random, you wonder for a moment whether he is speaking in some kind of secret code. But the point of the scene comes a moment later, when Paul coincidentally asks for a cigarette from Julius and his brother, then exchanges benign pleasantries with them while puffing away.
Astrid is soon forced to reveal her connection to Julius, but only once she is sure that he has left the hotel. The film drifts back into Astrid's youth, in East Germany, where she meets Julius at an art party hosted by his mother. The colour palette here is more saturated – memories play out in an idealised sun-kissed summer. Their relationship is slow to start, and even when it does, there's something about the stilted interactions which fails to seduce the audience into the idea of a first great love. Paul, however, is preoccupied, referring to Julius as "Your Prince" and goading her into revealing more details from the past. Eventually, a Cold War-style tale unfolds, of defection from the East which leaves the young lovers on different sides of the border. But even this feels flatly anticlimactic.
Production company: Flare Film
Contact: The Match Factory, info@matchfactory.de
Producer: Martin Heisler
Screenplay: Gregor Sander
Cinematography: Reinhold Vorschneider
Editor: Mona Bräuer
Production design: Reinhild Blaschke
Music: Max Müller
Main cast: Christiane Paul, Ronald Zehrfeld, Sebastian Hülk, Mercedes Müller, Leonard Kunz, Lena Urzendowsky