Jesse Eisenberg makes his directorial debut with this biting family drama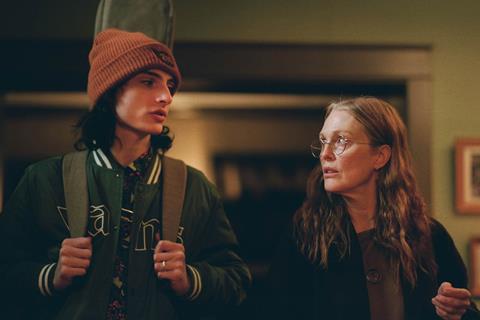 Dir-scr: Jesse Eisenberg. USA. 2021. 88 mins
The collision between selflessness and self-regard, the impetus to connect with strangers versus the urge to shut down our nearest and dearest: all of this is explored in the microcosm of a liberal family unit in Jesse Eisenberg's abrasive and perceptive directorial debut. The focus of this astringent, stingingly funny domestic drama is the relationship (or lack of) between the politically engaged but socially inept Evelyn (Julianne Moore) and her teenage son Ziggy (Finn Wolfhard), an aspiring musician who live-streams his jejune folk rock noodling to his 20,000 online followers. This is pretty much exactly the kind of film that anyone familiar with Eisenberg's body of acting work might imagine he would make: it's sharp, challenging and wry, but as insistent and uncomfortable as a splinter.
Eisenberg seeds the film with playful insights
The film, which is first feature film production from Fruit Tree – the company led by actress Emma Stone and her husband, writer Dave McCary – is loosely based on Eisenberg's award-winning audio-drama of the same name. Even without the clout of the A24 name on the titles, this would have been likely to have made a buzz on the festival and arthouse circuit. Small in scale, but a quality package throughout, with Moore's performance a particular stand out, When You Finish Saving The World should serve as an efficient launchpad for any further directing ambitions that Eisenberg might nurture.
Moore dials down her innate charisma to play Evelyn, a woman who has dedicated her life to helping others and runs a shelter for the victims of domestic abuse. It's a laudable vocation, certainly, and yet there's very little in the way of warmth and empathy in Evelyn's manner. When her habitual facial expression – a mask of sympathy and pity – slips, it reveals something harder, carved by judgment of and disappointment in those around her. Her attempt at small talk sends an office administrator into a panic that she's about to be fired; her presence on the edge of a birthday celebration casts a funereal pall.
Eisenberg seeds the film with playful insights. The lavish, grandiose classical music to which Evelyn listens on her drive to work is juxtaposed with her comically tiny vehicle – there's a weighty self-importance to Evelyn which doesn't quite conceal a certain petty smallness of character. But when she encounters Kyle (Billy Bryk), the teenage son of a woman seeking refuge at her facility, Evelyn is deeply moved by his sensitivity and maturity. She claims him as a project, encouraging him to rethink his plans for the future.
Meanwhile, her own teenage son makes angsty acoustic music she never listens to, for an audience she can barely comprehend. Ziggy is shallow and self-absorbed; it's only when he develops a crush on the smart, politically engaged Lila (Alisha Boe) that he starts to realise that there's a world beyond his follower counts and live-stream engagement statistics. Lila writes impassioned poetry about the colonial history of the Marshall Islands; inspired to write politicised content, Ziggy uses a rhyming app to find a match for the word 'congressmen'. He is, in his own way, as socially clueless as his mother. ("Everyone around me is a narcissist," complains his father.) But while it becomes clear that Evelyn and Ziggy are both looking for versions of each other, the question of whether they can ever personally reconnect is rather less certain.
Production company: Fruit Tree, A24
International sales: A24 intl@a24films.com
Producers: Ali Herting, Dave McCary, Emma Stone
Cinematography: Benjamin Loeb
Editing: Sara Shaw
Production design: Meredith Lippincott
Music: Emile Mosseri
Main cast: Julianne Moore, Finn Wolfhard, Alisha Boe, Jay O. Sanders, Billy Bryk, Eleonore Hendricks