Dir: Spike Jonze. US. 2009. 101 mins.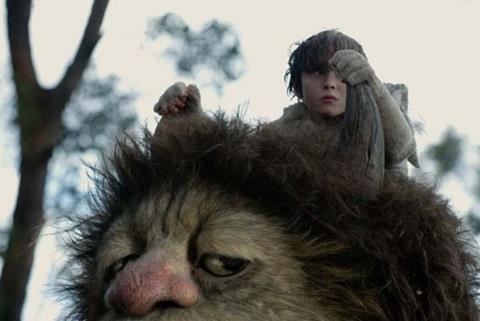 With Being John Malkovich and Adaptation, Spike Jonze built up a reputation as a quirky auteur, so it's hard to believe that Where the Wild Things Are is only his third film, and his first in seven years. A creative, melancholic adaptation of Maurice Sendak's imaginative but slim children's book, Jonze's film is essentially a delicate portrait of a child restlessly coming to terms with growing up - a cry for attention from a generation with dwindling adult role models.
The novelty of looking at the creatures never wears off, and Jonze uses an inquisitive handheld style that works.
In the way that Election was a film with teen characters but not a teen movie, Where the Wild Things Are is a movie about a child that isn't a children's film. Despite critical support and starry performances, neither of Jonze's previous films cracked $25m domestically. This will need strong notices to attract adult film-goers as family audiences may find it too challenging; the international marketplace may be far more accepting.
The story revolves around Max (Max Records), a rambunctious but sensitive nine-year-old who feels neglected at home. His single mother (Catherine Keener) does the best she can, but Max's older sister is understandably more into her own teenage friends, and Max acts out accordingly, seeking to be the center of some world.
After an argument with his mother, Max escapes to an island where he meets a motley group of seven towering, exotic creatures whose actions are also governed by impulse. These Wild Things, and in particular their de facto leader Carol (Gandolfini), long for a strong outside personality to guide them. Against the wishes of sarcastic, habitually negative Judith (Catherine O'Hara), Max is crowned king, promising fun for all, and a place where "only the things one wants to happen will happen."
As the creatures' relationships start to fray, though, and Max's claims of superhuman powers fall into doubt, the frailty of his kingdom is revealed.
Any discussion of Where the Wild Things Are must begin with its highly imaginative look, which delightfully blends conventional puppetry with more modern techniques. The creatures are all portrayed by actors in six- to eight-foot tall costumes created by the Jim Henson Company, with some additional animatronics and computer-generated faces. Despite their outlandish appearances, the characters have recognizably human form and traits - they shift their weight, and slouch. These design choices help give the movie a tactile pleasure; it's a fantasy that isn't slick and polished, but feels "real".
Adapting Sendak's bestselling 1963 novel - the subject of several big screen outings throughout the years - Jonze and collaborator Dave Eggers (Away We Go) don't impose a conventionally cathartic story on the film. Once Max settles on the island with the Wild Things, there follows a series of active, celebratory set pieces - cinematically imagined childplay, as it were. The exploration of character comes haltingly, in fits and starts.
Still, the film's unique, handcrafted visual approach and genuine depth of feeling render this shortcoming relatively moot. The novelty of looking at the creatures never wears off, and Jonze uses an inquisitive handheld style that works. Similarly, the script is honest about both peril and aggrieved feelings — when there's a dirt clod war, someone gets hurt, and when Carol feels spurned by crush KW (Lauren Ambrose), his hurt feelings linger.
Where the Wild Things Are can often – in a similar way to 1986's Labryinth – be scary for younger audience members (a chase sequence when Carol becomes enraged, or when Max hides inside the stomach of one of the Wild Things). The film has a thematic similarity to Zathura and Home Alone, fanciful tales in which lonely or somewhat neglected kids place/find themselves at the center of a wild adventure, but Jonze's approach gives it an undeniable arthouse spin.
Also worth noting is the score from Carter Burwell and Karen O (the frontwoman of the Yeah Yeah Yeahs). Whether trading in disconsolate howls or more soothing plaintive rhythms - the track Hideaway is a particular standout - the music connects emotionally, and may be singled out for awards consideration.
To sign up for Screen's weekly Reviews Newsletter with all the week's new releases, international openings and full festival reviews delivered free to your mailbox every Friday, please click HERE
Production companies
Warner Bros. Pictures
Legendary Pictures
Village Roadshow Pictures
Playtone
Producers
Tom Hanks
Gary Goetzman
John Carls
Maurice Sendak
Vincent Landay
Screenplay
Spike Jonze & Dave Eggers, based on the book by Maurice Sendak
Cinematography
Lance Acord
Production designer
K.K. Barrett
Art director
Lucinda Thomson
Editors
James Haygood
Eric Zumbrunnen
Music
Karen O and Carter Burwell
Main cast
Max Records
Catherine Keener
James Gandolfini
Paul Dano
Catherine O'Hara
Forest Whitaker
Chris Cooper
Lauren Ambrose
Michael Berry, Jr.
Steve Mouzakis
Mark Ruffalo