Cate Blanchett and Richard Linklater unite to adapt a best-selling novel by Maria Semple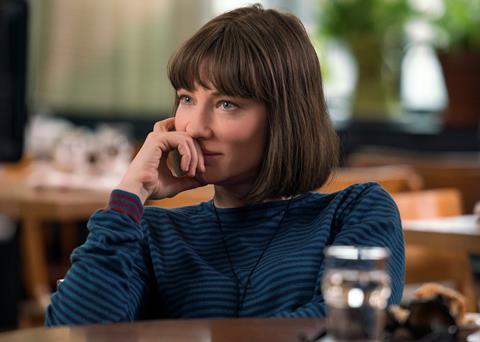 Dir: Richard Linklater. US. 2019. 108mins.
The question posed by the title Where'd You Go, Bernadette turns out to be more of a philosophical riddle rather than geographic confusion, as this off-kilter comedy-drama tells the story of an architect, mother and wife (played by Cate Blanchett) who lost a sense of herself long ago. Yet despite the depth of feeling often on display, Richard Linklater's latest is a frustratingly unconvincing portrait of a wilfully difficult individual seeking emotional equilibrium.
Blanchett's performance ultimately feels too fussy — a collection of notions, tics and bits of backstory that won't congeal into a fully realised character
While her work in Blue Jasmine also found Blanchett playing a highly-strung, mentally faltering character - and won her an Oscar - the actress isn't nearly as commanding here, in large part because neither she nor her director seems to have entirely unlocked the mystery of the enigmatic Bernadette. Set for a late-summer release in the US, the film (based on Maria Semple's 2012 bestselling novel) will hope to appeal to older audiences in the mood for serious, sentimental fare. Blanchett and Linklater's involvement will spark interest, but reviews may be mixed.
When we first meet Bernadette (Blanchett), kayaking alone in Antarctica, it's clear she's a peculiar woman. The movie quickly flashes back several weeks so that the audience can learn what brought her to the South Pole — and why her husband Elgie (Billy Crudup) and teenage daughter Bee (Emma Nelson) have become so concerned about her. But the problem has been building up for quite some time. Bernadette walked away from a career as one of the world's foremost architects 20 years ago to move from Los Angeles to Seattle with Elgie where unforseen traumas knocked her off course.
Linklater, who co-wrote the screenplay, is a humanist filmmaker adept at working with actors and finding the unguarded, truthful moment, turning deceptively small interactions into something far larger and more profound. Bernadette would seem well-suited to his skill set, but the story's tonal shifts, increasingly unbelievable plotting and prickly central character all prove too much. No matter Linklater's efforts to keep the proceedings grounded in a light realism, this inherently melodramatic, sometimes absurdist material resists his naturalistic tendencies.
By comparison, Blanchett tends to work best when she goes big, which leaves her at odds with Linklater's more subtle approach. As a result, Bernadette is oddly fascinating without being particularly compelling. It's obvious that Linklater and Blanchett have enormous compassion for Bernadette — who may be antisocial, suffering from anxiety or generally just an unpleasant person, depending on who you ask — and they give the character the space to be challenging and opaque. Unlike Blue Jasmine, there's nothing wittily grandiose in Blanchett's portrayal of Bernadette — this woman is more interior, less high-wire theatrical — which, in a sense, feels more in keeping with the unhappy souls that we recognise around us, or in the mirror.
But the respect Bernadette shows its protagonist doesn't keep the movie from becoming bogged down in jokey humour or awkward plot twists. That's a shame, because when Linklater and his cast dig into Bernadette's emotional troubles — Judy Greer plays a therapist who tries to help this family communicate — we begin to get poignant glimpses of a successful artist undone by personal failings as well as societal pressures and predetermined gender roles. Linklater has dedicated the movie to his own mother, Diane, who died in 2017, calling her in the end credits, "My Bernadette," which suggests an abiding sympathy for a character who, at least in her own family, is something of an unfathomable puzzle.
Alas, Blanchett's performance ultimately feels too fussy — a collection of notions, tics and bits of backstory that won't congeal into a fully realised character. She's talented enough to keep us intrigued by Bernadette's slow-motion unravelling — and newcomer Emma Nelson is excellent as Bee, her mother's fiercest champion and best friend — but as the film's final reels force the story toward overblown feel-good terrain, the whole endeavour starts to lose its footing.
On the one hand, Where'd You Go, Bernadette wants to be a sincere but quirky examination of a genius who is ill-equipped for the banality of ordinary life. (Kristen Wiig, playing a stereotypical suburban super-mum, is an on-the-nose representation of the dull picket-fence domesticity that Bernadette disdains.) But Linklater's desire to give Bernadette and her family a happy ending comes across as simplistic and inauthentic — two adjectives rarely attached to a filmmaker who prizes the nuances and complexities of everyday existence. This movie loves Bernadette, but it never really understands her.
Production companies: Color Force, Detour Filmproduction
International sales: Annapurna Pictures, kimf@annapurnapics.com

Producers: Nina Jacobson, Brad Simpson, Ginger Sledge
Screenplay: Richard Linklater & Holly Gent & Vince Palmo, based on the novel written by Maria Semple
Production design: Bruce Curtis
Editing: Sandra Adair
Cinematography: Shane Kelly
Music: Graham Reynolds
Main cast: Cate Blanchett, Billy Crudup, Kristen Wiig, Judy Greer, Laurence Fishburne, Emma Nelson