Kevin Macdonald's sombre documentary seeks the truth about Whitney Houston's troubled life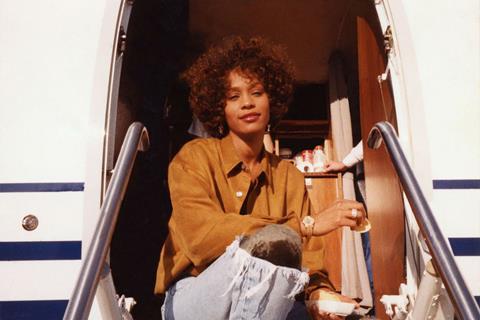 Dir: Kevin Macdonald. UK. 2018. 120mins
Sadness imbues Whitney, a sombre documentary about pop superstar Whitney Houston, whose miraculous voice and ubiquitous hits couldn't stem the tide of drug addiction and personal demons that contributed to her death in 2012, at the age of 48. Both tragic and eerily familiar to other recent portraits of talented, doomed artists including Nick Broomfield's Whitney: Can I Be Me? only last year, Kevin Macdonald's film does its best to wrestle with conventions, offering a broader cultural perspective on Houston's life and achievements. But what stands out most strongly is the sense that this joyous singer was, perhaps, fated from an early age to lead an unhappy life.
'Whitney' is strongest when it connects Houston to the larger history of Black America
Premiering in Cannes, Whitney will come to US and UK theatres July 6. Fans of the singer (who may also have seen Broomfield's doc) could be enticed by the fact that Macdonald spoke to several of Houston's family members, friends and business partners to glean insights into her upbringing and struggles. And as similar films such as Amy and Kurt Cobain: Montage Of Heck have demonstrated, deep dives into a musician's personal life can be commercially viable, although tend to perform best on streaming platforms.
The documentary boasts a relatively straightforward structure, cutting between talking heads and archival footage to tell Houston's story from her early days to her final moments. However, Macdonald (One Day In September) isn't just after a highlight reel, instead seeking an understanding about why she chose such a self-destructive path after she attained superstardom by the early 1990s.
It's easy to get restless at times as Whitney follows a familiar rise-then-fall trajectory. The documentary's predictable contours risk diminishing her unique qualities — in such broad strokes, the singer's downward trajectory isn't so far removed from those of an Amy Winehouse or Kurt Cobain.
Perhaps recognising this, Macdonald digs deeper, intriguingly inserting quick clips of current events that were occurring simultaneously with the rise of Houston's career. As she becomes a late-'80s pop juggernaut, the montages are interspersed with footage of everything from Ronald Reagan to Madonna to Public Enemy, which is Whitney's attempt to elucidate the political, social and cultural fabric of the times. The technique can be a bit forced, but it shakes up the comfortable formula, asking the viewer to think about the world around the star.
Still, Whitney is strongest when it connects Houston to the larger history of Black America, illustrating how this glamorous performer grew up in poverty and never entirely escaped the obligation of helping to pull up her underprivileged family members. (We'll soon learn how certain relatives tried to capitalise on and profit from her success.) In addition, as a light-skinned woman Houston was teased by African-American classmates because she supposedly wasn't "black" enough, and the singer's inner tension over learning how to interact with both black and white audiences provides a wary undercurrent throughout much of Whitney.
The dissection of race and class are informative, as is the movie's sensitive examination of childhood trauma that seemingly haunted the singer for all her life. Macdonald also investigates the rumours that she was secretly gay (as did Broomfield's doc, quite conclusively finding for), but he does so with tact, eschewing tabloid-y gossip to respectfully suggest that her discomfort with her sexuality was another example of how her stardom was a strategy for escaping parts of herself.
One wishes there was more in-depth examination of her art. (An extended sequence concerning her iconic performance of "The Star Spangled Banner" at the 1991 Super Bowl offers excellent behind-the-scenes details as well as an incisive cultural critique. Then again, last year's Whitney biopic went heavy on performance.) Ultimately, though, Whitney is less about the music than it is about the woman. As Houston becomes consumed by drugs and a fraught marriage to singer Bobby Brown, who proves to be a surly interview subject, the documentary grows more despairing, refusing to put a smiling face on her bleak final years.
Whitney Houston's short, difficult life may not be that much different than that of other gone-too-soon singers. But they're all heartbreaking in their own way.
Production companies: Lisa Erspamer Entertainment, Altitude Film Entertainment, Lightbox
International sales: Altitude Film Sales, mikerunagall@altitudefilmsales.com
US distribution: Roadside Attractions/Miramax
Producers: Simon Chinn, Jonathan Chinn, Lisa Erspamer
Editing: Sam Rice-Edwards
Cinematography: Nelson Hume
Music: Adam Wiltzie