Two men drawn to boxing for very different reasons forge a firm friendship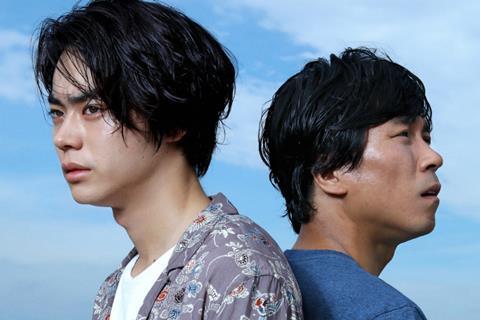 Dir: Yoshiyuki Kishi. Japan. 2017. 305 mins
"Life is boring if you don't fight your destiny, " is one of the more memorable lines in Yoshiyuki Kishi's adaptation of Shuji Terayama's 1966 novel Aa, Koya (Ah, Wilderness). Set in the Shinjuku ward of Tokyo in 2021, Wilderness revolves around characters struggling against the crippling legacy of absent fathers, broken homes and disasters both natural and man-made.
The film rests heavily on the central performances
The daunting five hour running time and slightly old-fashioned attitudes will deter many from this absorbing, wide-ranging drama, although the film will be released in a more manageable two parts in Japan in October.
On one level, Wilderness an ode to male friendship and the way boxing becomes a means of self-expression for men unable to find other ways of articulating their vulnerabilities.The focus throughout is on the very contrasting personalities of Shinji (Masaki Suda) and Kenji ( Ik-June Yang). Shinji is fresh out of juvenile detention and filled with anger over a violent attack by Yuji (Yuki Yamada) that left one of his closest friends in a wheelchair. Kenji is a stuttering, mild-mannered hairdresser who has never found the courage to stand up to his vicious bully of a father.
Both men are drawn towards the Ocean Boxing Club and the chance to ultimately turn professional. Shinji sees it as a legitimate means to exact his public revenge on boxer Yuji, while Kenji views it is an opportunity to build his confidence and self-esteem. The first half of the film has all the usual sparring, skipping and training sessions interspersed with flashbacks that tell of the childhood traumas that haunt the two men and Yoshiko (Akari Kinoshita), the woman who becomes Shinji's girlfriend.
The film rests heavily on the central performances and both actors are effective at defining their characters through their physical presence. Suda's Shinji has a confident swagger and the cocky manner of someone who doesn't care too much what others think. Yang's Kenji is in a permanent state of uncertainty, constantly bowing and apologising for his very existence.
The bromance that develops between the two aspiring fighters brings out a softer side of Shinji, and allows Kenji to find a male figure that he can idolise without reservation. Kenji's notebook of drawings and writings hint at the repressed desire he feels.
The second half of the film is more reflective, as it draws out the connections and coincidences in the story and paints a picture of a Japan in which wedding halls are closing to accommodate funeral parlours and love hotels are being transformed into care homes for the elderly. The lives of Shinji and Kenji seem to reflect a society that is starting to unravel.
Not every element of that bigger picture (a suicide prevention festival, street protests over changes in the law etc) feels seamlessly integrated into the film. The female characters are entirely consigned to lovers and unreliable mothers.
Interest never flags, however, when it focuses on the two central characters and fight fans will feel they are getting value for money from lengthy spells in the boxing ring in which the opponents seem determined to batter each other to a bloody pulp.
Production company: TV Man Union Inc
International sales: My Theater DD ito@mytheaterdd.com
Producers: Hiromitsu Sugita, Junko Sato
Executive producers: Akira Ishii, Tenshin Tsutsumi
Screenplay: Takehiko Minato, Kishi Yoshiyuki based on the novel by Shuji Terayama
Cinematography: Natusmi Kozo
Editor: TBC
Production design: TBC
Music: Tari Iwashiro
Main cast: Masaki Suda, Yang Ik-June, Akari Kinoshita, Denden