Sarah Polley's focused drama poses real questions about faith and forgiveness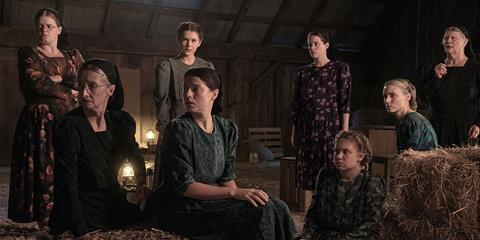 Dir: Sarah Polley. US. 2022. 104mins
Anger and tenderness flow in equal measure in Women Talking, a focused, forceful drama about a community of women living in a strict religious community who are reeling from the sexual abuse they've endured. Adapting Miriam Toews' novel, writer-director Sarah Polley doesn't offer easy catharsis or simplistic platitudes, instead delving deeply into the mixed emotions felt by these mothers and daughters, who are tired of the mistreatment but divided on how to respond. Examining faith and the patriarchy with quiet eloquence, this drama provides an acting showcase for a suite of superb performers headlined by Rooney Mara, Claire Foy and Jessie Buckley.
Polley wants us to wrestle with the same questions that consume these women
Opening in the US on December 2, where it's clearly positioned for an awards run (a UK release will follow in February 2023), Women Talking will speak to the #MeToo movement, but it's a testament to Polley's intelligence as a filmmaker that she refuses to give viewers a blandly inspirational tale. Indeed, Women Talking is a challenging work that requires a little patience from the audience, who will be rewarded with a troubling, provocative story that lingers in the mind long after the film is over.
Set in 2010 and drawing inspiration from Mennonite communities, although a specific religious group is never named in the film, Women Talking takes place largely in a barn somewhere in the rural United States as several generations of women gather to discuss a wave of abuse that has plagued them in recent times. But should they stay and fight, or should they leave? The women debate the matter fiercely, with some (like Buckley's Mariche) insistent that they should stay while others (Foy's Salome) adamant that the survivors shouldn't have to remain a day longer.
Working with cinematographer Luc Montpellier, Polley (directing her first film since 2012's Stories We Tell) shoots Women Talking in muted colours, giving the images an almost charcoal-grey starkness. The visuals match the mood, as the women's severe expressions reflect the desperate situation in which they find themselves. Their conversation has extra suspense because it's being conducted while the men are briefly away, which lends the proceedings a ticking-clock urgency.
To be sure, the intimate, occasionally claustrophobic setting presents potential narrative obstacles, but Polley doesn't resort to showy camera placements or quick cutting to insert artificial dynamism. She simply trusts her cast, which includes Frances McDormand (also producing) as a stern matriarch who is utterly against the women leaving: after all, according to their religion, if they don't forgive their assaulters, they'll be denied entrance into Heaven.
Impressive in its generosity, Women Talking doesn't just respect the characters' different points of view but also how their conservative upbringing in this cloistered community has shaped their thinking since childhood. Polley manages a tricky balance, condemning religion's perpetuation of gender inequality while understanding how true faith can help give individuals a sense of grace and comfort in their lives. To that end, the film includes conversations about the very nature of forgiveness — and whether it's foolish or beautiful for these women to pardon their abusers.
As her characters defend their positions — the film occasionally cutting to flashbacks that provide quick glimpses of the abuse — Polley also introduces a tentative love story between the pregnant, vibrant Ona (Rooney), who wants to flee, and August (Ben Whishaw), a bashful teacher whose family was ostracised years ago for murky reasons. Soft-spoken and meek, August has been drafted to take the minutes for this meeting of the women, but his long-held affection for Ona starts to surface, leading to a poignant resolution that suggests that, even in such a toxic environment, genuine adoration can still bloom.
Even so, Women Talking isn't a film heading toward a conventional happy ending. As underscored by composer Hildur Guonadottir's terse music, Polley wants us to wrestle with the same questions that consume these women. By doing so, she has crafted a humane exploration of why survivors can't always simply "get away" from their abusers — often, societal and cultural pressures become complicating factors. (And then there are practical concerns: Should the women take their young sons with them? Or only the girls? At what age are boys past the point of being redeemed?)
The thoughtfulness of the exchanges, paired with the raw-wound intensity of the actresses' performances, illustrates a community oscillating between rage, grief and numbness at the horrors they have faced. Eventually, Women Talking's characters make their choices, but Polley's nuanced film hints at the lingering trauma that survivors live with — and why escaping can be as fraught as staying.
Production companies: Plan B Entertainment, Hear/Say
International distribution: Universal Pictures International (International) / Orion Pictures (US)
Producers: Dede Gardner, Jeremy Kleiner, Frances McDormand
Screenplay: Sarah Polley, based on the book by Miriam Toews
Cinematography: Luc Montpellier
Production design: Peter Cosco
Editing: Christopher Donaldson, Roslyn Kalloo
Music: Hildur Guonadottir
Main cast: Rooney Mara, Claire Foy, Jessie Buckley, Judith Ivey, Sheila McCarthy, Michelle McLeod, Kate Hallett, Liv McNeil, August Winter, Ben Whishaw, Frances McDormand