Gal Gadot and Patty Jenkins reunite in strange times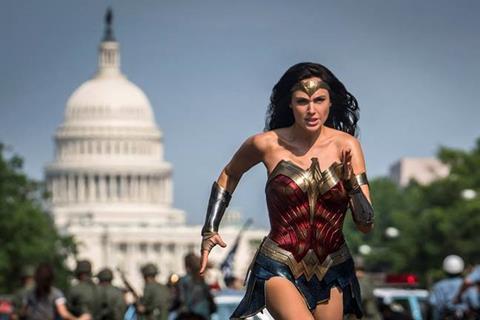 Dir. Patty Jenkins. US. 2020. 150 mins.
A long time ago, back when this film is set, there were no cinematic universes. An an "instalment in a franchise" was called a sequel, and they were snobbily perceived to never be as good as the original. With the best will in the world, and there's certainly a lot of goodwill out there for director Patty Jenkins, star Gal Gadot, and the kindly, kickass female DC superhero they have created together, Wonder Woman 1984 (or WW84) is a good fit with those times. Early hopes of Back To The Future, an 80s film whose sequels bucked the trend, give way to a dawning sense of Wonder Woman's whip endlessly spinning out but never quite connecting.
Wonder Woman learns how to fly, but WW84 never soars
WW84's pace is baggy, certainly, and the script isn't sharp enough, but it's hard not to draw the conclusion that money, or the allocation of it, has also been an issue. Production values are thin for an action hero spectacular; set pieces are sparse for the runtime; and the primary villain is played by an actor who is best known for his performance behind the helmet of The Mandalorian. WW84 releases online and in cinemas through HBO Max on Christmas Day in the US and in whatever cinemas are open in selected other territories including the UK this weekend. And there's certainly a pent-up desire for a comic book extravaganza. The original, a delight, took $822m globally in 2017. This follow-up clearly can't match that, due to constraints; neither can it be deemed a commercial failure, given the circumstances. For once in 2020, the stars may be aligned for a quick getaway.
It all starts off well, much as it began in 2017: an action-packed intro set in Wonder Woman's Amazonian tribe, led by the warrior Antiope (Robin Wright) and Queen Hippolyta (Connie Nielsen). Here Diana is a precocious child, taking part in an athletic quest and learning the value of the truth (which will later turn out to be "bigger than all of us").
It's the present day – 1984 - which turns out to be a little lacklustre despite all the dayglo, as Diana Prince (Gadot) works in the Smithsonian and pines for her true love, aviator Steve Trevor (Chris Pine). She spends her spare time keeping pedestrians safe and foiling jewellery heists in shopping malls.
The arrival of Kristen Wiig as Barbara, a ditzy misfit historian, holds out hope from the get-go: Diana and Barbara form a tentative friendship, and the actors work well together. However WW84 is completely in thrall to Max Lord (Pedro Pascal), a TV personality and a personification of the Greed is Good era who dates from 1980s DC lore. He operates an oil-drilling Ponzi scheme called the Black Gold Cooperative and wants to take over the world via a cheap-looking but magical artefact that arrives in the Smithsonian as part of a consignment of rescued goods. It grants your wish: so Diana asks for Steve to return, while Barbara wants to be more like Diana, and Max just goes for more-more-more. What it does not do, though, is provide enough structure for Jenkins, who co-wrote, on which to hang 150 minutes of screen time.
Max Lord is ultimately a pedestrian supervillain whose only surprise is how much of the film is handed to him. WW84 works much better with women, but the film doesn't seem to fully appreciate that. We're aware that Wonder Woman's foe The Cheetah will make an entrance, as this is heavily advertised in marketing materials. But when? Almost two hours later, is the answer, (and the arrival only prompts unwanted memories of last year's Cats).
As humans are granted their every wish, the world begins to disintegrate. The US president longs for more nuclear weapons, not world peace, and a shopkeeper in London wishes for "all you Irish bastards to go back where you came from." It's all a bit abrupt given the script's relaxed approach to establishing world politics of that time.
As befits the era, WW84 has some fun with leotards, Walkmans, fanny packs and dayglo shopping malls, just not as much as you might expect. More could also have been anticipated from the score; it's neither as propulsive as the original, nor does it truly try its hand at the era (apart from some wan drifts of 'Welcome To The Pleasure Dome'). Wiig is terrific, but there's just not enough of her. It truly is a wonder to see an A-lister like Chris Pine embrace the traditional female support role of the pretty sidekick so winningly, while Gadot is as smooth as silk and never less than watchable. The team is there, but this is most definitely a sequel. Wonder Woman learns how to fly like Superman, so that's a bonus for future iterations; unfortunately, though, WW84 itself never soars.
Production companies: Alias Entertainment, Stone Quarry
International distribution: Warner Bros
Producers: Charles Roven, Deborah Snyder, Zack Snyder, Patty Jenkins, Gal Gadot, Stephen Jones
Screenplay: Patty Jenkins, Geoff Johns & Dave Callaham, story by Jenkins & Johns, based on characters from DC.
Cinematography: Matthew Jensen
Editing: Richard Pearson
Production design: Aline Bonetto
Music: Hans Zimmer
Main cast: Gal Gadot, Kristen Wiig, Pedro Pascal, Chris Pine, Robin Wright, Connie Nielsen