With fists and feet of fury, a silent hero searces for his missing son in Xin Yukun's accomplished Chinese western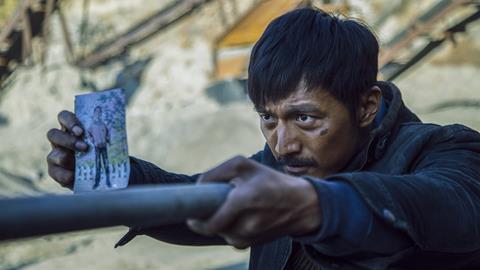 Dir. Xin Yukun. China. 2017. 117 mins.
Xin Yukun's firm hand directs the viewer backwards and forwards in time and around China's wild west (or, to be more accurate, north) in the intricate, invigorating Wrath of Silence, a script he wrote before his well-received debut The Coffin In The Mountain and an accomplished drama/thriller which should be a slow-burn hit for the revived (and now China-owned) sales company Fortissimo Films. Long and twisty and attention-grabbing from the outset, this Chinese western cloaks its human poignancy in intricate action choreography and occasionally gory thrills.
Moments of humour dot the action; points are made and pounded home.
Wrath of Silence is an old-fashioned discovery title which premiered in China's small first film festival in Xining in July, before moving onto London and a low-key international debut. Plentiful festival outings and arthouse attention should follow as it attracts aficionados of feisty Chinese cinema and even converts new audiences (on the surface, this is a strikingly similar trajectory to Bone Tomahawk two years ago). There's more to it than meets the eye, however – and plenty hits the back of the iris here, from splattering mutton to a once-seen-never-forgotten gouging with a sucked-out sheep shankbone.
Admittedly over-long, Wrath of Silence has stretches of deliberate pacing, one man cast against the wide horizons of a vast, empty, rich land slowly being encroached by industrialisation and the gangsters that feed off it. But it's equally able to move fast from this still vista to a charged and choreographed dust-up where our silent hero – he bit off his tongue during a fight, we're told – takes on the room. (Choreography by Li Hongbiao blends classical action with low-fi bouts). Moments of humour dot the sadness; points are made and pounded home.
China's wuxia star Song Yang (The Master) takes the mute lead as Zhang Baomin, a defiant labourer who boasts a complicated backstory with his village neighbours and now works in a mine a two-day journey away from his sheep farm. When his shepherd son goes missing during the winter of 2004, Song Yang returns home to Gufeng Village in Feng County and his sickly wife to mount an increasingly desperate search for the boy, fists-first. His padded peasant jacket comes in useful when it comes to absorbing the blows which result.
Behind it all is the nefarious crossbow-wielding gangster Chang Wannian (Jiang Wu, having a great time with an oily, curly hairpiece) and his goons, as well as the weak-kneed lawyer Xu Wenjie (Yuan Wenkang), whose daughter is also kidnapped. Chang wants the natural resources of the land to further his – and China's – ambitions for growth, and will stop at nothing, including another kidnapping, to achieve them.
Xin Yukun achieves a remarkable meld of image with score, courtesy of Sylvian Wang. Plotted around natural resources and the mining industry, the film's jarring tones can seem to echo the moving of tectonic plates, while the composer amplifies the action beats, whether it be kicking, thumping, plate-smashing or bashing an ashtray into a character's head. There's a point to it all, though, and the unease bubbles over when Xin's characters survey the new China laid out before them, having paid the ultimate price.
Production companies: Bingchi Pictures, Hehe Pictures Corporation Ltd, Black Ant Film., Khorgas Taihei
International sales: Fortissimo Films, info@fortissimofilms.com
Producer: Gao Yitian
Executive producer: Huang Kongyu
Screenplay: Xin Yukun
Cinematography: He Shan
Production design: Lan Zhiqiang
Action director: Li Hongbiao
Editor: Hu Shuzen
Music: Sylvian Wang
Main cast: Jiang Wu, Song Yang, Yuan Wenkang