Rachel Griffiths makes her directorial debut with this true story of the first female jockey to win the Melbourne Cup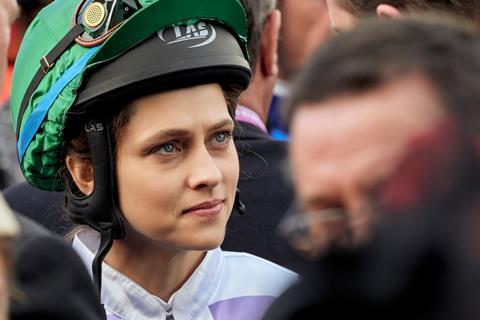 Dir. Rachel Griffiths. Australia. 2019. 98mins
When Michelle Payne became the first female jockey to win the Melbourne Cup in the Australian event's 150-year-plus history, she overcame 100-to-one odds, debilitating injuries, an array of naysayers and the sport's clear gender gap. Dramatising this trailblazing feat, actress Rachel Griffiths makes her feature directorial debut with this innately inspirational tale, coaxing a determined performance out of Teresa Palmer as the star racer. But, for a film so tied to a thoroughbred showcase, this broad crowd-pleaser blatantly relies on well-worn parts.
Ride Like a Girl is engineered to generate a feel-good mood
Spanning two miles and considered the world's richest race of its type, the Melbourne Cup has long been dubbed 'the race that stops the nation'. Despite its undemanding nature, this underdog story could earn a comparable nickname at the Australian box office. The fact that Payne's victory happened a mere four years ago should aid the feature's fortunes considerably, as should its release just as 2019's racing season begins. All of the above won't make a difference beyond home turf, of course, where Ride Like a Girl will likely meander rather than gallop.
Almost as sweet as a sugar cube, this is a glossily shot, matinee-friendly celebration of Payne's against-the-odds achievement that cursorily glances at, rather than meaningfully explores, horse racing's complex realities. This might not be the place to interrogate the controversial industry – and was never going to be with a government racing department, a state racing authority and a betting agency among the feature's backers – but, even with Payne's plight as a woman in a vastly male-dominated realm repeatedly thrust to the fore, the film remains general and formulaic.
Scripted by Andrew Knight (Ali's Wedding) and Elise McCredie (forthcoming Cate Blanchett-led TV series Stateless), Ride Like a Girl runs a course that any viewer can easily foresee — even those unfamiliar with Payne's winning trot. Bookended by footage of the real figure, first as a child and later after her big feat, the film initially paints a portrait of a plucky young girl (Summer North) with nine similarly horse-mad older siblings, as well as a widower and veteran trainer (Sam Neill, in stern, stubborn but wise mode) for a father. Then, hitting all of the expected beats from tragedy to triumph, it follows her path from spirited slip of a kid, to single-minded racing aspirant pushing her way through the ranks, to hopping on a mount called Prince of Penzance and conquering the event she'd been told that she'd never get to enter.
Astute at choosing on-screen roles since Muriel's Wedding brought her to fame 25 years ago, Griffiths seems in uncharacteristically safe territory here. More than that, she seems happy to be there. Cloaked in warm hues by cinematographer Martin McGrath (who also shot Muriel's Wedding), and breezily edited by Jill Bilcock and Maria Papoutsis, Ride Like a Girl is engineered to generate a feel-good mood — whether surveying the Payne family farm, recreating the hustle-and-bustle of many a race, or plunging into the frenetic finale.
While tasking Palmer with playing Payne both as a teen and an adult isn't Griffiths' best choice, the same can't be said for the Berlin Syndrome and Hacksaw Ridge star's involvement overall. Hers is a quietly steely, resolutely unfussy performance, conveying the tenacious demeanour that keeps her character chasing her dream despite her many setbacks. Indeed, there's a matter-of-fact air to Palmer's portrayal, and one that the movie desperately needs. Griffiths' other big casting decision, enlisting Payne's actual brother Stevie as himself, also pays off, with the first-time actor an earnest and authentic antidote to the overt heartstring-pulling elsewhere.
Production companies: 100 to 1 Films, The Film Company
International sales: Embankment Films, info@embankmentfilms.com
Producers: Richard Keddie, Susie Montague, Rachel Griffiths
Screenwriters: Andrew Knight, Elise McCredie
Cinematography: Martin McGrath
Editors: Maria Papoutsis, Jill Bilcock
Production design: Carrie Kennedy
Music: David Hirschfelder
Cast: Teresa Palmer, Sam Neill, Sullivan Stapleton, Stevie Payne, Genevieve Morris, Magda Szubanski