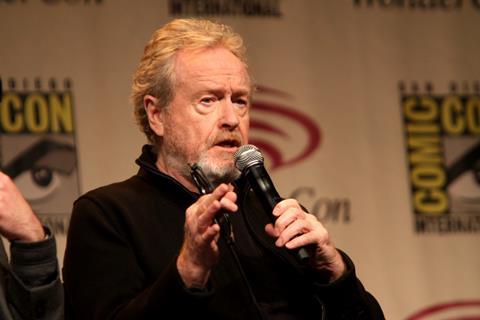 Ridley Scott is set to do his first episodic TV directing in nearly 50 years on Raised By Wolves, a serialised sci-fi project that has been given a straight-to-series green light by US basic cable network TNT.
Aaron Guzikowski, who scripted feature film Prisoners, will serve as showrunner and writer on the series, about two androids tasked with raising human children on a mysterious virgin planet where religious differences threaten the growing human colony.
The series will be produced by Scott's Scott Free Productions in association with Studio T (owned, like TNT, by WarnerMedia unit Turner) and Madhouse Entertainment. Executive producers will be Scott, Guzikowski, David W Zucker and Jordan Sheehan and Madhouse's Adam Kolbrenner and Robyn Meisinger.
Turner International will distribute the series internationally.
Scott - who directed episodes of British series early in his career and has more recently been an executive producer on such series as The Terror and Man In The High Castle - said: "I'm always searching for new frontiers in the sci-fi genre and have found a true original in Raised by Wolves - a wholly distinct and imaginative world, full of characters struggling with existential questions. Given TNT's impressive run of bold, quality programming, this feels like exactly the right home for this kind of ambitious television."
TNT executive vice president of original programming Sarah Aubrey added: "Ridley Scott is simply the best there is in the sci-fi genre. Besides directing some of the most important sci-fi films of all-time, Ridley has created iconic characters from Alien's Ripley to Prometheus' Elizabeth Shaw. We're thrilled to have Ridley do the same for us."