Dir: Jake Schreier. US. 2012. 89mins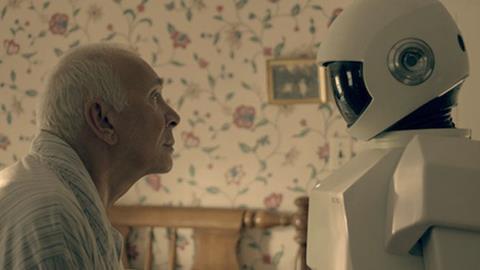 Dementia isn't what it used to be in Jake Schreier's comedy set in the near future. Nor is burglary. Frank Langella plays a retired jewel thief who regains his edge, thanks to his accomplice, a carer robot.
As Robot, Sarsgaard blends sci-fi comedy shtick with a clown's literal-mindedness.
Improbability is an asset for this indie charmer. A robot with a deadpan instinct for zinger lines (Peter Sarsgaard) could make Robot & Frank a family movie. With dementia preoccupying a huge chunk of the public, the comedy may also benefit from topicality in the US and other English-speaking markets where subtitles aren't required. Langella's most endearing screen performance in years will test the breadth of his fan base.
Robot & Frank threatens to be predictable at its start. Frank Weld (Langella) is a grumpy crank who walks in the road, insults his grown children, and haunts the local library. When he won't accept care from his son, Hunter (James Marsden), the son puts a robot in charge. Friction gives way to affection and to some ingenious conspiracies.
But Jake Schreier's direction in his first feature avoids the cloying cuteness that passes for magic realism these days. Bit by bit, the script by Christopher D. Ford drops clues that Langella's mind isn't what it was. That's good for the neighbours, because he was a jewel thief, and a good one. But we learn that there's nothing like a robot to quicken the criminal mind, and some jewels go missing.
Given the unlikely elements of the plot, Langella provides the credible underpinning of a man who's lost some of his marbles, and is now losing his freedom. He steals things from stores, and he plans meals at a restaurant that closed long ago.
As Robot, Sarsgaard blends sci-fi comedy shtick with a clown's literal-mindedness, and heartfelt advice for the man in his care. The mechanics of his physical movements in a punch line of a costume suggest a kinder, gentler RoboCop, with hints of Chaplin and Peter Sellers.
The look of the film goes lightly on near-futurism, with subtle signs here and there that we're not dealing with the present in the leafy town where Frank has retired. Camera finesse by cinematographer Matthew Lloyd can get over-aesthetic, given the gentle simple laughs that veer toward madcap when neighbors and police team up to pursue the burglars. A few technology jokes are thrown out as treats for techies, but Robot & Frank builds its comedy on the notion of an old man who finds a new friend with whom he can make the mischief that once landed him in prison.
In a light comedy with a supporting cast tilting toward farce, there are some digs at what a family has become. Robots are not traveling the heavens, as in Stanley Kubrick's 2001, but doing what children ought to be doing for their parents. Supporting cast of a daughter (Liv Tyler), and librarian with ties from Frank's past (Susan Sarandon) fill out the family picture.
Production company: Park Pictures Features
International sales: Creative Artists Agency
Producers: Galt Niederhoffer, Sam Bisbee, Jackie Kelman Bisbee, Lance Acord
Executive producer : Danny Rifkin, Bob Kelman, Tom Valerio , Bill Perry, Jeremy Bailor, Ann Porter, Stefan Sonnenfeld
Co-producers: Erika Hanpson, Cody Ryder
Cinematography: Matthew J. Lloyd
Editor: Jacob Craycroft
Production designer: Sharon Lomofsky
Music: Francis and the Lights
Main cast: Frank Langella, Susan Sarandon, James Marsden, Liv Tyler, Peter Sarsgaard, Jeremy Sisto, Jeremy Strong