Dir: Adam Shankman. US. 2012. 123mins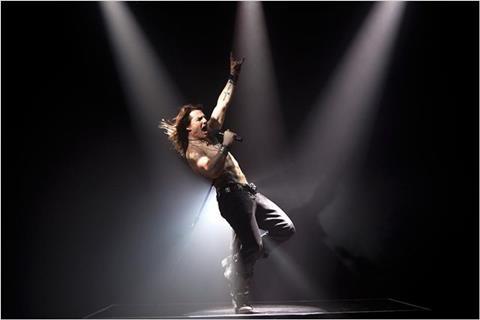 The jukebox musical Rock Of Ages all-too-accurately replicates the experience of listening to the 1980s arena rock and hair-metal that dominates the film's soundtrack: In limited doses, it can be great cheesy fun, but prolonged exposure proves rather tiresome. Based on the popular, Tony-nominated production about a group of guys and gals living out their rock 'n' roll dreams, this lively but decidedly overlong film directed by Adam Shankman, who previously helmed 2007's Hairspray, showers the audience with kitsch at the expense of characters.
Slightly recalling his turn as the misogynistic self-help guru in Magnolia, Cruise in Rock Of Ages alternates between being a dynamic, arresting singer on stage to revealing a more loathsome, spoiled persona off stage.
Opening June 15, Rock Of Ages should strike a chord with several different demographics. Fans of musicals and '80s hard rock will no doubt be interested, and a starry cast that includes Tom Cruise (albeit in a supporting role) ought to increase awareness. Probably catering more to a female audience, Rock Of Ages could do well amidst a sea of action films and family fare, but one should expect the soundtrack to appeal to aging head-bangers of both genders.
Set in 1987 along L.A.'s infamous rock haven, the Sunset Strip, the film takes place largely at the Bourbon Room, a fading but legendary concert venue that still books rock bands, despite the influx of other musical styles into the culture. New to L.A. is Sherrie (Julianne Hough), an aspiring singer from Oklahoma who befriends one of the club's employees, Drew (Diego Boneta), who is trying to launch a band of his own. Love starts to blossom between these two, but their relationship gets sidetracked as the Bourbon Room prepares for a performance from Stacee Jaxx (Cruise), a cocksure, possibly demented rock star who's about to embark on a solo career.
Based on Chris D'Arienzo's musical – he's one of the film's three credited screenwriters – Rock Of Ages doesn't have an original score but, instead, has its characters sing mainstream rock hits of the era (including songs by Bon Jovi and Def Leppard). For anyone familiar with the music, there's an initial novelty in watching Sherrie and Drew express their innermost feelings through overheated radio staples like Night Ranger's Sister Christian. (Tellingly, when filmmaker Paul Thomas Anderson used the same song for Boogie Nights, its melodramatic, pseudo-epic qualities were being satirised.)
But for the most part, Rock Of Ages heartily embraces the dated, emotionally unsubtle material, playing up its big hooks and lyrical directness for maximum impact. (The two notable exceptions, which occur in scenes incorporating Foreigner's I Want To Know What Love Is and REO Speedwagon's Can't Fight This Feeling, upend expectations by twisting the words' meaning.)
Unfortunately, the movie sends mixed signals about its attitude toward its milieu. While there's much reverence around the rock songs – not to mention the notion of rock 'n' roll's timeless importance – Rock Of Ages hedges its bets by simultaneously mocking the excesses of the late-'80s rock scene and the pop-culture artefacts of the era. (Rock Of Ages is a film that hopes to get laughs from scenes of characters playing with a Rubik's Cube or carting around an oversized cell phone.)
Obviously, the idea is to affectionately poke fun at a bygone period, but Shankman's thimble-deep style – with its energetic choreography and fizzy tone – tends to reduce everything to the same level of irreverent glibness. While not aspiring to high drama, Rock Of Ages does have a love story at its centre, but it's hard to be too invested in the outcome – or in the characters' earnest career ambitions – when the period details and bombastic songs get the higher priority.
The movie's one consistent pleasure is production designer Jon Hutman's cleverly gaudy re-imagining of the Sunset Strip. Combining sets and visual effects, Rock Of Ages presents an impossibly glamorous Hollywood that's more dreamlike and magnificent than the actual place. However, the heightened reality succeeds in making the Strip seem like a rock 'n' roll Eden that would understandably lure young dreamers like Sherrie and Drew.
As she proved in last year's Footloose remake, Hough has an All-American sexiness that's undercut by a lack of dramatic chops. Likewise, Boneta looks the part of a strapping young rocker, but his attractiveness doesn't lead to any greater depth underneath. Both are solid singers, but they fail to add much pathos or longing to the material.
To be fair, though, Rock Of Ages proudly flaunts its rock-world archetypes throughout, whether it's the disapproving religious watchdog (Catherine Zeta-Jones), the over-the-hill club owner (Alec Baldwin), or the scheming rock manager (Paul Giamatti, doing fine work exuding detestable slipperiness). On one level, we're meant to enjoy these one-dimensional characters for their familiarity, but because they're not given much inner life, they remain clichés over the film's two-hour running time.
Proving again his inexhaustible star presence, Cruise alone in the cast consistently transcends his underwritten role, throwing himself completely into Jaxx's carnal magnetism. Slightly recalling his turn as the misogynistic self-help guru in Magnolia, Cruise in Rock Of Ages alternates between being a dynamic, arresting singer on stage to revealing a more loathsome, spoiled persona off stage. It's a trite character, but Cruise manages to make it sing.
Production companies: New Line Cinema, Corner Store Entertainment, Material Pictures, Offspring Entertainment
Domestic distribution: Warner Bros. Pictures, www.warnerbros.com
Producers: Matthew Weaver, Scott Prisand, Carl Levin, Tobey Maguire, Garrett Grant, Jennifer Gibgot
Executive producers: Toby Emmerich, Richard Brener, Michael Disco, Samuel J. Brown, Hillary Butorac Weaver, Janet Billig Rich, Adam Shankman, Chris D'Arienzo
Screenplay: Justin Theroux and Chris D'Arienzo and Allan Loeb, based on the musical Rock Of Ages written by Chris D'Arienzo
Cinematography: Bojan Bazelli
Production design: Jon Hutman
Editor: Emma E. Hickox
Music: Adam Anders and Peer Astrom
Website: www.rockofagesmovie.com
Main cast: Julianne Hough, Diego Boneta, Russell Brand, Paul Giamatti, Catherine Zeta-Jones, Malin Akerman, Mary J. Blige, Alec Baldwin, Tom Cruise