Hitler is back - and he will be sharing the screen with The Pope, Osama Bin Laden, Joseph Stalin, Vladimir Putin and Jesus Christ, as well as various dinosaurs .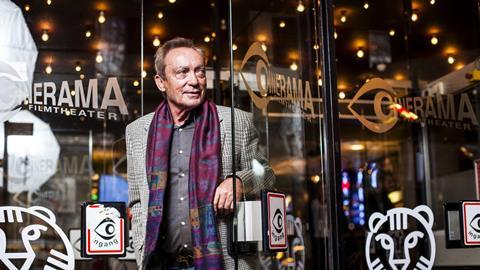 At International Film Festival Rotterdam (IFFR) this week, cult actor Udo Kier has revealed further plot details of Timo Vuorensola's Iron Sky: The Coming Race, the sequel to Nazis on the moon saga, Iron Sky (2012).
Kier himself returns as Wolfgang Kortzfleisch ("Vomiting Meat") and also plays Wolfgang's brother, Hitler.
The new film shot in Antwerp.
"I have also a German Shepherd like Hitler had called Blondi," Kier told ScreenDaily. "It was difficult to get one. I said to the director "It doesn't matter. Get a stuffed one from London.' We put it on a piece of wood with four wheels."
In the film, Kier revealed, there is a scene in which the US President (a Sarah Palin lookalike) attends a conference with Stalin, Putin, Hitler and co. The scene ends with The President being eaten. "Not sexually. They're going to eat her flesh. Then I take the biggest bone and I put it in the mouth of my stuffed dog."
Like Iron Sky, the new film has been partially financed through crowdfunding. "There was a young lawyer from New York who paid $10,000 to be eaten by dinosaurs," Kier said.
The 71-year-old actor himself did his bit for the crowdfunding push by shooting a short promotional video in which he appeared as a cowboy in the desert, brandishing a piece of paper which said: "I have to go back to the Moon. Please help me!"
Earlier in is career, Kier starred as Hitler in a short, Mrs Meitlemeihr (2002) set in post-war London, in which the Fuhrer was dressed as a woman and pestered by a randy Jewish neighbour.
Kier has been in Rotterdam to support the screening of David Schalke's eight-episode Austrian, TV soap opera, Altes Geld (Old Money), recently sold to RTL in Germany.